FUGASO: Future Gaming Solutions Casino Games Here:

Fugaso developer started its business in 2001 with the main goal of producing quality games for different casinos. They are considered as one of the first companies in the iGaming market.
Then, in 2017, they aimed for a new purpose that is offering online casino games. It will be hard for you to find information about this stage, but Fugaso's topnotch service is very popular among casinos. The main products are the best game integration solutions and their slots for many different customers.
To launch the online game, Fugaso must have planned ahead of time in details. Their attention has turned to back-end solutions to compete with competitors in this vibrant market. Fugaso's office is located in Russia, and now they are planning new, exciting, and special gaming projects for online casinos around the world.
Fugaso's games for online casinos are suitable for many devices like Android, PC, and iOS because they are produced by the most modern technology HTML5 and Flash. The company officially acknowledges its software is compatible with many gambling equipments of the other brands, including NYX Gaming Group, Net Entertainment, Evolution Gaming, Elk Studios, Microgaming and others.
Currently, they are not licensed by any government, but their games still comply with the laws that their customers are currently subject to. The reason is, their product runs on a diverse platform belonging to other casinos. Their biggest goal today is to provide poker and table games for important customers in the coming time.
A few advantages of Fugaso developer is the provision of interesting slots. Players can participate without additional software because of the modern technology they use including HTML5 and Flash. Besides, free spins are included in each game to attract players.
Nevertheless, they also have some disadvantages, such as the number of games is not large, and using the interface is quite normal.
Games of Fugaso
Up to now, Fugaso offers 28 slots with a variety of designs, themes, and features. Some of this category are lower in quality, use normal graphics, but they also include a variety of options to bring exciting experiences to players.
As mentioned above, Fugaso has not been licensed to prove fairness in their games. The company has chosen a different way, which is to comply with the regulations of the place where they provide the software. With this situation, the games are guaranteed to bring safety and fairness to all players.
Their customers are casino operators in Russia, and some in other regions of the world. The most famous product is still the available slots today.
With over 10 years of operation in the casino game industry, Fugaso has made fairly rapid development progress and pleased their partners, even with plans for the future. They already have a popular brand in the market, but don't stop there. They are constantly improving to add value to their games, services for players, customers, and related partners.
Thanks to the production of games on HTML5 and Flash, their products can be used well on both old and latest gaming equipment. The designs are compatible with many famous operating systems, such as iOS, Windows, and Android, all thanks to their modern manufacturing technology.
In 2016, they teamed up with popular provider GamesScale, to make the company easier to get their games to online casinos. Currently, they are still ready to welcome bigger customers in this market. Their products appear at Enzo Casino, Crazy casino, and Ocean Bets.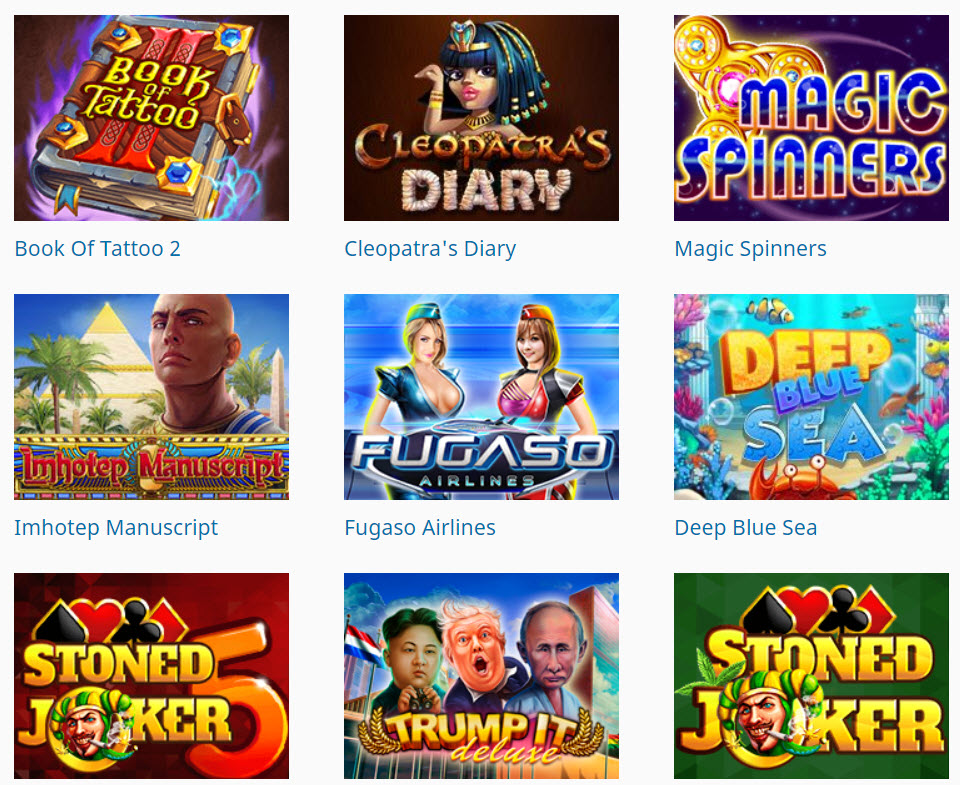 The best games of Fugaso
All Fugaso's 28 slots can be played on mobile devices and PCs. The most common topics that can be mentioned are science fiction, Eastern culture, tribes, adventure, and fruit. Besides, you can find several ironic political games, like Trump It. The staffs know how to stay ahead of the trend and attract new players.
Games to try are Crazy Bot, Smoking Dogs, Grand Sumo, and The Giant. In that, The Giant includes 5 reels and 10 pay lines, with attractive themes from Adventure of Jack and Beanstalk.
Also, Smoking Dogs is the latest product, including many special features such as Twin Reels. The game itself is an excellent copy from Double Cash of NetEnt but gives the winner a huge reward up to 270,000 coins. Moreover, you also have the opportunity to receive a welcome bonus, additional spins for the first transaction.
Fugaso especially offers "White Label Solutions" incentives for operators who want to operate with online games. This is a solution that includes the essentials of an online casino, such as games, technology, platforms, and finance. This method will help popularize a new game in a few weeks, instead of a few years as before.
If an operator wants a famous brand product, they should choose Fugaso to own the games with unique themes, good design, new features, and practical experience. Overall, Fugao Gaming's software is quite similar to NetEnt in terms of interfaces and features.