Bounding Luck Slot by Betsoft
Looking for a new slot game to try? Check out Bounding Luck Slot by Betsoft! Spin the reels and see if lady luck is on your side.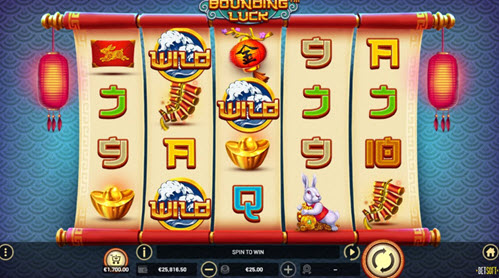 Step-by-Step: How to Play Bounding Luck Slot Machine Game
Bounding Luck Slot is a slot developed by the renowned brand, Betsoft. It has an adequate number of bonuses and promos for players. Learn more here.
In the brand-new Betsoft slot machine Bounding Luck, a straightforward aesthetic and a single gameplay element come together to create an engaging experience. The diverse game library from Betsoft features a wide range of themes. This time, we get to return to East Asia, a subject the supplier has previously excelled at. We think a big part of its recognizableness comes from the fact that it's a well-liked location among gaming aficionados. You may be familiar with East Asian symbols and artifacts from the games. Players may relate to it, which is excellent, but the games share a lot of visual similarities. Ah well, as long as the game is enjoyable, all is great. Check to see whether it is.
Details about the Bounding Luck slot
As previously mentioned, the game's artwork has an Asian aesthetic. The attention is on a rabbit, and we think we understand why. The Year of the Rabbit will begin in China on January 22, 2023. That is scarcely an accident considering that this game is scheduled to release 10 days earlier. The Chinese zodiac sign of the rabbit represents prosperity, tranquility, and long life. Although this is a pleasant period, there are other occasions when it becomes heated. The setting in these kinds of slots is one area where we'd like suppliers to make improvements. All that's provided for us is a blue background curtain, which prevents us from daydreaming as we would like to.
You may play Bounding Luck on all popular desktop and mobile platforms. Landing three or more matching icons in a row, starting on the leftmost reel, results in a winning combination.
9, 10, J, Q, K, and A are among the lower-paying icons. With one of these, a five-of-a-kind pays 0.8x–1.2x the wager. The higher-paying symbols, which continue the Chinese motif, include an envelope, fireworks, a sky lantern, an ingot, and a rabbit. With one of them, a successful combination of 6 will pay 2.4x–4x the wager. All other paying icons can be replaced by the wild symbol. The Scatter symbol is a golden coin, and you need Three or more of them to start the Free Spins feature.
Characteristics
What is the Bounding Luck slot's maximum win?
You can win up to 5439x the bet.
What features are available in the slot Bounding Luck?
The features are Wild Symbol, Free Spins, Scatter Symbol, and Bonus Buy.
Wild Symbol
The Wild symbol enables more winning combinations by substituting for other paying symbols.
Scatter Symbol
Landing 3 or more Scatter symbols will trigger the Free Spins feature
Free Spins
Landing 5, 4, or 3 Scatters awards 20, 15, or 8 Free Spins, respectively. During Free Spins, Wild symbols will reveal a 2x or 3x multiplier. These multipliers will also multiply each other, which can result in a maximum multiplier of 27x.
You can also gather Golden Rabbit emblems in addition to this. The following will transform symbols into rabbit symbols:
All ingots become rabbits when you have four golden rabbits.
All sky lanterns become rabbits when you have seven golden rabbits.
All firecrackers become rabbits when you have 13 golden rabbits.
All envelopes become rabbits when you have 15 golden rabbits.
Five additional free spins are awarded when 2 or more scatter icons land during the free spins round.
Free Spins
Bonus buy
You can purchase one of the following choices to enter the Free Spins feature right away:
68 times = 8 Free Spins
141 times = 15 Free Spins
205 times = 20 Free Spins
Bounding Luck Slot Conclusion
Although Betsoft has always generated stunning pictures, we don't think these meet our expectations. It's not constructed or anything, but Betsoft's usual storylines with stunning animations and graphics aren't included. Nonetheless, we are aware that many people appreciate these straightforward, uncluttered designs that are simple yet effective. On that said, we'll grant that this is a nice-looking, tidy game with a straightforward design.
Even though there aren't many features in the game, we appreciated the Free Spins option. It's always entertaining to play games with similar mechanics, including Quetzalcoatl's Trial, Beat The Beast, and The Great Stick-up. Something is exciting about gathering symbols and growing your potential at the same time. Of course, this frequently results in mediocre bonuses, but if you do have a good run, you'll benefit from it.
With a Rabbit as the primary character, Bounding Luck by Betsoft gives a comfortable experience in a traditional East Asian setting.