The origins of the casino business can be traced back in the 19th century. Earlier, casinos had been public halls for dancing or music shows mostly. Only in the second half of the 19th century, the term casino was associated with gaming and gambling. The first example of a classic casino is the Monaco casino, which opened in 1861 and has been a great source of income for the principality.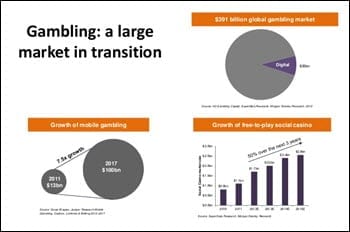 It is in the 20th century when the term casino basically associated with gaming rooms or gaming clubs, where players can bet and gamble against the house. In the United States gambling is not legal in many states. For a long time, legal casinos only operated in Nevada, and especially in Las Vegas, since the 1940s. In 1978, the casino business entered Atlantic City, and in the 1980s Indian reservations began to open casinos too. In the last decade, there has been a casino gambling expansion across the country. In Great Britain, the majority of gambling clubs are located in London and they have operated there since the 1960s. Clubs are open only to members. In France, casinos are regulated by the government. In Puerto Rico, casinos can operate with a special license. There are casinos also in Colombia, Argentina and Ecuador. The casino in Cuba was closed in 1959, after the revolution.
A casino accepts bets made by players. All bets have a limit for the casino to be able to pay them. The casino always has bigger mathematical probabilities of winning so gross profit is assured. Any systems or tricks cannot beat the casino at all times. That is why casinos can afford to offer spectacular shows and luxurious facilities to their clients.
Among the games regularly played at a casino the most popular one is the roulette. Having its origins in France, the roulette arrived in the New World and overcame a series of changes. American casinos reduced the advantage of roulette players by adding another 0 to the wheel. Craps is also a very popular game which attracts many casino players, along with slot machines, video poker machines, blackjack, and many other games.