Derby Dollar Slot (RTG) Real Time Gaming
This slot game is purposely for the lovers of horseracing and slot games who wants to enjoy both games in one. The slot game with horseracing theme is designed and developed RealTime Gaming.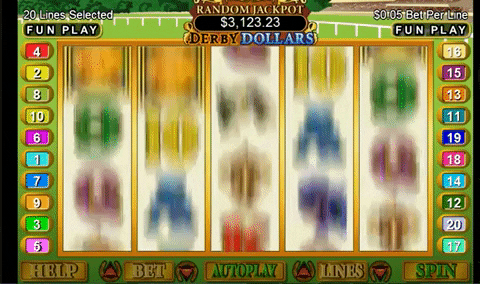 About Derby Dollar Slots
This game is for those who are lovers of both horseracing and slot games and can't seem to decide which one to stake their funds in, and then Derby Dollar is here to the rescue. This game offers gamblers to have the fun of combining the two forms of betting. Derby Dollar is a slot game that is designed by RTG, and its peculiarity is the Horseracing theme that the slot game comes with. This way, you can win amazingly by spinning the richly staked reels and also interact and compete with jockeys in a bid to win the Derby and all the attendant promo. Gaming titles like Wild Horses and Scattered Golden Coins increases the overall wager in multiple folds and qualifies gamblers to win bonus spins and prize multipliers.
To start playing on the slot game is not expensive, revealing a cheap minimum betting unit that is set at 0.01 coins. The highest wagering unit is also set at 5.0 coins.
Derby Day
The Wild Horse belongs to a character in the game, a widowed heiress worth millions. So you are very lucky if you happen to select this Wild horse, and it happens to come first, winning you the trophy and amazing prizes that come with the trophy.
RTG CASINOS
Wild Horse Winnings
Players of this game can win spectacular prizes amounting to 250 coins if they participate in the pre-race poker that is accustomed to hold on the Derby Day. The players just have to match 9's through to Aces. There is also an amazing game where you get to utilize the binoculars in searching and finding the trophy that the winner wins. In this game, you stand the chance of winning about 500 coins. There is also a prize of 1,000 and 2,000 coins for meeting the jockey and owner, respectively.
The real game gets enjoyable when the Wild Horse begins to run through the pack and picks out icons, each of which stands as a prize-winning opportunity. And as if this is not enough, the Wild Horse stands the chance of winning about 3,333 coins. The cash prize for the Horseracing is termed the Golden Coins, and the cash prize is in the multiple of 50, i.e., the overall wager is multiplied by fifty.
Finding between 2 and 5 Scattered Coins results in being rewarded the bonus spins. Two coins give five free spins, three coins give ten free spins, four coins give fifteen free spins, and five coins give 25 free spins – during which all of these winnings can be multiplied by three. There is also a chance to get more bonus games if there are more coins on the first bonus spins.
Stakes Race
Betting in this slot title is not difficult at all, as there are lots of stake races in Horseracing. Players can easily decide to gamble 1 to 20 lines on any spin and thereafter stake each line with the minimum wager, which is 0.01 coins. However, if it is decided that all 20 lines are to be played, then the wagering unit starts from 0.2, while the highest wager remains five coins for every spin.
RTG Slots