Fat Cat Cafe Slot Review (RTG) Online Slots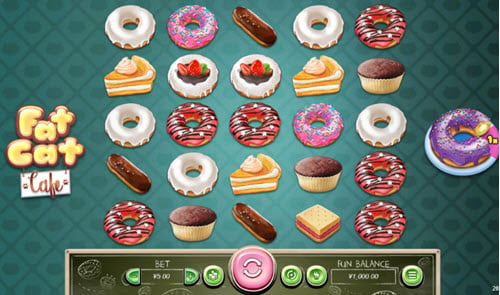 First and foremost, Fat Cat Cafe is a slot machine with a pastry theme. Coming from Real Time Gaming, the slot has sweets all over it, so it's no surprise that it's set in a cafe where cats become fat. The graphics are high-end, about as current as they come these days, and the design style has a Japanese influence at times.
You'll be playing on 5×5 reels, with winning clusters used to build combos of four or more symbols. You can earn up to 3,000 times your total wager in a single spin, which is a lot for a slot these days. There should be enough good features present, whether it's wilds, random Special Symbols, Cascading Reels, or Multipliers, to keep the action engaging.
Prizes and Betting
Because there are no normal lines involved, you'll be prompted to choose the total amount for the spin. It looks to range from 2 USD to 3,000 USD every spin, though your Real Time Gaming online casino may have different rules.
The creator notes in the paytable area that prizes can reach 3,000 times the total bet, which is a value that I agree with. It is neither the top nor the lowest reward available. At the moment, I would say it's somewhat above average. Regular wins of up to 500 times may be had, but there are additional multipliers of up to 6 times that can be used, which is how you reach the slot's highest payouts.
Features of the Fat Cat Cafe Slot
In the example of Fat Cat Cafe, we see a slot machine that pays off merely by forming a cluster of matching symbols. Symbols touching one other horizontally or vertically, but not diagonally, can create a cluster. If you acquire four or more symbols of the same sort, you have a win and get compensated.
Following that, forming a winning cluster will activate the Cascading Reels feature, which is becoming increasingly popular in slot machines. The winning symbols are swapped out for new ones. The multiplier for the next wave increases with each new cascade, reaching a maximum value of 6 times. The optimal moment to construct a high-paying cluster would be after the 5th cascade when the multiplier is at its peak.
The wild symbol is a coffee cup, which is stated on the label. This one can be used in place of any ordinary symbol except the Cats.
Cats will come in a variety of shapes and sizes, and their appearance will be determined by random feature triggers. From the Black Cat (clears its row), Red Cat (clears a column), and Gray Cat (clears both the row and column it is on), to the Blonde Cat (clears both the row and column it is on), each one will clear symbols in a different pattern (clears all surrounding symbols).
Design & Theme
In some ways, it will be a cat-themed game, but the focus will be on the pastries that are making these unfortunate felines obese. The cats only occur as random special symbols, and there are four different color variants for them. The crazy Coffee Cup will be among the normal symbols, followed by sweet sandwich-type cakes, eclairs, cupcakes, three varieties of donuts, the fourth donut with chocolate strawberries, and a piece of cake. Overall, it's a tasty and well-designed dish.
Conclusion
Fat Cat Cafe is a delightful slot machine with amusing and very cute artwork, as well as unusual features that can keep a lot of players interested.
Pros
Players with a large stack will find this game most appealing. The betting range is 3,000 EUR/USD.
Cons
High level of bets size
Fat Cat Cafe can pay just 3,000 times the bet.
Most Commonly Asked Questions About This Slot
What is the RTP of the Fat Cat Cafe slot machine?
The RTP (Return to Player) for Fat Cat Cafe has yet to be determined. We intend to update it as soon as possible.
What are some of the slot's important features?
This is an RTG slot with five reels and no ways to win. You can bet anywhere between 2 EUR/USD and 3,000 EUR/USD per spin. Up to 3,000 times, your stake can be won.
Where can I get a free copy of Fat Cat Cafe?
Our crew has compiled a list of online casinos that provide RTG slot games. Fat Cat Cafe slot is available at the leading RTG casinos. Choose one of the recommended online casinos from the list below and click the "Play Now" button. Any casino will require you to create an account, but any casino will allow you to play Fat Cat Cafe for free without doing so.
Is it possible to play Fat Cat Cafe on my phone or tablet?
Yes, it's built with HTML5 technology, which makes it completely mobile-friendly!