Gold Bricks Slot Online (Rival) Slots Game with Real Money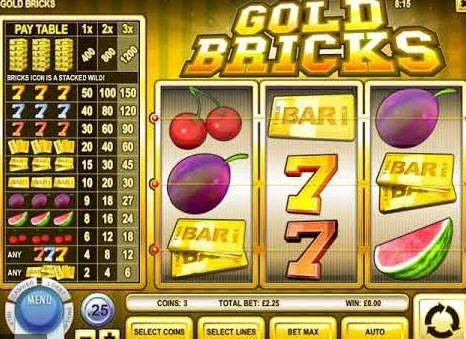 About Gold Bricks Slot Machine
Most of the most expensive objects on earth are made up of gold either as a coin, bar or nugget. For many years, gold have always symbolizs wealth and status. It is also one of the traded materials today since people involve themselves in the buying and selling of gold.
The Slot developer is Rival Gaming and they make use of the gold in this game when it was produced in 2017. There are no specialities in playing this game nor any deceit that makes gamers surprised. It is a simple machine that can be easily accessible by gamers that have a lot of experiences in the gaming world the time when what is ruling then is the mechanical machines.
Playing Option
The game was released recently by Rival Gaming as one of their online Slot Video. The theme of this game is of golden colour with a yellow background and lots of shadings. The big symbols on the screen are easily seen since thereare little information displayed on the screen making the screen to have lot of spaces for the gamers to see everything on it clearly.
The Slot can be accessed on almost all devices such as IOS, IPhone and so on and you do not need to download before you can play the game. Also after placing your bet, you can still make some little adjustments with respect to the amount and the currency type. This game is basically for gamers that used to stake small amount because high staking is not available. Also you can decide to play the game for free before playing with real money to practice and familiarise yourself with how the game works.
Winning Combinations
This slot is made up of 3 reels and 3 paylines. All the 3 paylines must be played by the gamers. To win, you must put all the similar icons together across the paylines with at least three similar symbols together. Icons that resembles each other provide the highest payouts and you can also earn little by mixing icons that are alike.
A lot of these symbols are not new to gamers again since they have been available in many slots. Gamers can win little presents by bringing any 3 bars together even if they are not identical. You can join watermelon, cherry and plum together to win small presents in the paytable centre. You can get fifty times your original bet which is the largest payout followed by the other sevens like silver, bronze and so on.
Gold Stacks
The gold bricks stacked is the wild and it is a special icon that can have a large effects on your winnings. It covered there positions and can expand all over the reels. It can also replace any other symbols on the reels and stand in place of any icon to complete the line. You can also get four hundred times your bet if three of them are landed.
Enjoy the game
As gamer who likes games being simple without any complications you are going to enjoy playing this game. From the design of the game you would have been enticed to try it out then also the ability to win big by playing the wild icons which makes gambler to still go away with massive prize at the end. Although this might not be a game for high rollers but if you are gamer that like keeping things simple, then this is the best game for you.
Rival Casinos USA