Hustling Slot by Red Tiger: All You Need to Know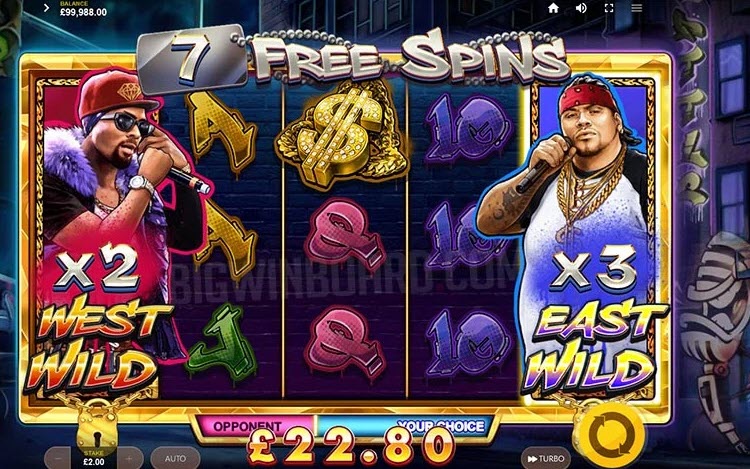 This is a video slot powered by Red Tiger. Check out its full review, exclusive videos, Casino bonuses, demo, and many more.
Artists have leveled enough charges against rap records to demonstrate that mimicry is as common in hip-hop as it is in the casino industry. If you have been following gaming trends this year, you will soon notice where any potential inspiration for Hustling, from software supplier Red Tiger, came from. Hustling is a video slot with pay both ways game mechanism that pits a West Coast rapper against an East Coast musician on one side of the grid.
Okay, it is a little East Coast vs. West Coast, and the two halves of the United States are used to color both halves in the background of Hustling. On the left, we have a palm-tree-lined, sunset-drenched view of LA, while on the right, we have the graffiti-covered, fire escape-covered structures of New York. Although not particularly inventive, Red Tiger's talented graphics team – as well as the sound team – have done an excellent job with the visuals. However, none has the same enthusiasm for life or abundance of small details that Nolimit City demonstrated in their critically lauded work East Coast vs West Coast. Hustling, on the other hand, does enough to make you want to press play and see what comes next.
Hustling, as a game designed for a broad audience, is powered by a high-volatile math model that generates a theoretical return value of 95.69 percent by default. The action takes place on a 5-reel, 3-row game grid, with stakes ranging from c/p 0.20 to 20 USD/ EUR per spin. Wins are awarded when three or more matching symbols land left to right or right to left, starting from reel 1 or 5. The grid has a total of ten pay ways, essentially doubling due to the pay both ways mechanism.
Hustling uses five low-paying graffiti-styled card royals 10-A as pay symbols, with payouts ranging from 0.4 to 1.2x the bet for a five-of-a-kind win. Hats, spray cans, a ghetto blaster, some shoes, and a gold dollar sign necklace are among the premium symbols on the table's upper side. A five-of-a-kind premium win might pay out anywhere from 3 to 20 times your bet.
Features of Hustling Slot
In Hustling, super wild symbols replace standard pay symbols and trigger-free spins, among other things. Both reels look to be fully stacked, with all spots on each reel covered. The West Wild can only appear on the leftmost reel, whereas the East Wild can only appear on the rightmost reel. When a Super Wild appears on the reels, it becomes locked for one spin.
Bonus Spins
Ten (10) free spins are awarded when Super Wilds appear on both reels at the same time. Before they begin, players must choose between the West Wild and the East Wild. Both wilds are locked in place for the length of the bonus round, with an x1 win multiplier to begin with. The multiplier of a Super Wild increases by one when it participates in a win.
If the chosen Super Wild has a higher multiplier than the non-chosen Super Wild when the free spins run out, +10 extra free spins are awarded. If the two multipliers are equal, you will get an extra spin until one of the Super Wilds has the greatest multiplier. If this is the chosen wild, you will receive +10 extra spins. The round ends if the picked Super Wild has a lower multiplier. When both wilds participate in a line win, their multipliers are multiplied by each other before being applied, which is the final piece of fine print. When the free spins are over, the multipliers are reset.
Hustling: Slot verdict
It is tough not to compare Hustling to East Coast vs. West Coast, but the two games provide distinct ways for players to channel their inner gangster. Both have terrific hip-hop, sneakers-and-spray-paint aesthetic, but ECvsWC has a bolder, more original style, as well as a far superior soundtrack. Hustling is likewise less unpredictable than ECvsWC but has a smaller range of possibilities, making it a better option for those who do not want to go as big.
Aside from the 'dope' visuals, which are similar to Play'n GO's Nyjah Huston, the gameplay is also fairly 'tight.' Sorry for the cliches, but after playing Hustling for a time, it is difficult not to adopt an attitude. The pay both ways mechanism cleverly depicts the East Coast/West Coast rivalry, leading to a similarly smart rap fight in free spins. Naturally, your favorite artist does not always win, but there are multipliers on both sides of the grid to enjoy as the two performers spar. The most thrilling moments during testing occurred when five of a kind wins hit to attract both multipliers, thanks to the locked multiplier wilds.
The modest number of pay lines and symbol values prevent Hustling from turning nuclear in the same manner as East Coast vs West Coast can with all those ways and modifiers. When compared to other games, there are no infectious xWays or Drive-By Respins, thus it comes across as a rather generic copycat. Another likely opponent is Relax Gaming's Top Dawg$, a game with fewer pay lines but sticky multipliers in free spins that can skyrocket when the game is in full swing. Hustling simply does not have the same oomph, and should the two rappers battle it out to a stalemate, the most likely winner is a more modest 3,151 times the stake.
To put it another way, if Hustling was stopped at a red light blaring crunk and East Coast versus West Coast rolled up next to it, you can envision it dialing down the volume and being casual. The volume would be turned back up as the game progressed after the light turned green. With this traffic light metaphor, we are attempting to suggest that while Hustling is not as violent or rewarding as the slot it looks to be based on, it is still a fun hip-hop-themed game for people who do not require the hardest rider to get where they are going.
RedTiger Casinos