Mega Wins Slot Machine Review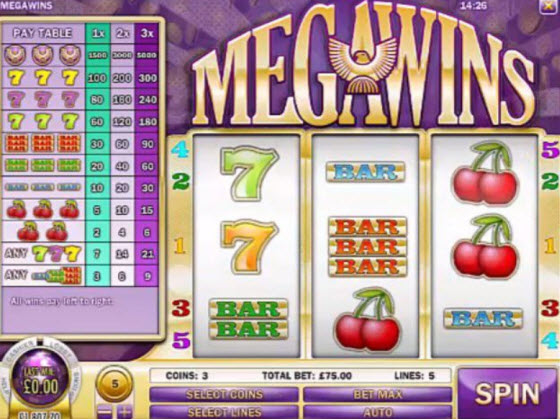 Just imagine that you are in a casino scene, every other thing including machines are all perfect, and after you place your bet the machine just went wrong.
This is going to be a terrible situation that will make you become sad and immediately have the plan of heading home. To be honest, this is the kind of experience you are certain to get when you are carrying out a gameplay on the MegaWins true classic slot.
The good news is that Rival Gaming has made a conscious effort in making the game has basic as possible such that the players will be able to have a better experience in the cause of gaming. They have gotten rid of all the unnecessary extras and make provision for machines that are attractive so that you can get a powerful dose.
There are a wide variety of symbols that will make you get addicted to the slot and get you greatly rewarded.
The Eagle is the Key
Provision has been made for some traditional symbols that will ensure you take due advantage of the Megawins. The symbol ranges from 3-reel, multiple 7s, BAR tiles, crowning icon and the cherries.
If you check the BARs and 7s is quite intriguing and it may not necessarily get you rewarded. The reason for this is that there is no need for you to necessarily match the symbols. There are varieties of colors with each of the icons and you will be expected to match the symbols to make big wins.
The sounds of the slot are authentic and this is appealing and will give you the best of experience in the process of playing the game.
Coins and Lines
There are up to 5 pay lines and you can decide to make use 1 if you wish to do so. The amount you wish to stake can be set under the reels, all that you need to do is to click so that the total is going to pop up. The betting ranges from 0.01 to 5.00 and the amount to place on each line will as well be decided.
There is an Autoplay function in which the players that makes use of real money will be the only one to access the feature.
Is it MegaWins or MegaLoss?
Without mincing words, this slot has more cons than the pros, the very reason is that it looks quite unpolished. Although it still has the barebones of the slot machines, and it feels like proper execution is not made for the brand. Any player that can look past these flaws will get a jackpot that is decent as it is up to 1,500.