100 Pandas Slot – Online (IGT) Slot Machine
This is an online video slot game that was created by IGT. The story is based on Chinese Pandas whom live in their natural habitats.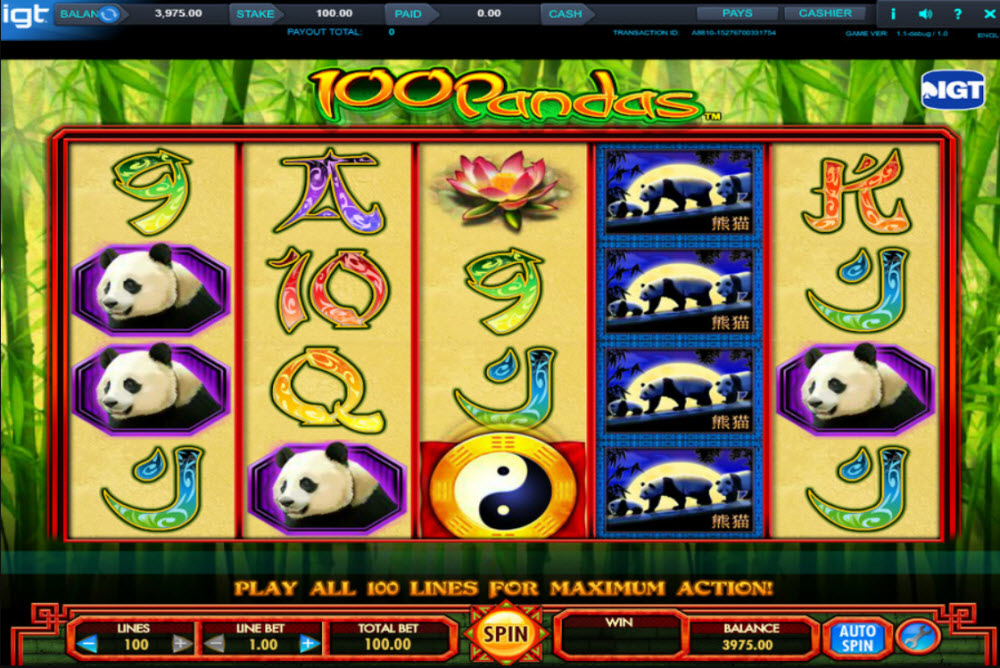 100 Pandas has amazing features which includes: stacked wilds, scatters and a free spin bonus. This game can be accessed on Mac and mobile devices. It can also be gotten on applications which can be downloaded for ease of access for every games IGT has in stock.
Enjoy the world of Chinese Panda
The game is set in the deep jungle of the Chinese in the habitat of the Pandas. The available game symbols include: Green Panda (that has a green background); Purple Panda (with purple backdrop); Wild (a couple of Pandas); the Yin Yang scatter; Bamboo; Flower and about five other symbols in chinese. The game has a green grass backdrop which indicates a jungle that is loaded with bamboo—Panda's most loved food. The game has a suitable background music with a chinese-like tune that sounds relaxing because it's on a mix with sounds from the jungle.
It contains Amazing Features
In 100 Pandas, there are several amazing features available for the players to enjoy. For instance, the wild symbol contains a group of 3 pandas and replacements for all other symbols save for the Ying Yan symbol. Interestingly, the Yin Yang scatter symbol offers the player 10 free spins and every wins that take place while on free spins would be multiplied. The wild symbol is the symbol that pays the most.
Apart from the aforementioned, the online video slot also has interesting features such as stacked wilds—which can come if four or more wild symbols appear consecutively on every reel base gameplay. Every scatters are rewarded by doubling the overall bets together with every wins that coincides on the several pay lines which are added.
Free Spin Bonus
Usually, free spin bonus is activated anytime the Yin Yang symbols which lies at the center 3 is reeled on any position. The reward for this is normally 10 free spins with an additional 2X multiplier on payouts made on every free spin. Bonus symbols would only be seen on the second, third and fourth reels of the game. The bonus round even has abundant supply of stack wilds than it does in the regular rounds while the free spin bonus can be reactivated if a player obtains an additional 3 bonus symbols at any point on the 3 center reels—this would give 10 extra bonus spins. Some 255 free spins could be reactivated once again one-after-the-other which could bring no-risk at all with multiple wins.
Low-to-Mid-Stake Limits
Since 100 Pandas betting options begins at a rate of 1.00 per pay line and rise up to about 30.00 per line, then you can apply up to 30.00 and even to as much as you desire. It could be up to 100 lines for a maximum bet worth of 3000.00 coins.
Final Thoughts
The 100 Pandas online video slot game will immediately be loved by people who show interest in travelling to explore many cultures and traditions—most especially those of the Chinese and the animals they have therein. People interested in animals would sure like the pictorial representation of pandas together with the complementing jungle sounds booming at the background with the Zen-like Chinese music. 100 Panda is an amazing game with many opportunities available to win money for different kinds of budgets. If you fancy this game, you can as well check 100Ladies which was also developed by IGT.
IGT CASINOS