3 Kingdoms Battle of Red Cliffs Slot
Online (Pragmatic Play) Slots Win Real Money
3 Kingdoms – Battle of Red Cliffs Slot is an online slot game with Pragmatic Play as it's software provider. It is made up of five wheels and twenty-five bet lines. The minimum amount that can be stake is 0.25 and the maximum amount is one hundred and twenty-five.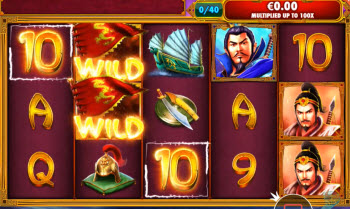 ==>Play on 3 Kingdoms Battle of Red Cliffs Slot
About 3 Kingdoms – Battle of Red Cliffs Slot
Pragmatic Play has developed another new slot machine and it is called 3 Kingdoms – Battle of Red Cliffs. From the title of the slot you will be able to deduced what the theme of the game will be. It is a Chinese themed games that is about the war in which three strong warriors participated in. Players will be able to win prizes by playing this game of war and there are lot of features of that can increase the winnings of the players. There is progressive game also for the players to go away with a lot of cash. The slot is designed with three dimensional graphics and depicting what it meant by going to a war.
Gameplay
As earlier stated, the game is about the three strong commanders that were figuring against one another on the ocean. If you are able to defeat your enemies with your soldiers then you will be liable to winnings. You will not find it easy emerging victorious since you are going against three fearsome generals. Whenever you wan to start playing, the first thing is to set the amount you wished to use in playing. This will help minimise your loses and you will be left with other cash set aside for other expenses.
Staking Option
3 Kingdoms – Battle of Red Cliffs Slot have twenty-five bet lines available for players to stake on. The game is made up of five wheels and three rows. The minimum amount required to stake is 0.25 and the maximum amount is one hundred and twenty-five. The coin values can be between 0.01 and 0.05. Players have high opportunity of winning since the payout percentage of the game is 96.50 percent.
Features
As stated above, there are lot of options available for players to increase their winnings. Landing the three warlords will open the bonus session for the player. Players will be awarded with points after obtaining the 3 warlords at the beginning of the game. Progressive prize will then be awarded after the points have accumulated up to forty. Players will also be awarded another bonus that involve selection of envelope. Once this is triggered, you will be awarded with up to times one hundred of your stake which will be added to the prizes. With this, players will have a high chance of going away with a huge amount of money.
Similar Slot Games
There are many slot games that have the same theme as 3 Kingdoms – Battle of Red Cliffs for instance, a slot game developed by Microgaming knowns as Emperor of the Sea. Although, most of these games do not incorporate all the features available in 3 Kingdoms – Battle of Red Cliffs. For instance, instead of showcasing ocean and wars the games are developed to focus more on peace. Five wheels and eighty-eight bet lines are what these games are made up of with lot of options available to players to increase their winnings. One of them include landing of wild icon in which the players will be awarded and also have the chance to replace all other icons on the reels to form winning combination.
Conclusion
Pragmatic Play is an online slot developer that is prominent in the gaming industry and popular for creating amazing slot machines. One of those amazing slots is 3 Kingdoms – Battles of Red Cliffs. It is made up of quality graphics and designs thereby giving the players the opportunity to experience what it is like to participate in a battle. There are lot of features that can be activated by the players with which they can increase their winnings. The game can also be played by players of every calibers since the minimum amount that you can stake is low.
Best Pragmatic Play Casinos