5-Reel Circus Slot Review: Get the Details Now!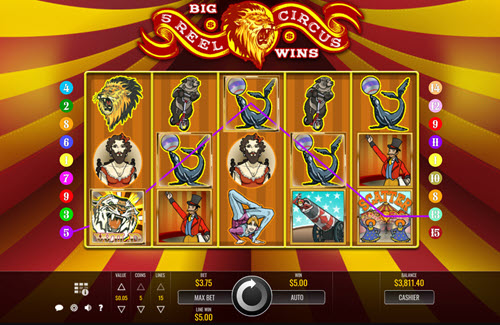 Welcome to the captivating world of 5 Reel Circus, a classic 5-reel, 15-line slot game created by Rival Gaming. This circus-themed extravaganza offers a variety of symbols and extra options, delivering an entertaining experience that keeps players engaged. Despite some criticisms regarding graphics and sound quality, our comprehensive review will explore 5 Reel Circus in depth, evaluating its gameplay, payouts, symbols, and overall entertainment value.
Best Rival Gaming Casinos
So, grab some popcorn, sit down, and join us under the big top for an unforgettable adventure.
Atmosphere and Graphics
5 Reel Circus sets the stage for an immersive circus experience with its vibrant, colorful design. The game features an animated background depicting a circus tent, making players feel like they've entered the ringmaster's domain. With symbols such as clowns, elephants, lions, bearded ladies, acrobats, and more, the game effectively captures the essence of the circus.
A unique bonus game, activated by landing three or more scatter symbols, adds excitement as players shoot targets to win prizes. This feature sets 5 Reel Circus apart from other circus-themed slot machines, offering an interactive element that elevates the gameplay experience.
While the graphics may be below average compared to other Rival games, 5 Reel Circus still offers an engaging atmosphere. The game's interface is user-friendly, with clearly labeled buttons and settings options that allow players to customize their experience. Players can switch music on/off, adjust background sounds, select speed, and make the game full-screen.
Overall, the atmosphere and graphics of 5 Reel Circus transport players to a world of circus fun, providing an enjoyable gaming experience despite some minor drawbacks.
Sound Effects and Animations
Regarding sound effects and animations, 5 Reel Circus offers a mixed bag. The sound effects, while thematically appropriate, may be considered below average in quality and can become irritating after prolonged play. However, the game offers the option to turn off the sound, allowing players to enjoy the visual experience without auditory distractions.
The animations in 5 Reel Circus are smooth and enjoyable, providing a sense of excitement as symbols animate when forming winning combinations. The realistic graphics and animations create an immersive gaming experience that transports the player to the circus. The game's soundtrack also contributes to the overall atmosphere, featuring lively tunes that capture the hustle and bustle of circus life.
While the sound effects could be improved, the animations and overall gaming experience are enjoyable, ensuring players remain engaged throughout their time with 5 Reel Circus.
Pay Table and Betting Options
The pay table for 5 Reel Circus outlines the payouts for each winning combination, providing players with valuable information to help them strategize their bets. By examining the pay table, players can identify the highest-paying symbols and adjust their bets to maximize their potential winnings.
Some tips and strategies for maximizing payouts include:
Bet maximum: Betting the maximum number of coins can increase the payout for winning combinations. In 5 Reel Circus, this means betting five coins per line for 75 coins per spin.
Play all lines: To increase the chances of hitting a winning combination, consider playing all 15 pay lines. This ensures that any winning combination on any line will result in a payout.
Utilize multipliers: All winnings are tripled during the free spins feature, significantly increasing the potential payout. Keep an eye out for opportunities to trigger this feature.
Manage bankroll: Determine a budget for your gaming session and stick to it, avoiding the temptation to chase losses or bet more than you can afford.
Look for bonus opportunities: Stay alert for chances to trigger the bonus game, as this can lead to additional prizes and an exciting break from the standard gameplay.
Remember that slot machines are games of chance, and outcomes are determined by a random number generator. No strategy can guarantee a win, but employing these tips can help maximize your potential for success.
Special Features
5 Reel Circus boasts a simple yet engaging set of special features, notably the free spins bonus round. Triggered by landing three or more scatter symbols, the free spins round awards players with 10 free spins, during which all winnings are tripled. This enticing feature can lead to significant payouts, especially when high-paying symbols appear on the reels.
5 Reel Circus may seem less feature-rich than other circus-themed slot machines. For example, Circus Brilliant by EGT includes a gamble feature, a jackpot feature, and a bonus game with free spins and multipliers. Likewise, Big Top by Microgaming offers a bonus game with the potential to win up to 5,000 coins and wild and scatter symbols that trigger additional free spins.
Despite having fewer features, 5 Reel Circus still provides a fun, engaging experience, particularly for players who appreciate more straightforward gameplay. The free spins feature and tripled winnings can lead to substantial rewards. The game's low minimum bet makes it accessible to players with smaller bankrolls.
Jackpot and Volatility
5 Reel Circus is a low volatility slot, which means players can expect smaller, more frequent payouts. While the exact likelihood of hitting the jackpot is not specified, the game's free spins feature and multipliers can significantly increase the chances of winning.
However, it is important to remember that playing any slot game involves risks, and players should always gamble responsibly. Set a budget, avoid chasing losses, and never bet more than you can afford to lose. The game can be played with a low balance, as the minimum bet is $0.15 per spin. Players can also try the game for free in demo mode before committing to real-money play.
Winning Strategies
To maximize your chances of success in 5 Reel Circus, employ the following winning strategies:
Bet on all 15 paylines: To activate the biggest jackpot, bet on all 15 paylines using the "Bet Max" button. This will play "5 Reel Circus" with all 15 lines and 5 coins, maximizing your winning potential.
Manage your bankroll effectively: Set a budget for your gaming session and stick to it. Don't chase losses, and don't bet more than you can afford to lose.
Play responsibly: Treat gambling as entertainment, not a money-making method. Don't let gambling interfere with your daily life, and avoid gambling under the influence of alcohol or drugs.
Look for lucky signs: Pay attention to the paytable and watch for lucky signs that can increase your chances of winning and maximize your payouts.
Trigger the free spins feature: Land three or more scatter symbols anywhere on the reels to activate the free spins feature, which comes with multipliers that can significantly increase your winnings.
Following these strategies increases your chances of winning and having a fun, enjoyable gaming experience. Remember to play responsibly and have fun!
Conclusion
Despite minor graphics and sound quality drawbacks, the 5 Reel Circus offers an entertaining and engaging slot experience. Players can win substantial rewards with unique features like the bonus game and free spins with tripled winnings. The colorful circus theme and immersive atmosphere transport players to a world of circus fun, providing hours of entertainment.
Though it may not be as feature-rich as some other circus-themed slots, 5 Reel Circus remains a classic, enjoyable option for players looking for a straightforward, engaging gaming experience. Remember the winning strategies, play responsibly, and enjoy your time under the big top with 5 Reel Circus!