7 Chakras Slot Review (Saucify) Slots with Real Money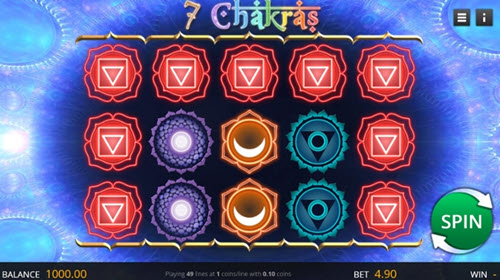 Have you recently been fatigued or anxious? Do you have a lot of negative energy circulating in your body? If that's the case, Saucify's new 7 Chakras slot machine can help. This relaxing online slot game may not be able to open your chakras, but it will surely make you feel energized and cheerful once it starts paying out winnings.
This game contains five reels and up to 49 paylines on which payouts can be triggered, so there will be lots of chances to win. In addition to its standard prizes, 7 Chakras has bonuses such as stacked wilds, and payout multipliers, as well as a themed bonus game where you can win enormous free spins prizes and various multipliers. Simply go through our simple tutorial to the game to learn how to activate these features.
A Psychedelic Setup
In Saucify's expanding gaming portfolio, you will find slots with a variety of themes, but few of them will leave an impression on you like this one. The 7 Chakras slot is filled with visual symbols that represent major energy areas in the human body, and it is based on the Hindu/Buddhist notion of seven chakras. Everything in this game is painted in a variety of bright neon colors, from the background to the symbols and logo, and all rounds are set to Indian-inspired sitar music. The overall impression of 7 Chakras is incredibly entrancing, especially during the bonus games.
Relax and Float Downstream
7 Chakras is a slot with small-medium betting limits, rather than a high-limit casino game. You can choose which win lines you wish to pay for to modify the amount of money you spend per spin thanks to the active paylines. The smallest coin size is 0.01 credits, which is also the smallest stake you may make when simply using the first payline. You can also choose a coin size of up to 0.25 credits, place up to 5 coins per line, and activate all 49 paylines for larger bets and greater winning potential. You will be able to play with a maximum bet of 61.25 credits every round if you do this. One of the most appealing aspects of 7 Chakras is that it may pay out prizes in either left to right or right to left directions. This slot features only seven paying symbols, which are ranked according to the importance of each "chakra" they represent, beginning with the crown chakra and ending with the root chakra. For five of the identical symbols, the highest paying icon can pay up to 250 times your line wager, with a minimum of 25 times for a three-of-a-kind win. The payouts for the other chakras are all lower, starting at 5 times your payline wager and going up to 100 times for a single combination. The slot's wild symbols can substitute for all symbols, save the scatter to form winning combinations and provide bonus rewards, allowing you to earn more money per spin. The wild symbols appear as stacks of double wild symbols and can be found on any reel in the game. Not only may these symbols complete rewards, but they also double any award they assist in triggering.
The scatter symbol, which resembles a closed fluorescent lotus blossom, is another bonus sign you can gather while you play. The "Ascension" free spins game will begin when three of the symbols appear anywhere on the screen, regardless of whether they are on a payline or not.
The free spins bonus game awards you a certain number of free spins that you can increase by playing the "Ascension" pre-game. You can get 1, 3, or 5 free spins depending on whether you triggered the spins with three, four, or five scatters.
You will watch an eight-leaf lotus flower spin and emit energy once the free spins are unlocked. The goal of the pre-game is to choose one leaf to represent each of your chakras. The leaves have a certain number of free spins as well as multipliers for payouts. You can make up to seven predictions (one for each chakra) and win up to 20+ more spins, as well as bonus win multipliers, on top of your initial spins. And if you ever need a spiritual energy education, the slot will explain all seven chakras to you while you guess.
Meditation Course for Free on the Internet
You do not need any money to try Saucify's 7 Chakras. 7 Chakras, like virtually all online slot games, may be played for free without paying any money. You can play the free 7 Chakras slot right here to enjoy the game without spending any money. You can play this demo slot for as many free hours as you desire, at any time of day.
Free slot games, on the other hand, can simply provide enjoyment and not real money prizes. You must play for real money at licensed casinos to win genuine prizes. To begin playing at any casino, you must first create a player account, which should only take a few minutes. To play 7 Chakras with cash, you must first create an account and deposit money using any convenient payment method like MasterCard, Visa, Neteller, or similar. In general, all of today's leading casino operators not only allow you to deposit for free, but they also process your funds immediately, allowing you to begin playing right away.
More Entertainment from the East
If you like 7 Chakras and are looking for more games with both methods to win, check our free Prosperity Twin slot from NextGen. With 243 win lines and comparable bonus features, this slot machine gives even more chances to win rewards. Just like 7 Chakras, Prosperity Twin has wild symbols that add multipliers to your payouts as well as varying numbers of free spins bonuses that can be retriggered. However, if you want to take advantage of its both-ways option, you will have to wager twice as much as usual.
Surrender to the Void
Overall, 7 Chakras is an excellent medium-variance slot game that will appeal to a wide range of players, not only yoga enthusiasts or those interested in Eastern religions. There are 49 paylines on which you may win prizes, as well as multipliers that can quadruple your money, even if it is given away for free during the free spins bonus games. Furthermore, you can play for pennies and have long, fascinating sessions on a limited budget.
Best Saucify Casinos