Apollo Rising Slot Machine Review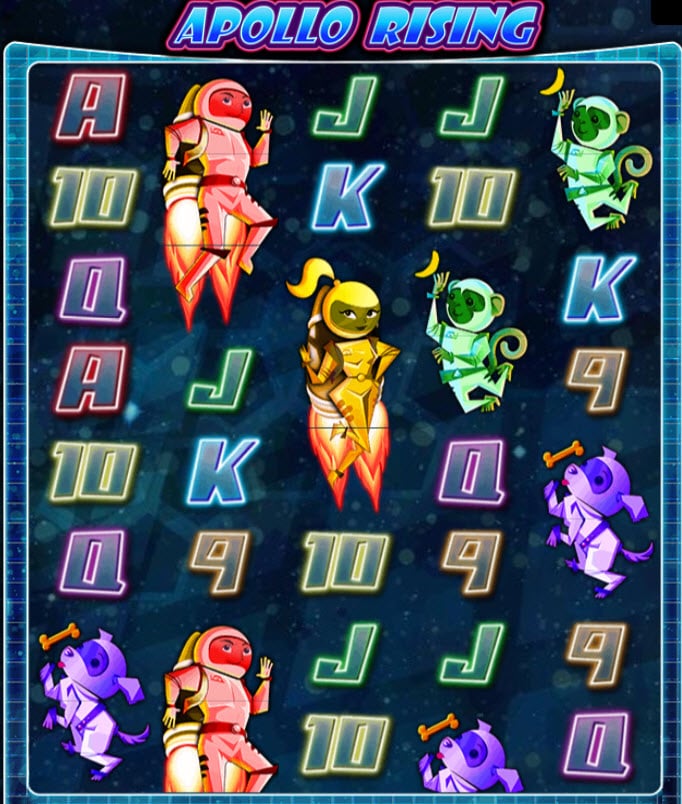 IGT Casinos
Apollo Rising is a super interesting newly developed slot game by IGT. If you want to become an hero in the game, you have to board the Apollo Rocket and journey to space where you go ahead to save a landing party whom are in trouble.
The duo of Blue, the dog and Banana, the Monkey all need to be salvaged, as well as the co-pilots; because they are floating about in space. The mission is a difficult one but you can be rest assured to get rewarded for all your heroics. Also, there's a distinct bonus game full of rewards available for the most courageous astronauts.
The theme-stage of Apollo Rising is basically on a strange 5 reel slot. There are 100 impressive winning lines that can be played and there are specific ways to stake them.
As can be obtained in a Sci-Fi theme, it can be played on your mobile devices and gadgets such as tablets, iPhones, and iPads, and other Android phones. It is rather unfortunate that the game is unavailable in some countries such as the Italian and French online casinos.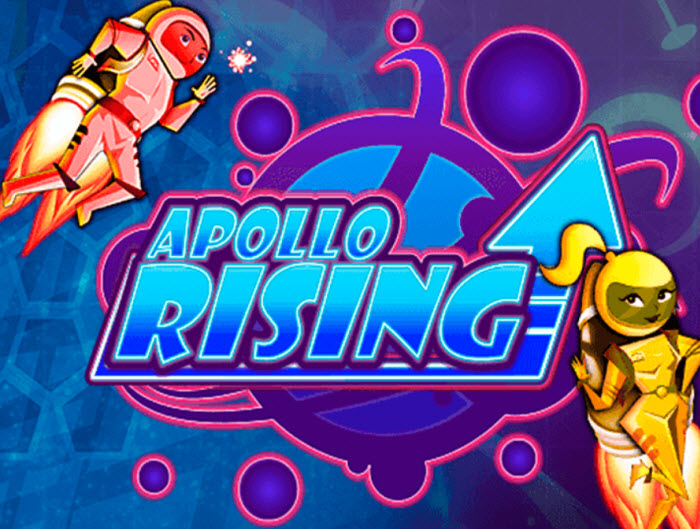 The Beauty of Space
There are lots of beautifully designed characters and backgrounds in the space themed slot. IGT Software created a wonderful graphics doing this. In fact, as soon as you see it, you'll immediately feel like an astronaut who has gone to space to save the world.
Apollo Rising Rewards
Regardless of the fact that the astronauts are floating in space, the crew onboard tried to leave many clues which floats around trying to guide and lead you to them. You're to pick these symbols as you move. Symbols that matches can win you between 8 and 80 times of your original stake.
Sooner or later, you would be on the trail of the crew, luckily, Blue and Banana are quite easy to identify with their blue and green colors respectively. As you look to rescue Blue, you can win up to 100 times your original stake whilst getting up to 150 of your stakes if you rescue Bananas.
Also, the co-pilots are as well easy to identify because they both wear bright-orange and bright-yellow space suits respectively. If you find and rescue them, you would get up to 300 times your original stake.
Upon succeeding in your mission, the symbols of the Rising Respins would, with hope, activate the bonus. These symbols could appear on the second, third, fourth and fifth reels where they each trigger a free game. Every wild symbols would also change to a rocket—whose size increases to cover the whole reel. In all the free games triggered in that bonus, the Wild stays in place all through and during the free games as additional symbols turn into Wild during this period.
Space Stakes
One meaning this rescue mission has is that: there's simply a lot at stake! And this is exactly why the stake is worth it because there's a 100 winning line. If you stake each line per spin from a least of 1 coin to a maximum of 30, this allows you to have the highest bet of 3,000 coins per spin for the high-rollers.
Back from Space
Apollo Rising has lots of amazing characters. Its setting is great, has a huge payout with a super Rising Respins bonus. We advise that you try out Apollo Rising if you ever think you can make your bankroll hit the atmosphere.