Bigger Bass Bonanza Slot (Pragmatic Play) Slots Win Real Money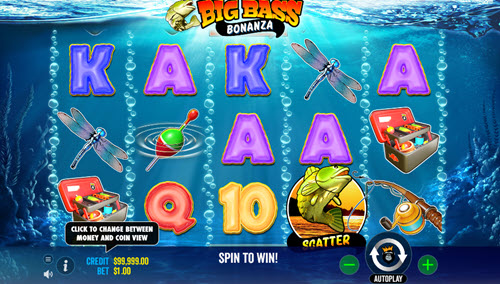 >>Play on Bigger Bass Bonanza Slot
Launched in 2020 by a partner of Pragmatic Play, Reel Kingdom, this slot is an excellent one that has grabbed the attention of casino players to become a very popular game. The surprising thing is that it did not do a lot in several ways as slots such as Fishin' Frenzy already did. Nevertheless, it actually had a way more attractive bonus game that could offer players Multipliers up to 10 times to boost career winnings, even though it has a quite disappointing maximum winning. Big Bass Bonanza still reeled in many players to make us follow it up. This gave birth to Bigger Bass Bonanza that has wisely not changed the central gameplay a lot but has included some things to make the game a bigger one.
It's got some visibly apparent changes. Initially, they added an extra row, so the action of this slot happens on a five-reel, four-row game panel that has twelve fixed pay lines. They also overhauled the background image. It doesn't now seem like users are fishing in a deep-sea but casting off closer to a shoreline that's dotted with neon-lit buildings and palm trees. Somewhere cool, suggested by its electro 80s style and funkier soundtrack that's replacing the original amiable plinking.
Looking at its maths model, there are some changes and some things remain unchanged. The RTP has remained at an unchanged value of 96.71 percent, although it's variable. So, look at the help files to know the version you have got to play. As one of its "bigger" makeovers, it has increased volatility to high, which now has a 5 of 5 ratings compared to its former 4 of 5. They changed the bets to match its pay lines, beginning at 12 p/c and having an increase of levels until it stopped out at €/£240 for each spin.
You can have big winnings by collecting some scatters in free spins, while regular line winnings happen when matching symbols drop left to right on two adjacent Reels from the reel at the leftmost side. The low-paying symbols are the 10 to A card royals, while a boat, a fishing rod, a lure, and a tackle box are the ones that pay high. The worth of high-paying symbols is 50-200 times the wager for five of a kind; then you'll get the overall money value amount when you land a full line of fish scatters. There's also a Wild symbol, which appears in free spins to substitute symbols that pay regularly and collect any money symbol you can see.
Features of Bigger Bass Bonanza
Free spins
Bigger Bass Bonanza has the same features you'll find in Big Bass Bonanza, and the added benefit is larger value money symbols and one added row. You'll see scatter symbols on every reel, and 5, 4, or e in view offers 20, 15, or 10 free spins respectively.
The angler will collect their entire values on behalf of the gambler in the free sound feature the moment wild symbols land simultaneously as money symbols. This game has an elusive fish scatter, which is worth 4000 times the wager.
Additionally, they collect wild symbols on a meter that's shown above the Reels. On every fourth Wild symbol received, the feature will be retriggered, which awards ten more free spins and a multiplier for the collector of the wild money symbol. Players get two times for the initial to retrigger, then the times for the second, and ten times for the third. It works in a way that if the 2 times is active, the moment they receive any money symbols, their values will be doubled. After 3 retriggers, they can't retrigger the feature again.
Verdict of the slot
Well, it's bigger, so there isn't any boasting in its title. The reel set in Bigger Bass Bonanza is expanded, some more pay lines and they've ratched up its math model to a high setting. Even the location of the game has changed, and this change can be the nicest of all for a number of players. There was a ukulele-led deep-sea fishing feel of Maui or somewhere similar in its original version. It has a more laid-back feel compared to the synth-wave styles of the place we're now – Tenerife, Miami? It isn't possible to say, but it's a place that you could imagine hardcore fishers wanting to escape to some quiet and peace.
It might not even matter a bit since there's this seagoing, carefree feel in Bigger Bass Bonanza, and they've got the same main features as before. So, gamblers that enjoyed the antics of Fishin Frenzy of the first will likely want to also cast off on this one. Since the potential rewards have likely increased from the initial 2100 times.to almost 2 times that amount at 4000 times a wager. By the way, this figure is a winning cap. This slot can likely go higher, but its bonus game will shut down when you get to the 4k.
Bigger Bass Bonanza technically does not do much; even the previous version didn't. It just includes a couple of more thrills out of the common format. If you see yourself playing the initial versions or anybody who is Fishin' Frenzy just wants a little more, then the answer is likely Bigger Bass Bonanza.
Pragmatic Play Casinos