Bloodshot Slot Machine – Online (Pariplay) Slots win Real Money
Bloodshot Slot Machine is one of the thrilling games invented by Pariplay. This game is a replica of the American Valiant Comics dating as far back as early 1990's.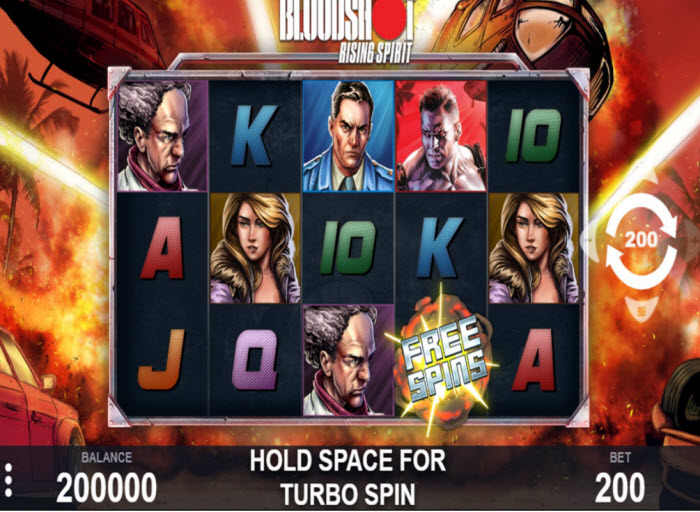 Follow the Quest
Blood Shot is on a quest for vengeance in this slot machine where things can get really messy. As a comic character, he got injected by an experimental scientist with nanites. This granted him the ability to meta-morph and regenerate.
Despite his super-powers, Blood Shot is very unhappy. His entire memory has been wiped, things are even worse because he can't remember who did this to him.
Jump on the wagon with Blood Shot and his vigilantes group as they search for the evil scientist behind his unhappiness. You get to spin reels from as low as 0.40 or go all the way with playing maximum stakes at 20.00 a spin.
The game requires you paying rapt attention because action unfolds through the wheels. The reels get plashed with blood wilds without warning by a mechanical spider machine. Your attention is required as you do not want to be caught unaware.
While playing, you can unlock bonus games, multipliers, free spins, and also a jackpot of 2,500 that is non-progressive.
What to Expect When Playing Blood Shot
Bloodshot is a game that will constantly keep you on your toes. It comes with a couple of intriguing catches which includes:
The design of Bloodshot slot machine has semblance to that of a comic book, this is not all. It is designed with several fighting scenes that pop up from behind the reels. The screen is sketched with flying debris, clouds of smoke and explosions which add to the awesome feeling.
Different characters asides Blood Shot are on the lookout for the scientist, these other characters include a woman, a bloke with muscles to kill for and a man that is electrically charged. They can all be found behind the reels with dripping blood.
The game contains some other interesting symbols such as masks, machetes, grenades and the blood-natites.
The lower part of the screen has the control panel. It is very easy to navigate ad you can always change your bets and keep track of it. To adjust your settings, there is an orange box on the lower left of the screen. You will also find the rules guiding the game here alongside your pay table.
Becoming a part of Bloodshot's team and helping to hunt down the scientist comes with a huge reward. Upon laying your hands on five blood nanites, your bankroll is boosted by 2,500 coins.
There are other high paying symbols such as the scientist himself with 1,500 worth of coins, the muscular man with 1,000 worth of coins and the electrically charged man with 800 worth of coins.
There is a bonus wheel feature of the game that gets activated as you play. The mechanical looking creatures can be found crawling up and down the wheels and blasting different symbols into the bloody wild randomly.
These symbols can be substituted for a wild card for winning pay lines to be activated. Getting a wild on the 2nd, 3rd and 4th reels activates the feature for Bonus Wheel.
It also has the Wild Natites Bonus that awards you with 3 spins that are free and you get up to 5 reels that can be turned fully wild randomly.
Bloodshot comes with fully packed action and a slot machine that is fully animated. Its wins are very generous despite its limited bonus offer. It grants you frequent wins that fall within the base game and grants you a maximum stake that sets you back at only 20.00 per spin.
Pariplay Casinos