Book of Tattoo 2 slot Review | Fugaso Casino Software
Review of slot game designed by Future gaming solutions, titled Book of Tattoo 2 slot, introduced October 2019, features 5-reel, 243 winning ways, with Book of tattoo represented as scatter symbol. RTP rate at 96.5%, & bet limit from 0.20 – 40 coins.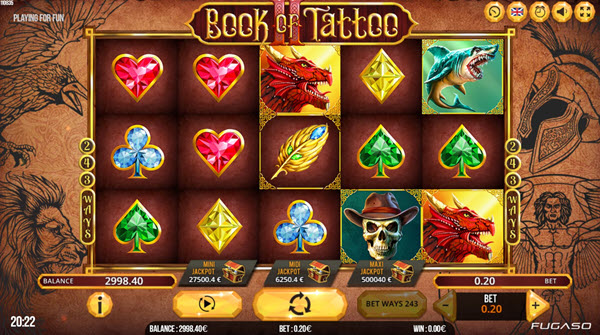 =>Play on Book of tattoo 2 slots
The Book of Tattoo 2 Slot is a second series to Book of Tattoo, though Tattoo 2 is better stylish. This slot game holds adequate drawing cards to make the entertainment a standard, likewise the payouts. Fugaso is responsible for this slot creativity & introduced it in October 2019. Play your chances on any of the three progressive jackpots.
The gameplay adopted in the Book of Tattoo 2 slot is alluring & entertaining. The possible images & characters are clear-cut. You can earn cool payouts through the re-spin feature, mystery characters, & accompanied by a musical tempo. Besides, the bonus spins & rewarding card suits as well count towards substantial winnings.
Game Category: Video Slot
Return to player rate: 96.5%
Scatter icon: Available
Variance: High
Free Game: Available
Progressive: Available
Win-lines: 243 winning ways
Multiplier: Not available
Wild icon: Not available
Reels: 5
Auto-play feature: Available
Minimum Coins limit: 0.20 – 40
Bonus Spins: Available
Jackpot: Progressive
Basis for play
Book of Tattoo 2 Slot features three rows & 5 reels, with up to 243 winning ways. Before you can realize winnings, you must descend identical characters over the adjoining reels in the left to the right direction. Select the bet limit from 0.20 – 40 coins for each turn.
Look forward to a high variance & RTP rate at 92%, with 4.5% included of the Jackpot, amounting to 96.5%.
Quite different from the 1st series of this game, the second series is better of a dance hall & rhythmic with a cognitive soft rock quality. Book of Tattoo slot features a gamble function, additional reels you can turn-on.
From this series, players can leverage a certain re-spin, icon, Book of Tattoo bonus Spins & regular spins. Either series comes with 3 tier progressive jackpots, identified as Minimum, Mid & Maximum.
Layout Impression of Book of Tattoo 2
The play scene put across a brown canvas in the backdrop, accompanied by fancy artworks. There's a lion, a man having wings, a bird, & outer casing. The characters brighten up with colors while the bonus spin is active. You'll notice a shady brown hue designed with the reels, while a four-card combination can descend on these reels. The man with wings reflects a lustrous jewel, with image characters having a frantic shark, red dragon, tiger, and owl.
Besides, there's a full gold-covered & orange symbol of a mystery icons & frightening skullcap bearing a hat. The bonus scatters icon signifies this slot's symbol appears on an archaic book, while the designs on each character hold a fancy look. The development contributes outstanding effort to the visuals & tunes. The concept adopted is strange & appears in a disco pattern.
How to Win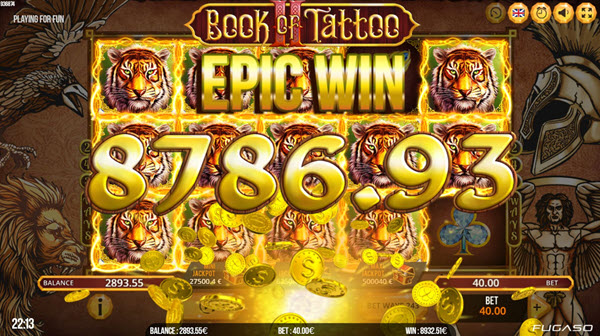 =>Play on Book of tattoo 2 slots
This slot's character comprises five low worth, scatter, five best value, & a mystery. You'll get a similar reward with the red hearts, jewel yellow diamonds, green spades, & blue bats in a range of 0.25 – 0.75x of the players bet size in return to 3 to 5 similar characters put on view. In contrast, gold-covered regalia rewards higher – in a range of 0.25x – 1x.
The best-paying characters in this game comprise a frightening shark – offering 0.50 – 1.50x of the players bet, & a red monster – offering 0.50 – 2x of the players bet. The bandit offers 0.75x – 3x of the players bet value, while the tiger reward as much as 1, 2, and 4x in return to 3, 4 & 5 characters appearing in a suit. The skull inside a hat is the best; if you can appear 3, 4, or 5 of these symbols, it can reward 1.25, 2.50, or 5x accordingly.
Re-spins & other Play-modes
The Mystery Symbol is an adorned gold-covered character. After this icon descends, it then rolls to unveil a different character, excluding the bonus scatter icon. After that, you'll receive payouts in return to the whole formed winning combos actualized via the same characters.
This mystery character can appear either first, second, or third reels while the main game is running & can activate the Mystery Re-spins feature. While the feature is active, every of the descended mystery icons become fixed to position & offer one bonus re-spin. By Chance, let's say you bash one or added mystery icons; it fixes to its spot & activate a different re-spin feature. The procedure can keep recurring, & no bonus will descend while the feature is active.
During the main game, you can activate a Mystery Spin. While the Mystery spin is active, you have the opportunity to activate a lot more Mystery icons over the reels than the normal. So, you have high potentials to trigger a re-spin attachment.
Book of tattoo | Scatter icon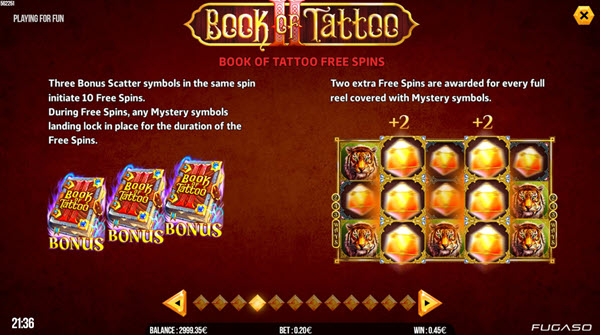 =>Play on Book of tattoo 2 slots
The scatter character is represented as a Book of tattoo icon, & it comes into view on second, third, & third reels while the main game is in-play alone.
If you can appear three or higher of this character during a spin, this can bring up 10 Book of Tattoo Bonus Spins. Once these spins are in running mode, the whole mystery characters on view can then fix to a position in the period that the bonus spin is active. The characters spin unfolds one random character by the close of every spin, excluding the scatter symbol. Each spin from the mystery icons unfolds another symbol that guarantees cool payouts.
Anytime a player loads up the entire reel with mystery characters, this can offer two additional bonus spins. As there's an increase with the number of reels full of mystery icons, it increases alongside bonus spins. If you can hold five reels, you'll get up to 10 bonus spins, though it's impossible to re-activate this feature.
Book of Tattoo slot features three progressive jackpots, identified as Minimum, Mid & Maximum. Every of the player's stake counts for an increase right below;
2% of a player's stake turns up Minimum Jackpot
While 1.5% turns up Mid Jackpot, & 1% turns up Maximum Jackpot
Right there behind the reels, you'll come across the current value of every Jackpot shown.
Wrap-up
Both Book of Tattoo & its second series is of high variance, & it features up to 3 progressive jackpots. This slot is common & can suit any budgets. Try your luck with any of the mystery icons, bonus re-spins & so forth.
Fugaso Slots