Desert Drag Slot – Booming Games Software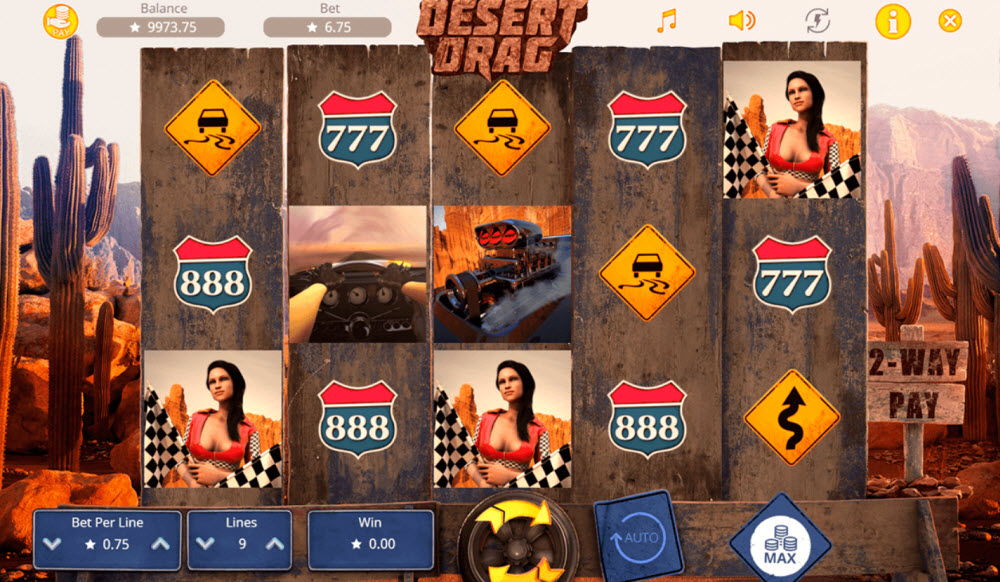 Desert Drag Slot is a brand new slot from the guys over at Booming Games. This online video slot is a high octane slot that just pushes players to live life to the max. This slot has 5 reels, 3 rows, and 9 paylines. If players get lucky, you can rake in up to 10000x your bet by landing the right combo on the reels.
Desert Drag is all about the great American West. This slot makes for a truly entertaining afternoon spent on an exhilarating drag race on the wide open desert roads of America where it's just you and your competition and bragging rights up for grabs.
Booming Games Casinos
Gameplay

Desert Drag is a 5 reel, 3 row, and 9 paylines slot.
The wild symbol which takes the place of every other symbol in the game except for the scatter helping players land more winning combos is illustrated by a red muscle car. When the wild symbol becomes part of a winning combo, it doubles the win. Needless to say, the wild symbol comes with a 2x multiplier when part of a winning combo.
The scatter symbol in this game is illustrated by police lights. Scatter symbols do not have to land on active paylines to give players a win. They just have to land anywhere on the reels for a win to be had. When 2, 3, 4, or if you are that lucky, 5 scatter symbols land on the reels, you can rake in 1x, 5x, 10x, and 100x your total bet in one spin. How awesome is that?
One thing that might disappoint punters though about this game is the lack of special features like free spins. This game is pretty lacking in features as compared to other Booming Games online video slots or any other slots by other developers.
One cool feature of this game is the Perma 2-Way Pay feature. How the feature works is that it allows players to form winning combos from right to left as well as from left to right.
Paytable
777 Sign: 3x for 3, 10x for 4, 50x for 5
888 Sign: 5x for 3, 10x for 4, 50x for 5
Swerving Car Sign: 5x for 3, 25x for 4, 200x for 5
Bending Road Sign: 5x for 3, 25x for 4, 200x for 5
Nitro Button: 10x for 3, 35x for 4, 300x for 5
Engine: 15x for 3, 35x for 4, 300x for 5
Dashboard: 5x for 2, 20x for 3, 50x for 4, 500x for 5
Racer Chick: 5x for 2, 35x for 3, 100x for 4, 1000x for 5
Red Muscle Car: 10x for 2, 50x for 3, 100x for 4, 1000x for 5
Yellow Muscle Car: 20x for 2, 100x for 3, 500x for 4, 5000x for 5
Conclusion
Desert Drag is a cool online video slot that brings in high octane action to life. If you are into racing themed slots, then this title might just suit your taste. Totally exciting and thrilling, this slot brings all the glory of classic American muscle cars that just impress. Most especially if you are lucky enough to grab the highest price, then you will definitely have the time of your life playing with this gem.
The wide open skies, the road, and the desert are all awaiting punters from the world over to come and take the price which is up for grabs. This 5 reel and 3 row slot totally make the road come alive as you spend a session spinning the reels in this ultra cool online video slot. So what are you waiting for? We recommend you try this title out the next time you step into the virtual doors of your favorite online casino. You won't regret it.