Drago Jewels of Fortune Slot Review – Pragmatic Play Slots
Drago – Jewels of Fortune Slot is an online slot game that was developed by Pragmatic Play. It comprises five reels, one thousand and six hundred means of winning, and a 5-4-4-4-5 layout. The maximum amount players are required to stake is one hundred, and the minimum amount is 0.20. It has a return to player of 96.5 percent.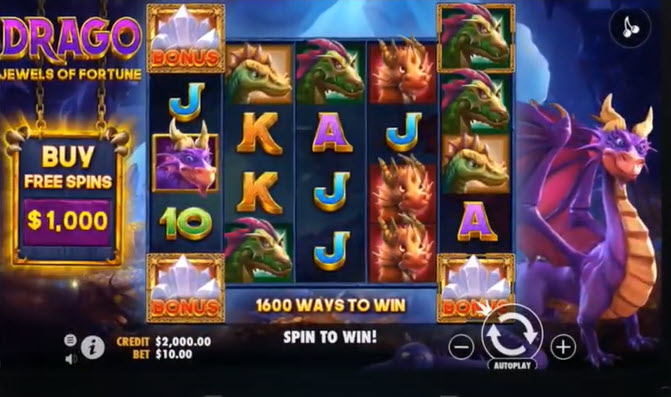 =>Play on Drago – Jewels of Fortune Slot
Pragmatic Play is an online software developer that has developed another online slot game, and it is called Drago – Jewels of Fortune. From the title of the game, you would have been able to deduce what the theme of the game will be and the primary character. There are one thousand and six hundred means of winning available to players, and the arrangement of the icons are in a five-four-four-four-five formation. Navigation is easy since all the icons and the necessary buttons you will need to appear large. There are a lot of amazing features present in the game, including free spin sessions, wild, and multipliers. It is compatible with mobile devices and computers. Players are also provided with the opportunity of going away with as much as five thousand times their overall stakes.
Gameplay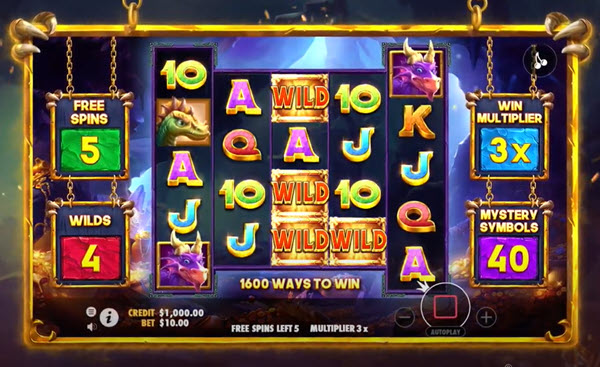 You are searching for gems, but a big dragon is protecting these gems with a purple coloration. Although dragons are known to emit fire, there is no need to be afraid when you come across this one. However, that is not the only dragon there; there are three more dragons, each having its trait. These dragons are friendly, and they also form part of the winning combinations. When you listen to the music being played when playing, you will be enchanted and focus on the game.
Staking Options
This game can be played by both high rollers and low rollers players. The minimum amount you can stake is 0.20, and the maximum amount is one hundred. You have the opportunity to adjust the bet the way you like before starting the wheels. If it is your first time playing, you can try out the demo version, where you will not need to play with real money. This will help you to get to know all the necessary things about the game. It is a slot game with a high variant, and the payout percentage is 96.5 percent. From the left-hand side of the wheels, you are provided with one thousand and six hundred means of winning. You will need to land similar icons on these lines to be able to win.
Features of the Game
As earlier stated, there are a lot of features that increase the winnings of the players, and one of them is the wild icon. The wild can replace all other icons on the wheels to form a winning combination. Another feature is the super spin, which can be activated by any of the game dragons. You will need to obtain four similar dragons at all the corners. If you land a twenty-plus baby dragon, you will be rewarded with one hundred times your stake. If it is a red dragon, you will have two hundred and fifty times your stake. Five hundred times your stake for red dragon and five thousand times your stake for a purple dragon.
You will activate the free spin session when you land 4 scatters, which are represented by crystals. You would have been awarded 3 respins initially, which will then be reactivated when you activate the free spin session.
Conclusion
Pragmatic Play is known for creating fantastic slot machines of high qualities designed beautifully with lots of bonus options. If you are a player looking to play games that cannot be easily come across in the gaming industry, you should try Dragon Kingdom Slot. You can download the game or play using the instant mode. It is compatible with mobile devices and computers. Both high rollers and low rollers are welcome to try out this fantastic slot game.
Best Pragmatic Play Online Casinos