Gator Gold Gigablox Review Yggdrasil Gaming Slots Game
Gator Gold Gigablox is an online slot game developed by Yggdrasil Gaming and it contains 6 reels, 4 rows, and four thousand and ninety-six means of winning. It has a payout percentage of 96% and has a high variance.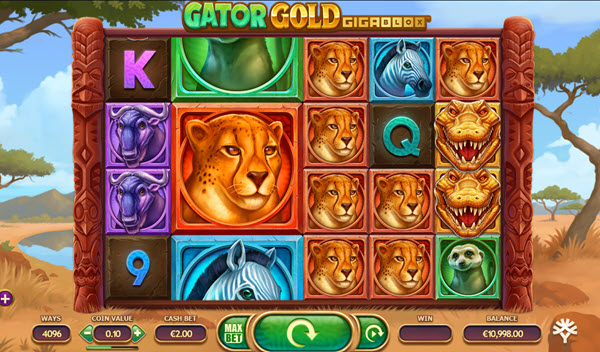 About Gator Gold Gigablox
Yggdrasil Gaming has come again with another fantastic slot machine that provides the players with a safari experience. The name of the game is Gastor Gold Gigablox and it contains 6 reels, 4 rows, and four thousand and ninety-six means of winning. Winnings are obtained from the left-hand side to the right-hand side of the reels and players need to land similar icons. You need to land at least 2 similar icons and the game can be played on various platforms such as android, laptop, and desktop. The minimum amount you can stake is 0.20 credits and the maximum amount is 0.60. It is made up of a payout percentage of 96% and has a high variance.
At the beginning of the game, you will be introduced to the location containing a body of water and some wild animals like lions, cheetah, antelope, and giraffes. All the actions take place on the reels and the slot can create four by four super icons. The Paytable contains different symbols with different payouts. There are symbols with high payouts and there are some with low payouts. For the latter, it consists of cards like A and 9 that will give players between times one and times three of their stake for obtaining 6 of such symbols. The symbols with high payouts give players between times three and times six of their stake. These symbols are made up of wild animals like wildebeest, zebra, golden gator, meerkats, and cheetahs. One of the special symbols is the wild that can replace other symbols to facilitate a player's winning. The other special symbol is the scatter, which is responsible for the activation of the free spins feature.
Features of the Slot
The software developer of the Gastor Gold Gigablox is Yggdrasil Gaming that has developed many slot machines with similar characteristics. The slot is another Gigablox game with an adventure theme and different features to increase the payouts of the players. Among the features included in this game is the free spins and wilds that will increase the payouts of the players to about twenty times their bets.
Synchronization of the reels will take place by the Gigablox depending on the number of reels that contain similar icons. However, for the synchronization to take place at least two reels must symbols that matched. Therefore, it is possible to have two by two, three by three, and four by four Gigablox icons showcasing on the reels.
The free spin session is activated when the players land 5 scatter icons. Players will be rewarded with free spins based on the number of scatter icons obtained. This implies that if you land five scatters you will be rewarded with five free spins. When the session is ongoing, there will be extra free spins for you depending on the number of scatters obtained. Also, when you obtain wild icons, you will be rewarded with a multiplier of times two or times three.
Conclusion
If you are a lover of slot games you would have played slot games that resemble Gator Gold Gigablox from other popular software developers. Yggdrasil Gaming ensures that this fantastic slot machine is different from those of other developers by including some features. Also, players are rewarded with huge payouts of about twenty thousand times their stake which is higher than those of other developers.
Frequently Asked Questions about Gator Gold Gigablox
Is the payout percentage of Gator Gold Gigablox constant?
Yes, the payout percentage of Gator Gold Gigablox is 96% and does not have a range, unlike some developers that customized their settings which allow the payout percentage to be adjustable.
What are the maximum payouts of Gator Gold Gigablox?
By making use of the wilds and multipliers features players can cash out up to twenty thousand multiply by their bets by playing the Gator Gold Gigablox slot. At the base game, when you land 6 similar icons you will be rewarded with a multiplier of times 6.
Can Yggdrasil Gaming guarantee my safety and security when playing the slot?
Absolutely! Since 2013, Yggdrasil Gaming has been operating in the gaming industry and it is regarded as one of the popular developers among players. Many online casinos have collaborated with this developer to serve as their games provider.
Yggdrasil Gaming Casinos