Green Light Slot Machine
Online Slots for Real Money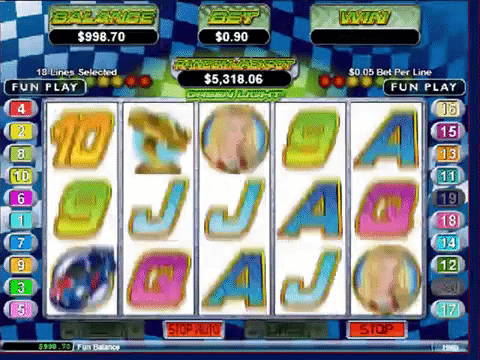 This slot game from Real Time Gaming is one to set your adrenaline rushing. The Green Light Slot Machine is an old game that offers players 20 racing lines in which they can win amazing prizes.
This slot comes with a feature that allows players to race cars in the Green Light Feature; it also provides several other bonuses such as Free Spin, Prize Multipliers, and the Wild Drivers. In addition to these, other prizes for winning trophies, dating models, and drinking champagne can also be won.
Despite being quite an old game, The Green Light Slot Machine is one slot that will definitely give players a run for their money. What makes it even more fun is the fact that players do not necessarily need to have a fat pocket to be able to play. With as low as 0.01 coins per spin, you are good to go.
RealTime Gaming Casinos
The Race Circuit
Just like the circuits in other RTG slot machines, that of the Green Light Slot has been designed with a setup of 5×3 reel. This setup provides players with 20 racing lines where prizes can be won.
Green Says Go
The moment the spin button is pressed, players are provided with prizes such as 1,000 coins with which trophies can be won. It doesn't stop there, there are additional 1,000 coins for drinking champagne. When players get into the car, they earn as much as 5,000 coins. The moment the green light signals to go, bonuses are up for winning.
When three or more Green Lights appear, your total bet is triggered by up to 200x. In addition, the Green Light Feature also gets triggered. Here, players can begin by picking 1 out of 5 cars with which to race on the track.
The player who finishes first wins 25 free games, the second player wins 20 free games, the third player wins 15 free games, forth player wins 10 free games, while the fifth player wins 5 free games. In addition for the players who finish first and second, they get to participate in a second race where they can win as much as an extra 100 free games for whoever comes first. The player who comes fifth also wins an extra 5 games.
Racing Lines
The Green Light has 20 racing lines from which players can choose and in addition, play from 1 to 20 of them on whatever spin they desire. After this is done, a line-bet must then be placed between 0.01 and 0.25 coins. The line-bets provide players with a minimum bet of 0.01 per spin. On the racing line, the maximum bet is 5 coins on any spin.
With the Green Light, not only do you get to race formula one cars, you also have the luxury of meeting with amazing models. With the awesome prizes and bonuses that come with this game, lovers of need for speed will find it captivating.
Online RTG Slots