Hearts Desire Slot by Betsoft: A Romantic Adventure for Gamblers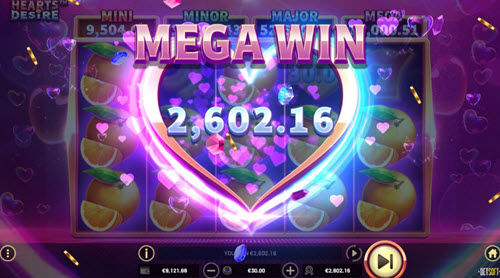 Experience the thrill of romance and gambling with Betsoft's Hearts Desire slot. Spin the reels and let your heart lead the way to potential big wins!
Hearts Desire Slot is one of the most recently launched slots by Betsoft, and they didn't disappoint with this release. Before you play here, check out this guide to know if the slot is the right one for you.
In the brand-new Betsoft slot machine Hearts Desire, we experience love in a stellar atmosphere. Isn't Betsoft celebrating the incorrect holiday, just a moment ago? Christmas is almost approaching, and by this point, we have grown accustomed to new Christmas slots appearing. Nevertheless, as it turns out, they might be nearing the end. We adore Santa and his games with gifts and snow, however, we feel a bit spoilt these days and are requesting a change of scenery. That is exactly what Hearts Desire offers with its pink and ever-rising heart graphics. It's scheduled to come out a few weeks before Valentine's Day, so maybe the holidays have merely changed. Let's look at it!
Details about the Hearts Desire slot
Either we're in a magical world, or we're experiencing hallucinations from some bizarre mushrooms. Heart-shaped bubbles are emerging from the pink, steep ground. Sometimes, a bright light can be seen moving from one end to the other; possibly it is an alien. We don't know; we're not astrophysics experts. Yet even if we can't verify our location, we can say that this is a wonderful setting because we love playing attractive slot games.
All popular desktop and mobile platforms can be used to play Hearts Desire. Landing three or more identical icons on consecutive reels inside the game's lines, starting on the leftmost reel, results in a winning combo.
Features of the Hearts Desire Slot
What is the Hearts Desire slot's maximum win?
In the full game, you can win up to 1787 times your wager, but the demo version's progressive jackpot is now sitting at 80.000 EUR.
What features are present in the Hearts Desire slot machine?
The features include a progressive jackpot feature, stacked mystery symbols, a wild symbol, a scatter symbol, and free spins.
Wild icon
By substituting for other lucrative symbols, wild symbols increase the number of winning combinations. On reels 2, 3, 4, and 5, these can be seen.
Scatter Symbol
All reels are capable of showing golden hearts. The Free Spins feature is activated by landing 5 or more.
Stacked Mystery icons
Before the start of each reel spin, one random paying icon is placed in the Stacked Mystery symbol locations on each reel. The same symbol appears in every position of the Mysterious symbol.
Bonus Spins
5 Free Spins are awarded when 5 or more Scatter icons are landed. The values on all Scatters are loaded to a cumulative meter before the feature starts. Regular Scatters that appear during Free Spins grant an extra Free Spin and contribute their worth to the meter. Pink hearts are what you should be on the lookout for. They can multiply the amount that has gathered in the meter by 2x, 3x, or 5x in addition to winning it.
Progressive Jackpot with Free Spins
For the Progressive Jackpot to be triggered, no specific symbols are required. Instead, it is set off at random following.
With a larger investment, your chances of triggering it rise. You will get to spin a wheel to determine whether you win the Major, Mega, Mini, or Minor jackpot when you activate the function. It is unknown what the actual payments will be because the game has not yet been released, but as the jackpot is progressive, it will only be reset when anyone earns it.
Finale of Hearts Desire Slot
Despite the advice to never judge a book by its cover, doing so is a very common practice. Making a solid first impression is important since when you push the begin button, you'll immediately notice the game's aesthetics. We were interested because Betsoft produced a lovely game with a distinctive aesthetic. Conventional 5×3 grid with well-known symbols, the grid is not particularly creative, but the frame is. Love is in the air!
We were a little concerned that this might turn into yet another Hold&Win/Link&Win type slot when we first saw the symbols and mechanics. Although we have nothing against things, we simply aren't as enthused about them now because they are so common. Hearts Desire doesn't work the same way, though. It's all about accumulating the cumulative value over time to reach a set threshold rather than having to land a specific number of hearts in one spin, which produces a unique gameplay experience.
Betsoft's Hearts Desire transports us on a surreal journey replete with stars, love and a progressive jackpot!