Paris Nights Slot >Online Slot for Real Money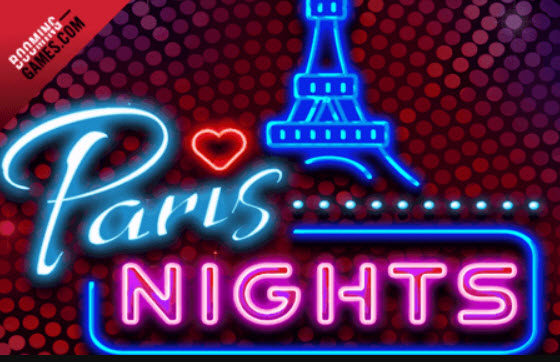 Introduction
Who doesn't dream of visiting the city of Paris? It's a dreamy city that has captivated the world for hundreds of years now with its unique charm. Its culture is truly it's own. The streets of Paris are famous for their own kind of beauty. So it is fitting that someone comes up with an online video slot celebrating the gorgeous city.
Developers know that crafting an online video slot dedicated to the wonders of the most beloved city of France would be a surefire hit among punters around the globe. So a number of Paris themed slots have been released over the years. Paris Nights is one of them. And on this review, we are going to check out what makes this title unique and special.
Booming Games, straight from the United Kingdom, which is pretty close to the city in France, offers punters the world over this gem filled with neon lights. Paris Nights is a beautiful slot that works on many different devices which is an extremely good news for players as gaming on the go has become the norm these days.
Gameplay
If you are still on the fence about this brand new slot, you can try playing on the free version of this slot and first experience it without spending a penny. That way, you can get a feel of whether this video slot is something you would want to try to play with real money or not.
But we bet you that just a few spins on this slot will tell you everything you need to know. And one of that is that this is an extremely high volatility slot.
So with that said, expect a number of small wins to come frequently. But, big wins may hardly come by. If you get lucky though and land the right combos, you can rake in up to 30x your total bet.
This online video slot comes in a very typical 3 row, 5 reel, and 20 payline set up. The reel is very simple and the rules of the game are very easy to follow.
The visuals of Paris Nights are even more subtle yet gorgeous. The reel is set on an all black backdrop while the symbols and the reel itself are in neon. While spinning the reels, an accordion is gently playing in the background. All the elements beautifully come together to transport the player in the city of Paris, where a sultry night awaits.
The coin value ranges from 0.01 to 10.00. The game also comes with features like stacked symbols, free spins, and a gamble feature.
The wild symbol in this game which takes the place of every other symbol to help players land more winning combos is illustrated by a paint holder, of course outlined in bright neon colors.
The scatter symbol in the game is illustrated by three hearts in different sizes with the word free spins on it. Land 3 of these and you will trigger free spins. What's cool is that players can re trigger free spins. This happens when while on the free spins, a player lands 3 or more scatter symbol on the reels, winning for himself 10 additional free spins.
With the gamble feature, it is triggered when a player wins on any given spin. If they choose to gamble their winnings for the triggering spin, each time they choose the right answer, their winnings will be doubled. But, if they happen to choose the wrong answer, they will lose all of their winnings from the triggering spin. Players can play up to 10x on the gamble feature or if their winnings reach 10000, whichever comes first, given that they keep choosing the right answer on the game.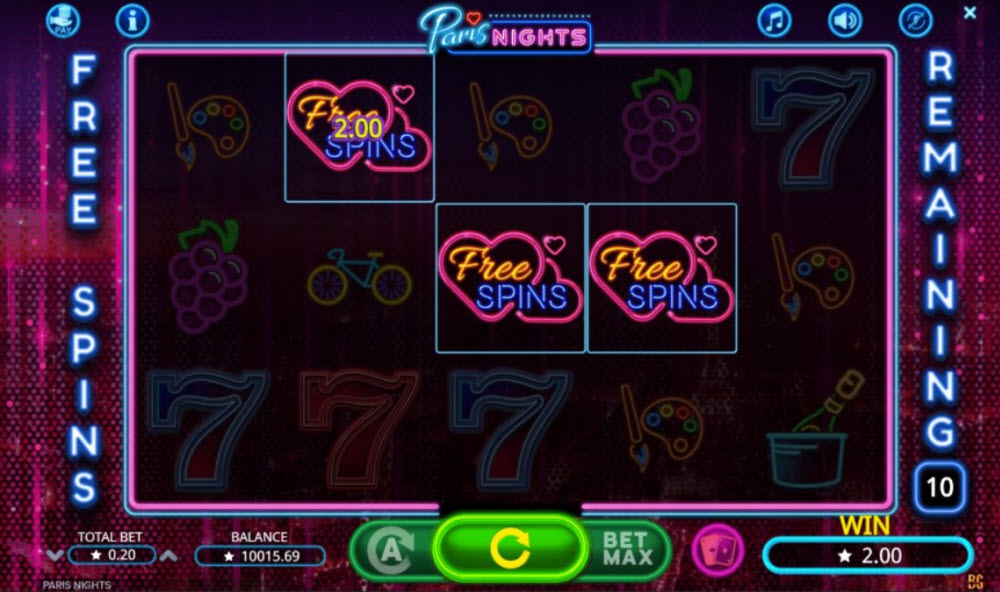 Paytable
Wild symbol – Eiffel tower: 100 for 5x, 40 for 4x, 4 for 3x
Scatter symbol – Hearts: 4000 for 5x, 100 for 4x, 20 for 3x
7 – Blue: 20 for 5x, 10 for 4x, 2 for 3x
7 – Red/Blue: 20 for 5x, 10 for 4x, 2 for 3x
7 – Red: 20 for 5x, 10 for 4x, 2 for 3x
Wine Bottle: 10 for 5x, 2 for 4x, .50 for 3x
Grapes: 10 for 5x, 2 for 4x, .50 for 3x
Bicycle: 5 for 5x, 1 for 4x, .10 for 3x
Paint Holder: 5 for 5x, 1 for 4x, .10 for 3x
Conclusion
Reviewing Paris Nights has been a totally delightful experience. This gem is a straightforward online video slot that does not have a lot of fuss in it. But it truly delivers when it comes to the fun you get while spinning the reels.
When it comes to features, there is not much we can say as this slot is, like we have said, pretty straightforward when it comes to gameplay. The free spins game and the gamble feature are all pretty direct and simple.
Your best bet of raking in a considerable win will come from trying to re trigger the free spins feature. Especially with a high volatility slot as this game.
Overall, Paris Nights is no nonsense online video slot that is fun to play and greatly delivers when it comes to its straightforward gameplay. If you are looking for an online video slot that is very easy to follow, then this game might for you. Plus, it doesn't hurt that this game's visuals are very nice and clean and perfectly transports players to the gorgeous city of Paris.
Booming Games Casinos