Queen Of Riches Slot Free Play Review! Play Best Big Time Gaming Slots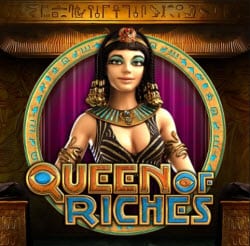 You've seen this before. The Ancient Egypt theme of this next slot we are taking a look at is nothing new. But, wait till you hear about the gameplay and you will be blown away.
>>Play on Queen of Riches Slot>>
The next video slot taking the spotlight is Big Time Gaming's Queen of Riches. And, we are glad to tell you that this exciting video slot really has the potential to make you a queen or king of riches yourself.
So, hop on board because we are going for a crazy ride!
>>Play on Queen of Riches Slot>>
Big Time Gaming Casinos
Features
This video slot has six reels. Each reel can show between 2 up to 7 face symbols at a time thanks to Big Time Gaming's trademarked Megaways game engine. So, with that, players will have 117, 649 ways to win. And, that's one of the ways that make this video slot differ from all other Ancient Egypt themed slots.
The face symbols range from various ancient Egypt pendants like the blue scarab, a pyramid, and the eye of Horus. Plus, standard A, K, Q, J, 10, and 9 icons. The most valuable symbol in this video slot is the pyramid symbol as if you land 6 of this symbol, you will be awarded 30x the bet you placed. Land 5 of this symbol after a spin and you will be awarded 15x your bet.
>>Play on Queen of Riches Slot>>
Another cool thing about this slot is that it features Full Reel Wilds which can multiply involved winning combos up to 7x. Multiple Full Reel Wilds can appear on reels 2 to 6. When two or more Full Reel Wilds are involved in a winning combo, they multiply each other. So, if you get two 7x Full Reel Wilds, you end up with a payout of 49x your bet.
This video slot offers the Reel Clone Feature as well. How that works is that between 2 up to 6 reels can link together and show matching face symbols with each spin giving players a boost in landing more winning combos. Plus, Full Reel Wilds can also be cloned.
>>Play on Queen of Riches Slot>>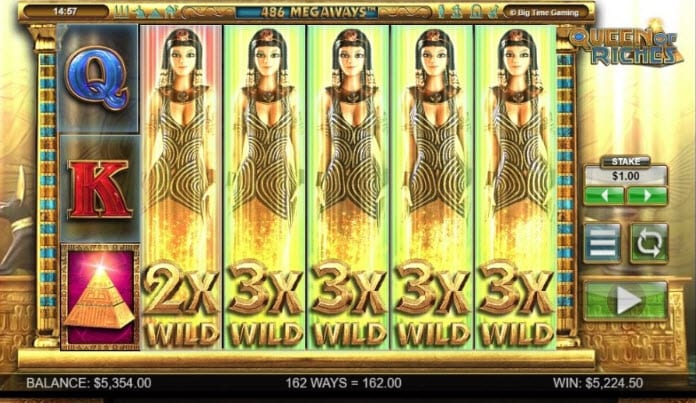 Look and Feel
Queen of Riches looks and feels like your regular Ancient Egypt themed video slot. Punters from all over the world have a long love affair with Ancient Egypt themed slots as these slots bring in a lot of cool features that we just love to come back to. This video slot offers everything you love about Ancient Egypt themed slots when it comes to look and feel.
Some would love the familiarity this brings. Others may want something entirely new to the senses. But, whichever you prefer, you sure would not be able to deny the rich visuals of this video slot. The graphics are crisp and clear. The animation is excellent. And, the whole gaming experience is flawless.
The soundtrack delightfully combines the excitement of racking up big wins for yourself and the mystic of Ancient Egypt which in our opinion is perfect for the gaming experience.
>>Play on Queen of Riches Slot>>
Conclusion
Overall, Queen of Riches has been a delight to review. With a well-loved theme, you can't go wrong with this video slot. Plus, the exciting special features just make the whole gaming experience unique and thrilling.
We recommend you check this video slot out for yourself. Head on over to your favorite online casino and hit this video slot up if you haven't already. Chances are if you have been gambling for a while now, you have tried this video slot and have had the chance to experience the thrill this game offers.
The guys over at Big Time Gaming from the land down under are steadily making a name for themselves in the game development industry. And, we are glad to tell you that this game does not disappoint!
>>Play on Queen of Riches Slot>>