Best 10 Reflex Gaming Online Casinos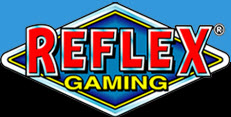 Chances are, if you've ever played fruit machines in pubs, clubs, arcades, or bingo halls in the United Kingdom or Holland, then you know Reflex, they were built by Reflex Gaming. The premier UK-based games production firm, founded in April 2004 by Quentin Stott and Simon Dawson, has a 28,000 square foot headquarters in Newark, a flourishing market town in Nottinghamshire, England, where concepts for their engaging games are born and made into reality.
Accepting the Digital Age
Reflex Gaming has made major investments in the digital industry in recent years, recognising the demand for mobile casino slots.
This began with the publication of a series of standalone releases, such as Lady Luck Double Take and Inca Gold, on both Android and iOS via Google Play and the App Store, followed by the immensely successful Pub Fruits app, which has been downloaded well over 50,000 times to date.
Punters who want to play for real money, on the other hand, had to wait longer to enjoy Reflex Gaming's fruit machines online, as the company just entered the market in 2016.
At ICE Totally Gaming 2017, signing a partnership with William Hill confirmed the demand for their products on the internet. This was confirmed in April 2017 when they struck a supply agreement with Gameiom, in July 2017 when they announced a content agreement with BetVictor Casino, and at ICE Totally Gaming 2018 when they revealed that their fruit machines would be coming to the platform.
Sink Your Teeth into These Fruity Favorites
Rather than hopping between pubs to get a few spins on your favourite fruit machines, you can now enjoy the thrill of nudges and hold reels on your mobile phone or tablet thanks to a series of apps, and those who prefer to play for real money can take advantage of content supply deals negotiated by Reflex Gaming with leading online casinos.
Those who prefer to play for real money can take advantage of content supply deals negotiated by Reflex Gaming with leading online casinos on their smartphone or tablet, thanks to a series of apps, while those who prefer to play for fun can take advantage of content supply deals negotiated by Reflex Gaming with leading online casinos.
Let's Get Jackpotted, Jurassic Jackpots, Lucky Gems, Treble Top, Wall Street Cash, Fiddle a Fortune, Hit the Dracpot, Cash in the Bank, and the recently released Christmas-themed slot, Festive Frenzy, are just a few of the many classic pub fruits that have made their way to digital platforms. In addition, Reflex Gaming has officially launched roulette and video poker games to satisfy table game fans.Treble Top, the arrows' darts-themed fruit machine, is one of our favourites as arrows aficionados.
As you approach the oche in the hopes of triggering extra features such as Top Shots, Top Shots Gamble, Main Lapper Board, Super Board, and the Main Dartboard Feature, keep in mind that the odds are stacked against you, you'll be praying to hit any number instead of scoring zero on the outer ring, the 3-reeler has been beautifully designed and promises plenty of entertainment with prizes on top as you step up to the oche in the hopes of triggering bonus features like Top Shots, Top Shots Gamble, Main Lapper Board.
Exclusives to look forward to…
Exclusive casino slot machines have been published at both William Hill and BetVictor Casino as a result of Reflex Gaming's partnership deals to date, with one of our favourites being the Einstein Eureka Moments video slot.
On the reels, you'll be teaming up with geniuses like Thomas Edison, Charles Darwin, Alexander Graham Bell, and Isaac Newton to combine potent ingredients and generate the ultimate win, which is only available at William Hill.
With three random base game features, your main goal will be to trigger the main bonus game, which will see one of four fantastic features selected for you – fingers crossed you get Newton's Free Spins, which means the polymath will grant you unlimited free spins that will end only when three apples fall from the tree onto his head – damn gravity!
There are three basic machine types…
Reflex Gaming's research and manufacturing of machines, which are categorised in three categories – those for pubs, clubs, and the arcade & bingo sector – remain its key emphasis – and it's no surprise since their supply to the pub retail market sector runs at over 12,000 machines each year.
Their Game Master and Freezy Money machines are hugely popular in pubs across the UK and Holland, Cash Encounters and Club the Heist S6 are their two most popular club machines, and their Wild Hot Mini, Slot Master, Lady Luck Clover All Over, and Lady Luck Moonstruck 3 Player machines have proven to be hugely popular in amusements and bingo halls.
The cabinets in which these games are stored differ, but operators and keen fruit machine punters were ecstatic when Reflex Gaming unveiled their new state-of-the-art GamePro cabinet at ICE Totally Gaming 2018. This was the conclusion of over a year of development effort, rigorous testing, and major investment, so it's understandable that the organisation was pleased by the overwhelming response.
The Ability to Withstand the test of Time
It hasn't always been plain sailing for Reflex Gaming, as revisions to UK gambling legislation just three years after their founding put a stop to their rapid expansion, with weekly machine manufacturing decreasing from about fifty to just five.
However, the company was able to get back on track, reach new heights, and is now embracing the change to digital platforms to compliment the colossal success of their tried-and-true land-based games.
We have no doubt that Reflex Gaming will have plenty of success cooperating with online casinos – they've already worked with some of the industry's leading sites, and we're convinced that many more content supply announcements will be made in the near future.