Rise of the Titan Slot Real Money (20 Free Chips) No Deposit Bonus (Dragon Gaming)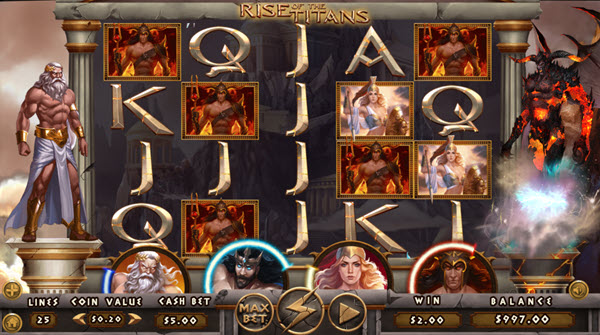 =>Play on Rise of the Titan Slot
Do you want to play an amazing online slot game? This review of Rise of the Titans game by Dragon Gaming contains all the information you need to know about the game.
Greek legends and mythology have inspired many game developers and produced God of War and many other games. The Dragon Gaming team is equally inspired by those ancient Greek myths, especially the ones about the titans, leading to this online video slot.
Because of this, all the icons you will see in the game are the mythological Greek gods as well as Titans. The Dragon Gaming brand brilliantly captures the atmosphere of the epic showdown between the gods of Olympus and the mighty titans, with intense animation of Zeus at the left side and intense animation of a titan at the right.
Gameplay
The game has a typical gameplay, and the primary aim is to create a combination of symbols that will be rewarded by spinning the reels.
There are 25 paylines in this game, which means that when you put an identical icon on a specific payline to form a combo, you will be paid.
If you don't want to press the spin button every time, you can equally make use of the automatic spin function to choose about a thousand automatic spins.
Also, the least amount you can wager is about 0.01 USD for each coin, but you can only wager 25 coins for each spin, which means the least playable amount is about 0.25 USD. Conversely, you can wager up to 50 USD for each spin, and this makes this game best for high-stakes players. Remember that the casino can adjust the least and highest bets.
Rise Of The Titans comes with plentiful special features such as:
Pandora's Box Icons (2): There are the gold and silver variants, which come up in reel five and has such prizes as follows:
About 300× your wager
Power boosts
Free spins
Every time you earn any of the above boxes, you can select among five boxes on display and get a reward.
In addition, the power gauge contributes immensely to the game. Each time you land a profitable combination with high-paying icons, you will add more points to your gauge. A larger combination will earn you higher points. All four gods have a separate gauge.
After filling the gauge, free spins will be activated. We will explain this in the next section.
Free Spins Feature
The bonus icon in the game that can give you free spins is the Titan.
Three bonus icons: seven free spins
Four bonus icons: fourteen free spins
Five bonus icons: twenty-one free spins
Icons that pay highly can transform sticky wilds in the round for free spins and also stay on that grid till the end of the round for bonuses.
In addition, before the start of the game's free spins feature, any of these features have to be selected at random:
1 sticky wild
About 3 extra free spins
At least 5 Pandora's Box icons (gold or silver)
Free spins in wrath mode
1 complete reel filled with wilds
Before the commencement of the free spins round, the free spins function in the game's wrath mode can be earned randomly when you fill the power gauge of open a specific Pandora's Box.
If you complete the gauge, the symbol for the bonus round will be in wrath mode. It will stay there until the end of the free spins. Each time it lands, it becomes one of the sticky wilds and remains in place till l the feature disappears.
In addition, this bonus round is conducted at the value of coins, which is the average value of coins used in filling the gauge. For instance, if you use 0.2 coins for about half of the points as well as 2 coins for the remaining half, you are going to play the free spins in wrath mode for a worth of 1.1 coins.
Rise Of The Titans RTP
This online video slot has an RTP value of about 96.50%. This value is much like the other slot machines developed by Dragon Gaming.
Symbol Payouts for Rise of the Titans
In addition to the special symbols, Rise of the Titans has four icons that pay the lowest and four icons that pay the highest. If you want to gain a combination of three icons, let us see how much money you can make.
Wild: 3x your bet
Queen (Q): 5x your bet
Jack (J): 5x your bet
Ace (A): 6x your bet
King (K): 6x your bet
Hades: 20x your bet
Athena: 25x your bet
Zeus: 30x your bet
Poseidon: 30x your bet
Jackpot
Although you can grab amazing prizes in the Rise of the Titans game, if you are lucky, presently, there are no jackpots for the game.
Playing the Game for Free
All the games developed by Dragon Gaming are free to use or can be played with actual cash. So if you still don't want to place a real bet on this game and you want to try it first, be sure to use the demo mode for virtual currency (shown at the top of this demo page). Therefore, you can decide whether this online slot is best for you.
Final Words
This online video slot is a unique game when it comes to layout and gameplay. It provides some exciting features and provides exciting ways for players to make profitable combinations. In addition, it has been well optimized and runs very well on desktop as well as mobile platforms.
If you like ancient Greek mythology, please don't hesitate to try out this game for free or with actual cash. Also, be sure to check out the other interesting Dragon Gaming games, such as:
Fruity Feast
Panda Playtime
Safari Stampede
Wilderness Wins
Buffalo Bounty
The Defenders
*The button "Play for Real" on the mobile device or tablet that appears on this page refers to the online casino website. The site allows visitors to play actual cash casino games after registering. This particular game may not be available in the casino on this website. Before clicking this button, please review the online gambling laws in your country.
Frequently Asked Questions
What is the game's RTP value?
This online slot has an RTP of 96.50%.
What is the volatility of the game?
The game is highly volatile, which means winning combos is not common, but once you get one, you will receive generous prizes.
What are the unique features of this game?
There are various special features, such as sticky wilds, free spins, Pandora's Boxes, free spins on wrath mode, extra free spins, and wild reels.
Can I make money by playing this online game?
Yes, this game is free and can also be played with actual cash. All you have to do is sign up at an online casino that features the game, make a deposit and start playing real money games.
What exactly is the game's wrath mode?
This is a unique in-game feature that is activated after filling any of the game's power gauges or when it is activated through a Pandora's Box. It contains sticky wilds as well as free spins.
Best Dragon Gaming Casinos