Savannah King Slot Review: Online Slots Real Money by Tom Horn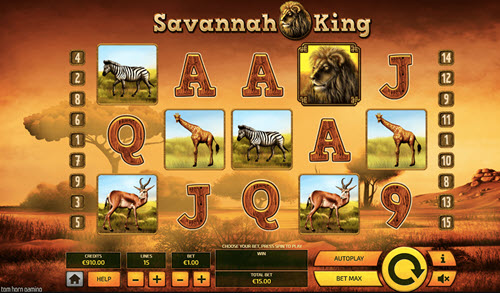 Savannah King Slot is a slot that is Roaring Roaring with pride and might soon be crowned the king of reels! This slot is powered by Tom Horn, and it is worth spinning right away!
Modern online casino games are an adventure in and of themselves since they stand in stark contrast to the glamour and sparkle of old-fashioned casino slot machines.
The newest release from Tom Horn, known as the Savannah King, is one game that is surely roaring with pride right now. This game promises to be unlike any other game, and it seeks to present gamers with an adventure inspired by the African plains.
Savannah King undoubtedly offers a lot of promises, but will it be able to keep them? Does the Savannah King's bark match his bite? Let us see what we can find out!
Living Free in the Wild
With a name like Savannah King, it is no surprise that the stunning landscapes of the African Savannah serve as the inspiration for this wild game. The stunning artwork and symbols, as well as the numerous high-paying combos that appear throughout the 5 reels and 15 paylines, will astound you.
Rhinos, lions, zebras, and other exotic animals
The majority of the symbols in this video slot game are the Wild animals of the Savannah. Zebras, hippos, rhinos, and lions are among the animals you can anticipate seeing. All of these symbols are beautifully designed and painted, and the colors are so vibrant that they appear to be real. The entire screen appears to be drenched in the sunlight, and it creates a warm and inviting ambiance for all gamers.
Set upon the Plains of Africa
Even the user interface that comes up when you start playing displays the differences between this game and other online casino slot games. For a start, it is supposed to appear as if it is strewn across the plains of Africa, which we think is very cool, even if it might terrify newer gamers. The good news is that we will break everything down for you to ensure there is no reason for you to be perplexed.
The entire action takes place in the middle of the screen. This is the location of the reels, which will spin and stop after you press the "Spin" button. At the bottom of the screen, you will discover all of the game's controls.
The spin, auto spin, bet amount, and credit amount are all displayed.
You may have gotten used to having a little less control than this, but keep in mind that this is only one of Savannah King's many promises, since it allows you significantly more control over your game than traditional video slot machines.
King of the Jungle
Despite its reputation as the King of the Jungle, the lion is also the King of the Savannah. In Savannah King, the Lion sign is truly the wild king, as he can transform into any of the other animal symbols in the game to offer you.
A scatter symbol in the form of the Tree is also included.
If you manage to land three of these trees anywhere on the reels, you will be awarded 10 free spins with a multiplier of up to 5 times. Even better, these free spins can be retriggered at any time during a free spin.
A Wild, but Not in the Way You Think
If that was not enough, these free spins are made even more interesting by the presence of a special wild symbol that only comes up on the middle three reels during the free spins. This sign not only completes a win but also doubles it. When you hedge your bets with Savannah King, you will not be disappointed because there are some very big jackpots up for grabs.
Savannah King Roars with Pride!
When it comes down to it, Savannah King may be regarded as a game-changer, especially when it comes to Tom Horn. This game takes a fresh approach to online slots, with a stunning design and innovative gaming elements that are certainly worth checking out. It comfortably outperforms the competition and may provide a much-needed boost to the online slot machine genre as a whole.
If you are searching for something fresh to play and want a game with a bit of a wild flavor, Savannah King is the game for you.