Vault of Fortune Slot Review (Yggdrasil Gaming)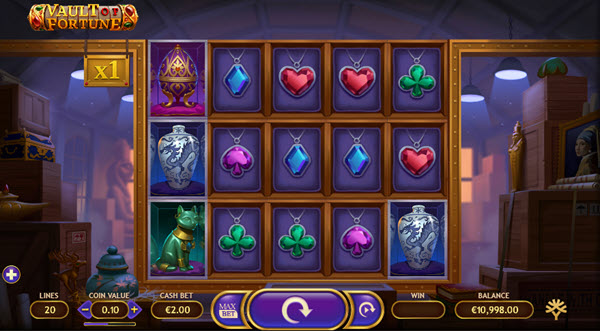 =>Play on Vault of Fortune slot
Vault of Fortune, Yggdrasil Gaming's slot of treasures promises something sensational "It is your turn to be a master thief". People who want to be thieves have the chance of looting a warehouse filled with valuables, as well as the relics of ancient cultures kept in various crates. The game also appeals to fans of progressive multipliers because, in all parts of the gameplay, its mechanic is always present.
The slot features a grid of 5 reels and 20 paylines, and it is housed in a room filled with mist, with valuables leaning against the wall, on a shelf, or hidden in a drawer. Also, there are several other fascinating details, such as Johannes Vermeer's famous oil painting "Girl with Pearl Ears" (dated 1665). If you're using a little imagination in pretending that you are a real thief preparing to cart away treasures, then this game will be very tempting.
From a visual point of view, this online slot game is absolutely well-made, but it's not the best design that Yggdrasil has released. It's not as a big deal as Artefacts features a unique quality for which Yggdrasil is known. In addition, they also captured the mysterious atmosphere of museums.
With a stable 96.2% RTP and a 19.4% medium to high volatility hit rate, gamers can play with a minimum of 10 cents or a maximum of 100 euros or dollars. Once the bets are made, the robbery can begin. At least three symbols that match have to land on one or more of the 20 paylines for you to grab the fancy objects. When you do this, you'll see the dropdown function literally come to life. The winning icons are satisfyingly smashed into tiny pieces, allowing new icons to land into the spaces.
The drop-down function lets the player win several times with one spin, but this is not all. Each drop-down feature increases the winning multiplier (starting from x1) to +1, with no limit. The next spin without a win then restarts the multiplier with x1. As you will see, it is very interesting during the main game and even better during the bonus period.
For the collection of symbols, there are a total of 8 regular ones, divided into 4 low-paying ones and 4 high-paying ones. Each one looks expensive, from the low-paying suit of cards designated as necklaces with expensive jewelry. The high-paying ones are more priceless, including porcelain cats, Ming Vases, Faberge Eggs, plus a red artifact that appears to be the hat of the Queen of England.
The values of the win multiplier are really good, considering that it is available in all stages of the slot. For example, 5 low-paying diamond icons have a value of 8x but the value is 25x for crowns. Next, consider a bonus game where a serious robbery can start.
Features
In addition to the Dropdown function, players can also take advantage of some old favorites, including Free Spins and Expanding Wilds. Pay attention to the game's standard wild icon, it looks like a lever. It may come out in any place and replace the regular payment symbols. If the wild symbol is made use of in creating a winning combo, the lever drops and the wild icon becomes six vertical wild icons, shattering all other icons on the game's reels. In theory, Expanding wilds have a hit probability of 1/25.
Without Cryptex or two, mysterious vaults won't appear to be complete, but at least 3 must be displayed, however, if 3 come out, it will activate free spins. Therefore, when three, four, or five appear, they award eight, twelve, or twenty free spins. Regardless of the multiplier level, they will be transferred to the bonus game when the free spins start. Now, the value of the multiplier will not restart as the free spins commence. It can only go higher without specific limits. The bottom line here is the fact that you can also use the same value as the base game to reactivate free spins.
This online slot is among the games that impress players without much effort as it doesn't appear to be a new game in the industry. We've seen every feature in its design in the past, but as usual, Yggdrasil Gaming has created a reliable cascade/avalanche/ slot machine that gamers will love. It's not flashy, it just delivers superb entertainment without fuss.
The game is likely to be a more direct use of Yggdrasil's drop-down function, which is a good thing. Of course, this feature is not unique, but it works well here, so players who love the mechanic will enjoy it immensely.
Another impressive feature, a small one though, is the manner of the crushing of the crates by landing icons or the shattering actions of the stack of wilds in a much appealing manner. Equally satisfactory is the default maximum profit, which is as high as 11,000x your bet (1,050,000 euro).
Therefore, while the game might not be said to be original, there are little to no flaws in it. This is a real cascade/avalanche/ game for fans due to the base game and bonus game having the win multiplier. All in all, for a game that offers impressive features as well as exciting gameplay, this online game has all these in store.
Yggdrasil Gaming Casinos