Best World Match Online Casinos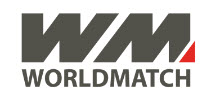 WorldMatch is a well-known brand in the e-gaming industry, having operated at the pinnacle of the European gambling industry for more than a decade. WorldMatch is also well-represented in Latin America and Asia.
Cloud Gaming Center by Wm
Cloud-based game management is one of the most spectacular breakthroughs in the field of e-gaming, which WorldMatch claims to have pioneered. In fact, the firm claims that their WM Cloud Gaming Center was the first of its type, allowing casino administrators to easily develop and administer their casino brands at a minimal cost and without the need to download any software.
That sounds great for the casino executives, but what does this mean for the regular gambler? This cloud management system has a lot of benefits for players, from attractively designed websites with multilingual capabilities to streamlined financial tracking for faster payments using a variety of banking methods and international currencies.
Anti-fraud techniques such as country blocking and transaction restriction notifications are also included in the WorldMatch Cloud Center's security features. Meanwhile, the servers are backed up on a daily basis, with backup procedures in place in the event of a disaster, to ensure that players' personal information is kept safe at all times.
Apart from all of the essential (but dull) security measures, this casino software platform enables operators to ensure that players have a nice time while remaining safe.
This is due to the fact that the programme has configurable marketing capabilities that allow for a more personalised approach.