Atlantis Bingo Game – Online (Caleta Gaming) Slots Games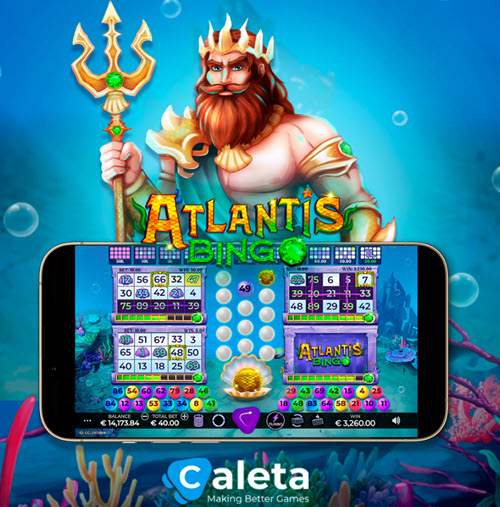 => Play on Atlantis Bingo Game
In our newest game, Atlantis Bingo, the God of the Sea encourages you to dive into the serene blue waters. Netuno awaits those that are courageous enough to play his game, which is chock-full of surprises, perks, and amazing features. Progressive Card is a new feature created specifically for this game and Atlantis residents. You will be able to join the Ocean Fever Bonus in this feature, in which your wager can be increased up to 29.500 times! In addition, the Atlantis Treasures Bonus is available, in which you can obtain all of Atlantis' golden treasures and increase your earnings, but please be aware of the tentacles!
You can also assist the Princess of Atlantis in locating her earnings on her special Bonus, but be cautious not to smash her mirrors and alter your luck. Are you prepared to step into this enchanted realm and conquer Atlantis?
Basic game information
The name of the game is Atlantis Bingo and it was released on April 8, 2022. The game type is Video Bingo, it has 4 cards. The Return to Player (RTP) is 96.12 percent.
The game can be played on Mobile and the resolution is 17:9.
The languages supported are Portuguese, Thai, Vietnamese, Spanish, Turkish, German, English, Russian, Chinese 中文简体, Korean, Chinese 中文繁體, and Japanese. It is compatible with Desktop, Android, and iOS devices. It works on most browsers like Safari, Edge, Chrome, and Firefox.
The game features are Ocean Fever, Single Pick Levels, Multipick with Multiplier, and Progressive Card.