Carnival Beauties Slot Game Review Caleta Gaming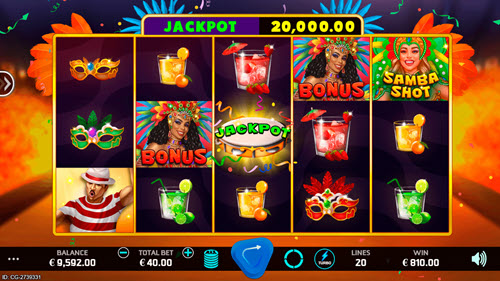 => Play on Carnival Beauties Slot
We are excited to announce the release of another game to commemorate Brazil's largest festival: Carnival Beauties! This game guarantees a bunch of rewards in the rhythm of samba, you can earn up to 1116 times the total wager, bringing enjoyment and elegance to your home. Take your chances with the two bonuses available in this slot game, which has 20 active lines ready to increase your possibility of winning and a chance to spin the wheel or join the tropical bonus! Come celebrate with us in Brazil and become captivated with the Carnival Beauties!
Basic game information
The name of the game is Carnival Beauties and it was released on February 15, 2021. The game type is Slot, it has 5 reels and 20 lines. The Return to Player (RTP) is 96.47 percent.
The game can be played on Mobile and the resolution is 17:9.
The languages supported are Portuguese, Thai, Vietnamese, Spanish, Turkish, German, Russian, Chinese 中文简体, Korean, Chinese 中文繁體, English, and Japanese. It is compatible with Desktop, Android, and iOS devices. It works on most browsers like Safari, Edge, Chrome, and Firefox.
The game features are Tropical bonus and Spin the Wheel.
=> Play on Carnival Beauties Slot
Caleta Gaming Casinos