Diwali Lights Slot: Is it Truly a Golden Slot?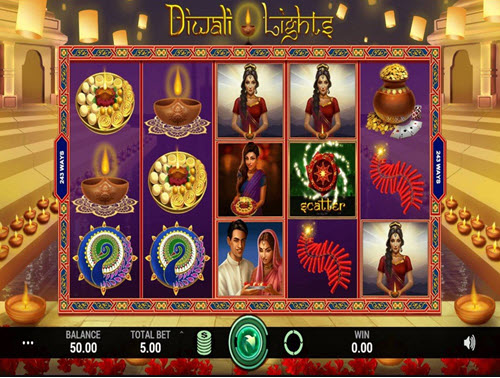 Diwali Light Slot is said to be a golden slot that shows the beauty of Diwali. Is that the truth about this slot? Find out here.
In this golden slot Diwali Lights, explore the gems and beauty of Diwali. The game is filled with Indian icons and some lovely lighting. This authentic-themed Slot is jam-packed with benefits and features that will leave gamers on the edge of their seats. Play this exquisitely designed Slot, and may Diwali riches shower upon you!
Basic game information
The name of the game is Diwali Lights and it was launched on March 4, 2019. The game type is Slot, it has 243 lines and 5 reels. The Return to Player (RTP) is 96.25 percent.
The game can be played on Mobile and the resolution is 16:9.
The languages supported are Portuguese, Thai, Vietnamese, Spanish, Turkish, German, English, Russian, Chinese 中文简体, Korean, Chinese 中文繁體, and Japanese. It is compatible with Desktop, Android, and iOS devices. It works on most browsers like Safari, Edge, Chrome, and Firefox. The game features Wild Event, Buy-in feature, Free spin, Tumbling, and Tumbling Progressive multiplier.