Banana Bingo Slot Review – By Caleta Gaming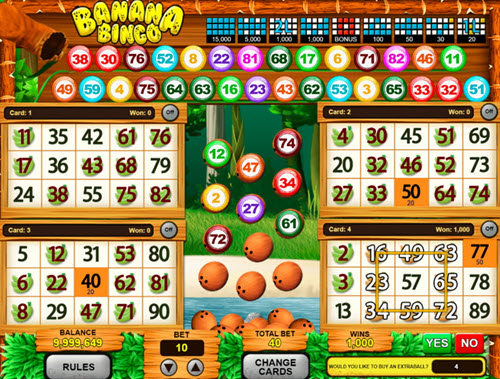 You could play on multiple cards here, just like any other traditional Bingo game: Every time you play, 30 balls are drawn; the more cards you trigger, the greater your chances of winning. If you hit one of the bonus patterns, you will receive a Monkey bonus and, with good fortune, you will win the jackpot!
Basic game information
The name of the game is Banana Bingo Trevo da Sorte and it was launched on March 27, 2020. The game type is Bingo and it has 4 cards. The Return to Player (RTP) is 92.42 percent.
The game can be played on Mobile and the resolution is 16:9.
The languages supported are Portuguese, Thai, Vietnamese, Spanish, Turkish, German, English, Russian, Chinese 中文简体, Korean, Chinese 中文繁體, and Japanese. It is compatible with Desktop, Android, and iOS devices. It works on most browsers like Safari, Edge, Chrome, and Firefox. The game features Extra balls, Crazy bananas, and Monkey Adventure Bonus Games: Monkey Climbing.