Donuts Slot Free Play! Donuts Slots Game Review!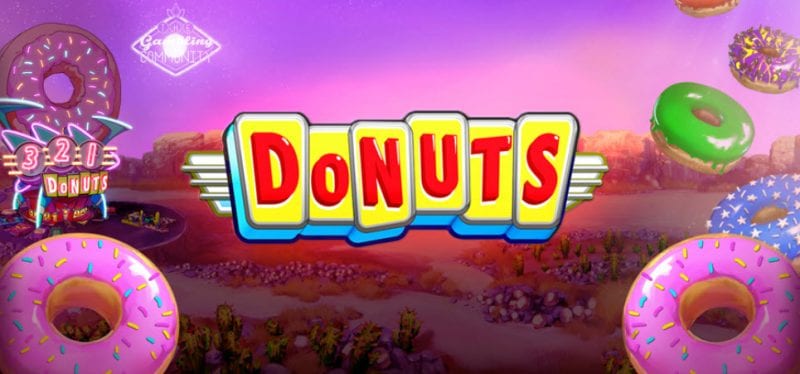 First Look
We're looking at another excellent video slot from none other than Big Time Gaming. And this exciting video slot is Big Time Gaming's tribute to everyone's favorite snack, donuts!
Just thinking about donuts makes your mouth water. Sugar sprinkles, chocolate, chewy marshmallows, nuts, almonds, custard; you name it, donut's got it. These sweet desserts have perfected the art of combining different elements to form an irresistible treat everyone loves.
And, with Big Time Gaming's Donuts, you'll have just that. A sweet combo of irresistible treats right at your fingertips. Let's dive in!
Big Time Gaming Casinos
Features
Donuts has 4 reels, 4 rows, and 2401 ways to win. The symbols are illustrated as different colored donuts plus different letters and numbers which also come in different colors. The highest paying symbol in this game is the purple donut which will give you 15x the bet you placed when you land 4 of these in the reels.
The Wild symbol, which takes the place of every other symbol in the game to help players land more winning combos, is illustrated by a Jukebox. It will only appear on reels 3 and 4 though. On the other hand, the Scatter symbol, which triggers the free spins feature when 3 or more of these appear anywhere on the reels, is illustrated by a golden donut.
When the free spins feature is triggered, players will be awarded 12 or 20 free spins. But before the free spins, players will first be taken to another screen where they will play a bonus game to determine their free spins multiplier which can reach up to 50x your bet.
In this bonus game, players will initially be given 3 bonus spins. They will see a 4×4 reel which can reveal blanks or golden donuts. The golden donuts come with a corresponding multiplier which will add up to form the final multiplier for the free spins when the bonus game is over.
The cool thing about this feature is that though players will only be given 3 spins initially on this bonus game before the free spins, the appearance of golden donuts will actually add to the number of bonus spins so players end up with more than just the initial 3, increasing your chances of coming into the free spins feature with a bigger multiplier.
In addition to that, when on the free spins, players can gain 10, 20, or 30 additional free spins by landing 2 or more scatter symbols while in the game.
Another symbol to watch out for while spinning on the reels is the donut box symbol which reveals 4 donut symbols or a wild symbol with 2x, 3x, or 4x multiplier when it appears on the reels.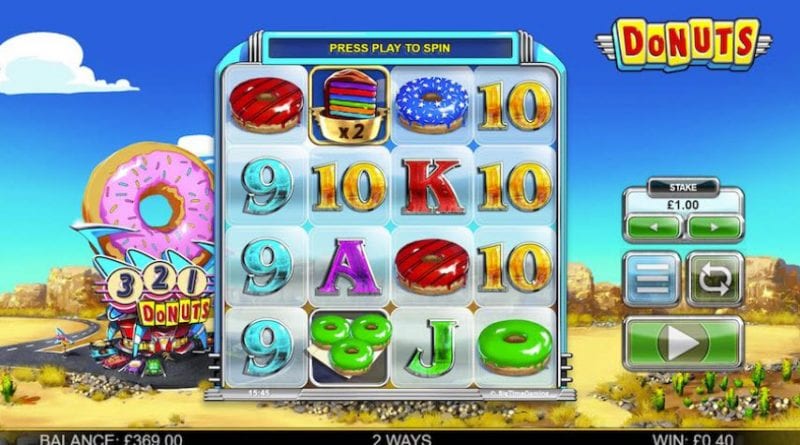 Look and Feel
Donuts perfectly transports players to a chill and relaxed donut diner from the 50's. This game is set somewhere on a desert road in America and the whole thing screams nostalgia in a very delightful way. The whole design aesthetic of the game is fun and exciting which is fitting since nothing is more thrilling than racking up crazy big wins for yourself while getting lost in the flow of something you enjoy so much.
The face symbols are illustrated as various donuts in different flavors and colors plus some letters and numbers. The reels are designed as a Jukebox which truly brings out a 50's vibe. The animation is seamless, the graphics are impeccable, and even the soundtrack is on point.
Big Time Gaming, as always with every release, has truly proven themselves to be one of the best guys around in online casino software development. And this release just makes their reputation stronger in the industry.
Payout
Donuts has 2,401 ways to win. The RTP is at 96.5%. Max payout is at 40,000x your bet.
Below is the payout info for the game.
Bet Range: 0.05, 0.10, 0.15, 0.20, 0.25, 0.30, 0.35, 0.40, 0.50, 0.60, 0.75, 1.00, 1.25, 1.50, 1.75, 2.00, 2.50, 3.75, 5.00, 6.25, 7.50, 10.00
Purple Donut Symbol: 0.4 for 3X, 15 for 4X
Red Donut Symbol: 0.2 for 3X, 2 for 4X
Blue Donut Symbol: 0.2 for 3X, 1 for 4X
Green Donut Symbol: 0.2 for 3X, 1 for 4X
A Symbol: 0.6 for 4X
K Symbol: 0.4 for 3X
Q Symbol: 0.2 for 4X
J Symbol: 0.2 for 4X
10 Symbol: 0.2 for 4X
9 Symbol: 0.2 for 4X
Conclusion
Donuts is an excellent video slot from none other than the guys over at Big Time Gaming. The visuals are stunning. The graphics are fun and playful. The animation is seamless. The soundtrack is even more light-hearted and lively which definitely fits the jolly atmosphere the game is trying to convey.
This game is chock full of exciting elements that make the whole gaming experience truly entertaining while you rack up crazy big wins for yourself. The free spins feature, though may take a few spins to trigger, is truly something to look forward to as big wins await players who activate the feature.
If you are looking for a new favorite with a fun and playful vibe, look for this video slot the next time you step into the virtual doors of your favorite online casino!
Big Time Gaming Slots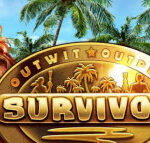 Survivor Megaways Slot Review This is an interesting slot machine from Big Time Gaming, BTG has invested latest mechanics that has gained much popularity in the industry. This slot is…