Extra Chilli Slot Review – ( BigTime Gaming )

We are taking a look at another video slot from top software provider, Big Time Gaming. And this time, the spotlight is on Extra Chilli, another title which has proven to be a total hit among online casino enthusiasts the world over.
If you have been playing video slots for some time now, chances are you have played or come across another Big Time Gaming hit, Bonanza. This game is sort of a sequel to that game so if you loved that title, you'd surely go berserk for this one.
Extra Chilli revolves around a miner named José Cavadoré, who after working in the mines seen in Bonanza, decided to head over to Mexico to begin a jewelry making business. One day, he hears of news about the Purple Conquistador, a hot chilli that's hard to find and is more than worth its weight in gold.
The whole game revolves around you, the player, helping José find the Purple Conquistador!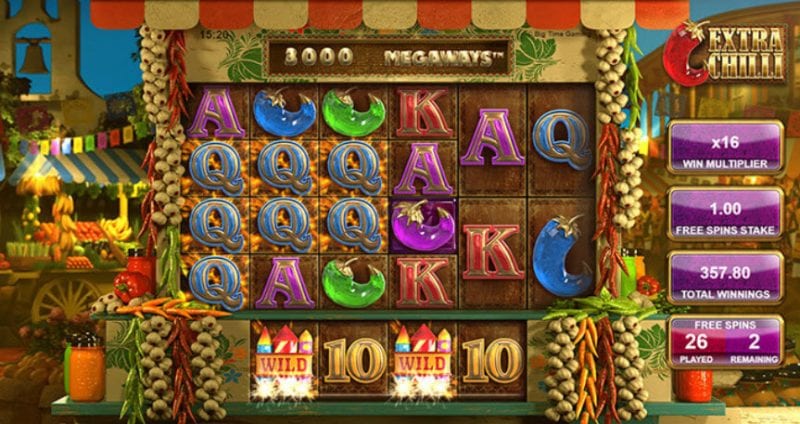 Features
This game uses not the traditional paylines structure, but the same game engine as Bonanza, which is the Megaways game engine. With this game structure, you will find on your screen 6 reels. Each of the reels can feature at least 2 up to 7 face symbols at a time. So, with every spin, the number of ways you can win actually changes every time. Below the main reel, you'll find another row which features 4 face symbols moving from right to left.
The wild symbol, which takes the place of every other symbol in the game to help players make winning combos, is illustrated by a pack of fireworks with the word wild. The scatter symbol, which triggers the free spins feature once of these land on the reels, is illustrated by the letters "H", "O", and "T".
Initially, you will be given 8 free spins in the free spins feature. When the free spins feature is activated, you will be given a chance to gamble for up to 24 free spins. In total, players can win up to 24 free spins. Each successful gamble can award 4 free spins but an unsuccessful one will cause the loss of your free spins.
During free spins, watch out for the scatter symbol which will give you 4 more free spins and the chilli bowl symbol which will give you 4 up to 8 more free spins.
The free spins feature also comes with an expanding multiplier. With every reaction, the multiplier will increase by 1x. It reverts back to 1x when a reaction does not happen.
Another feature in this game is the Feature Drop. This feature allows players to pay for free spins. But, if the price for the free spins drops to 0, the free spins feature will be activated automatically.
Look and Feel
This game is set in a bustling Mexican market and the reels are even set in a stall complete with garlic and chillis all around. When you open the game for the first time, you will immediately be transported into the vibrant streets of Mexico. And, the whole atmosphere just feels unmistakably lively and energetic. While gaming, Mariachis will be playing on the background in line with the Mexican theme.
This game is delightfully crafted. The visuals are rich with culture and colors. The graphics are excellent. The animation is seamless. And the soundtrack is on point. Every session on this video slot is sure to be entertaining!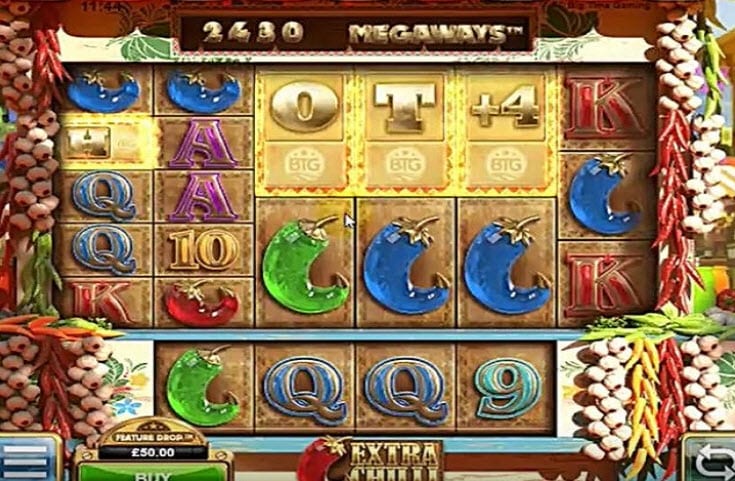 Payout
Extra Chilli has 5,625 ways to win. The RTP is at 96.75%. Max payout is at 36,000x your wager.
Below you'll find the payout info fro the game.
Bet Range: 0.10, 0.20, 0.30, 0.40, 0.50, 0.60, 0.80, 1.00, 1.50, 2.00, 3.00, 4.00, 5.00, 6.00, 8.00, 10.00, 15.00, 20.00
Grapes Symbol: 2.00 for 2X, 3.00 for 3X, 4.00 for 4X, 5.00 for 5X, 50.00 for 6X
Watermelon Symbol: 0.40 for 3X, 0.60 for 4X, 0.70 for 5X, 2.00 for 6X
Plum Symbol: 0.40 for 3X, 0.50 for 4X, 0.60 for 5X, 0.90 for 6X
Pear Symbol: 0.40 for 3X, 0.50 for 4X, 0.60 for 5X, 0.80 for 6X
A Symbol: 0.30 for 3X, 0.40 for 4X, 0.50 for 5X, 0.60 for 6X
K Symbol: 0.30 for 3X, 0.40 for 4X, 0.50 for 5X, 0.60 for 6X
Q Symbol: 0.20 for 3X, 0.30 for 4X, 0.40 for 5X, 0.50 for 6X
J Symbol: 0.20 for 3X, 0.30 for 4X, 0.40 for 5X, 0.50 for 6X
10 Symbol: 0.10 for 3X, 0.20 for 4X, 0.30 for 5X, 0.40 for 6X
9 Symbol: 0.10 for 3X, 0.20 for 4X, 0.30 for 5X, 0.40 for 6X
Conclusion
Overall, Extra Chilli is an excellent video slot from none other than the guys over at Big Time Gaming. The visuals are stunning, the animation is crisp, and the soundtrack is on point. The whole atmosphere is lively and energetic, perfect for an exciting game where you could win up to 20000x your bet.
The Megaways game engine is a refreshing departure from the traditional paylines structure. If you'd like more video slots that use that same game engine, head on over to your fave online casino and try other Big Time Gaming titles like Bonanza and Who Wants To Be A Millionaire.
We highly recommend this video slot from Big Time Gaming. The guys from BGT has already proven themselves to be one of the top folks in the online casino software development industry and this title has totally shown that. We recommend you check out this video slot if you haven't already. The next time you visit your favorite online casino, do try this video slot out. You won't regret it. Happy gambling!
Big Time Gaming Casinos