Forever Diamonds Slot Review >Online (Gamomat) Slots for Real Money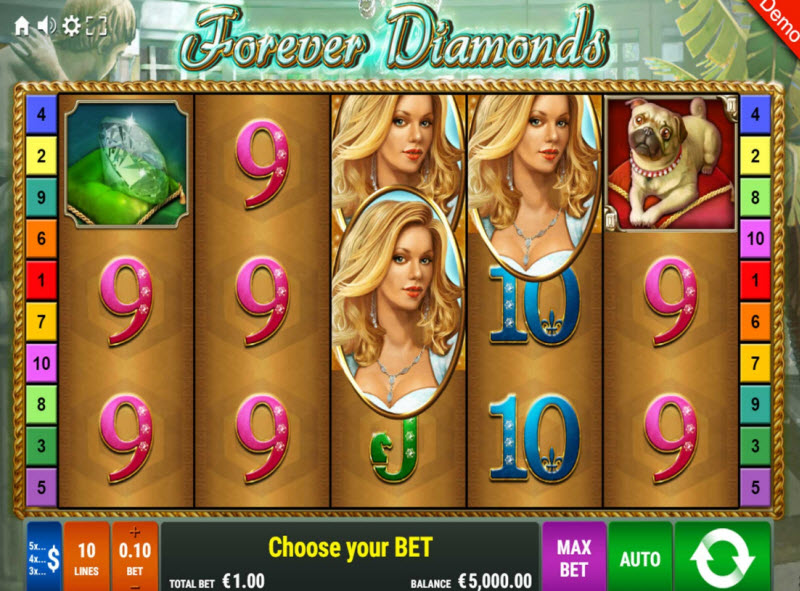 Slots Real Money no Deposit
Best Gamomat Casinos
We are taking a look at an online video slot from none other than Gamomat Software. This online video slot is all about what makes women special and every woman's love affair with diamonds. After all, nothing in the world lasts forever nowadays except diamonds.
What we are talking about is the online video slot Forever Diamonds. This slot has a classic vibe to it since it has all the elements you can expect from a traditional slot namely, five reels, three rows, and 10 paylines. Even its look and feel is all about embodying the classic vibe.
But don't let that fool you into thinking that this will be a dainty little slot machine but instead expect a wild ride. This slot features gamble options and progressive jackpots, features that will surely make the gameplay exciting. So hold on to your seats as we take a closer look at this game!
Gameplay
The wild symbol in this exciting title is the lady. This face symbol will take the place of every other symbol to help players land more winning combos. All the other symbols, true to the theme of this slot, embody what women are all about.
Aside from diamonds, dogs are also man's best friend so this title has a symbol illustrated as a pug. Other symbols include a green pillow with a diamond, a perfume bottle, and a pink lipstick. Also included are the traditional playing cards symbols Ace, King, Queen, Jack, 9, and 10.
This slot has a cool feature that can be triggered randomly anytime in the game that is a techno jackpot progressive prize. Anytime during gameplay, while spinning the reels, a draw may appear on the screen. It will be illustrated by three volume sliders moving upwards and once all three sliders reach the maximum level, the techno jackpot progressive prize will be activated. Once the jackpot game is triggered, you will have to accumulate a certain number of points randomly generated to win one of four prizes.
Another feature that can appear randomly is the gamble feature. Anytime while spinning the reels this feature can be activated. One triggered, this feature will give players three options to choose from: either to collect their winnings from the triggering spin or to gamble their winnings with either the card gamble or the ladder gamble.
If a player will choose the card gamble option, they will be asked to choose whether the next card that will be uncovered will be red or black. If the player is right, their winnings will be doubled. Then they will have the option to guess again.
The ladder gamble will bring you to a game showing you a ladder with blinking numbers. You will have to press a button at the right time to go up the ladder. Each time you go up, your winnings increase. But in the event that you go down, you may lose all your winnings from the triggering spin.
Payout
Lady / Wild: 20 for 5, 5 for 4, .50 for 3
Pug: 5 for 5, 1 for 4, .25 for 3
Green Pillow with Diamond: 5 for 5, 1 for 4, .25 for 3
Perfume Bottle: 2.50 for 5, .75 for 4, .20 for 3
Pink Lipstick: 2.50 for 5, .75 for 4, .20 for 3
Ace: 2 for 5, .50 for 4, .15 for 3
King: 2 for 5, .50 for 4, .15 for 3
Queen: 1 for 5, .25 for 4, .05 for 3
Jack: 1 for 5, .25 for 4, .05 for 3
9: 1 for 5, .25 for 4, .05 for 3
10: 1 for 5, .25 for 4, .05 for 3
Look and Feel
Forever Diamonds is all about women who live luxurious lives and their love affair with diamonds. The reel is set against a background of a mansion with a Roman statue on the left and a lady on the right. While spinning the reels, you will be delighted with a view of the mansion's window looking over a pool in the garden, all suggesting a very luxurious afternoon spent relaxing and playing your favorite slot machine.
The face symbols of this game are all true to its theme. Each symbol will be seen appearing on the reels in the traditional animation of video slot machines. This slot evokes the classic slot machine vibe as all of the elements in the slot come together to create a perfectly nostalgic atmosphere while playing.
The soundtrack also is reminiscent of classic slot machines. It perfectly fits well with the theme.
Conclusion
Overall, this slot is one that you will enjoy on a relaxing afternoon when you just want to sit back and spin the reels of the most popular online casino game there is. This is a very simple slot, very easy to follow yet its exciting features keep you spinning the reels for hours. If what you are looking for is a straightforward online video slot that just delivers on the promise, this slot is definitely worth a try. The next time you visit your favorite online casino, we suggest you check out this title if you are looking to try something new while on there. This slot is visually pleasing with a color scheme that is very easy on the eyes. The look and feel of this slot is all about the classics so if you are into reminiscing back to old times, you will surely love this game.
Best Gamomat Slots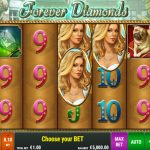 Forever Diamonds Slot Review >Online (Gamomat) Slots for Real Money Best Gamomat Casinos We are taking a look at an online video slot from none other than Gamomat Software. This…