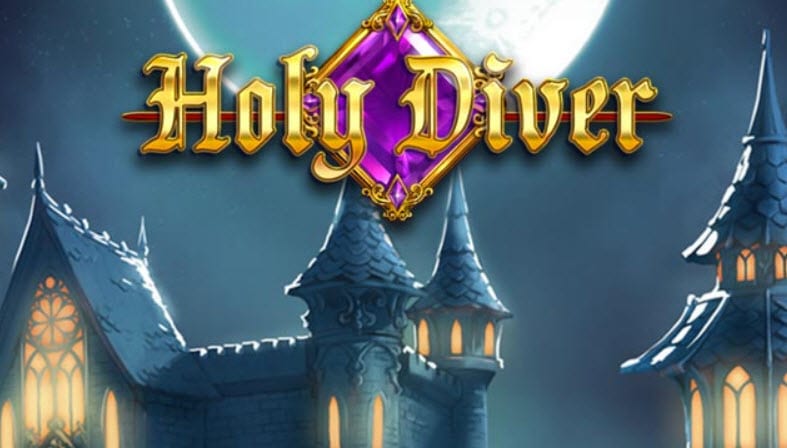 >>Play on Holy Diver Slot Game
First Look
You might remember the 1983 Heavy Metal hit, Holy Diver, or not. But, if you don't, don't fret, as this new release from the guys over at Big Time Gaming will bring that megahit to life with a brand new video slot that will truly excite casino enthusiasts the world over.
This brand new title from acclaimed Big Time Gaming is set in the dark ages. The visuals and soundtrack really do transport players to the world of knights and princesses. Plus, this game actually comes with brand new features just released by the guys over at Big Time Gaming. So, that right there just adds more thrill to this already exhilarating title.
Hold on to your hats as we go for a ride and dive right into the action with Big Time Gaming's Holy Diver!
Big Time Gaming Casinos
>>Play on Holy Diver Slot Game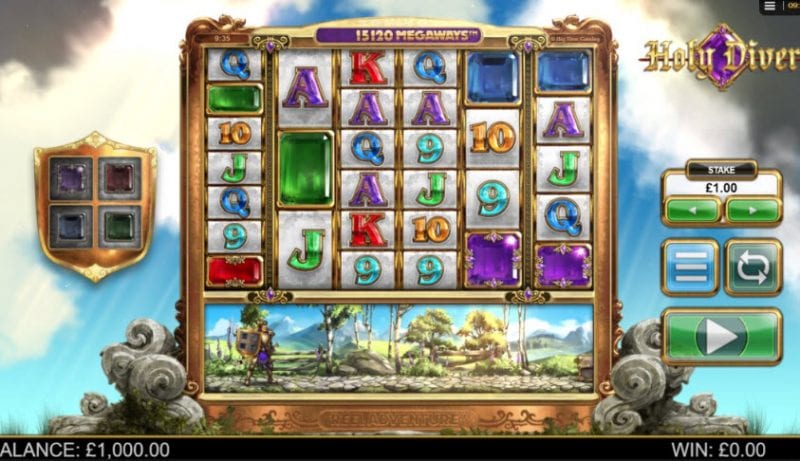 Features
Holy Diver has 6 reels which can show anywhere from 2 to 7 face symbols at a time. With every spin, the whole structure changes giving players a whopping 117000 ways to win. The face symbols consist of the letters A, K, Q, and J, the numbers 9 and 10, plus 4 gems in 4 different colors. The highest paying gem is the purple one which will give you 15x your bet if you land 6 of these across a payline.
The most notable feature of this video slot is the Reel Adventure feature. Reel Adventure is a brand new feature by the guys over at Big Time Gaming. Below the reels, you will find a knight going along a path. For every 1 to 5 spins or so, he comes across a treasure chest which when he kicks reveals 4 different kinds of game modifiers.
The different modifiers are as follows: The standard symbol bonus turns any of the low-value face symbols into a wild symbol. The sword bonus turns one whole reel into a gigantic wild symbol which can have up to 7x multiplier. The fireball bonus brings in up to 4 wild symbols into the reels. And finally, the gem symbol bonus gives players up to 4 gems that turn into wild symbols on the reels.
>>Play on Holy Diver Slot Game
Once you collect all the 4 gems in 4 different colors, you trigger the bonus game. So, needless to say, collecting the 4 gems takes the place of the scatter symbol in this game. The gems, when revealed from the treasure chest, are collected on the left side of the reels which has a shield mounted on it.
Once the free spins feature is triggered, players will have the option to either play the bonus game at level 1 or revert back to the main game now on level 2 with a 2x wild multiplier. When the free spins feature is triggered at level 2, players will have the same option to either play the bonus game with 2x multiplier or head on over back to the main game in level 3 at 3x wild multiplier. Finally, at level 3 players will have no other choice but to play the bonus game when it is triggered.
When you play the bonus game, the megahit Holy Diver will be played on the background giving you an energy boosts while racking up some big wins. You will initially be given 10 free spins. Gems which will appear on reels 2 to 5 will turn into wild symbols with a multiplier depending on which level you are on.
The knight below the reels will be transported into a castle where he will be battling against mystical forces along the way. When he defeats one, a diamond may appear and award players up to 8 extra free spins.
>>Play on Holy Diver Slot Game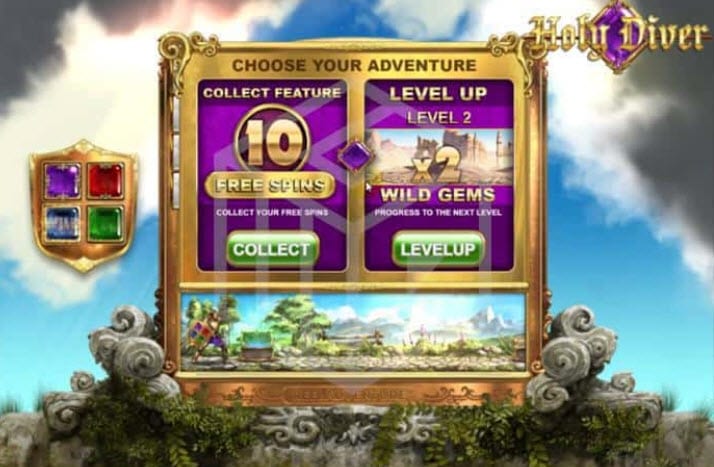 Look and Feel
Holy Diver is set in the dark ages. And, the first thing that we found worth noting upon checking out this game for ourselves is that the soundtrack has an eerie and dark feel to it that truly transports players to a world inhabited by knights, kings, princesses, and wizards.
The whole atmosphere delivered by the soundtrack is sort of antithetical to the visuals of the game which features a a bright blue sky and a knight going on a quest which evokes more of an adventurous vibe. But, that is understandable as the soundtrack does remind you of the intro to the 1983 hit, Holy Diver.
The visuals are rich. The Reel Adventure feature has a video game feel to it. The graphics are crisp. The animation is seamless. And, the whole gaming experience has a more relaxed atmosphere as compared to other video slots that evoke more of an energetic and lively vibe.
>>Play on Holy Diver Slot Game
Conclusion
Holy Diver is a brand new slot that offers a totally new gaming experience that most players have never seen before. This game is a truly innovative release. This video slot just goes out to prove that the guys over at Big Time are some of the most creative teams in the online casino software development industry. They have truly outdone themselves this time with a completely fresh and original release.
Players the world over will truly find this game a refreshing new addition their video slot favorites. And, online casinos from all over the world will definitely be excited to add this title to their massive game arsenal for both newcomers and regulars to try.
The brand new feature Big Time Gaming has introduced with this release which is the Reel Adventure feature may become, in the future, a staple in their future titles. We'll continue to keep our eyes peeled for that. But for now, you can head on over to your favorite online casino and check this brand new release for yourself. We are guessing this video slot will quickly become one of your favorites. Don't just take our word for it though. Check this game out for yourself.