Jackpot Jester 200000 Slot Machine. Play Now Here!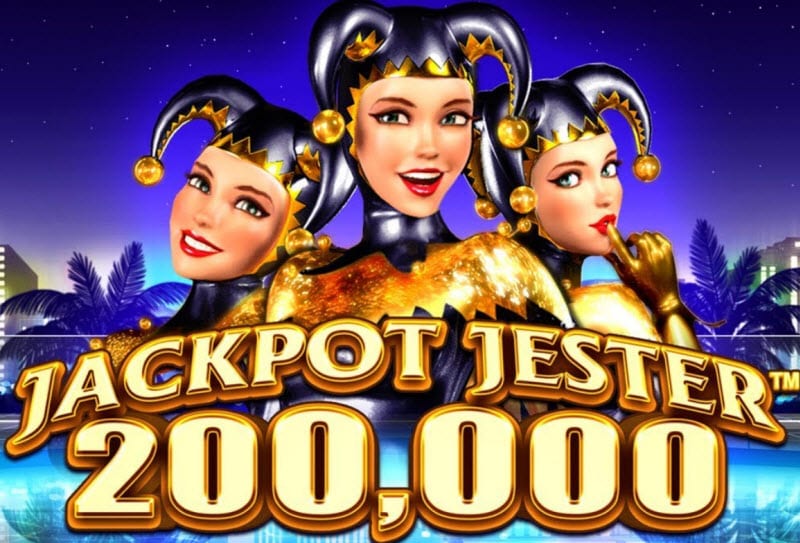 >Play on Jackpot Jester 200,000 slot
SLOT REVIEW: JACKPOT JESTER 200,000 SLOTS
You can easily find a slot machine that draws inspiration of a number of normal to strange topics. But this doesn't mean that the fruit machine is extinct. In our opinion, it is actually coming back into fashion.
If you are the classic type of player who appreciates traditional symbols, gameplay that completely immerses you and the chance of winning really big, then you will enjoy the Jackpot Jester 200,000 video slot. It features three reels, five pay lines and was created by NextGen Gaming as part of a series of game (that did well, to bs honest). Before this game were Wild Nudge and Jackpot Jester 50,000. You can find these at real money online casinos that are compatible with mobile devices.
This game is not regular though as it features two sets of reels. The only thing that makes it look familiar is the symbols that are all fruit themed. In this game, you have to build your winnings up on the reels found lower, so as transfer them to the Super Game set, located higher and featuring the bigger prizes. To help you to make additional extra combos, you have the female Jester. If she appears on the Super Game reels no matter the time, you get a huge prize of 200,000 coins.
To make it seem like you are playing at a traditional fruit machine, a cabinet is the setting of the reels and these ones have flashing lights all around them. Also, you will see that the hefty command buttons you will see at an actual machine in a physical casino are present. But the setting is not the typical bar or casino. You will it standing next to a swimming pool in a kind of exotic evening. This makes the game more special.
>Play on Jackpot Jester 200,000 slot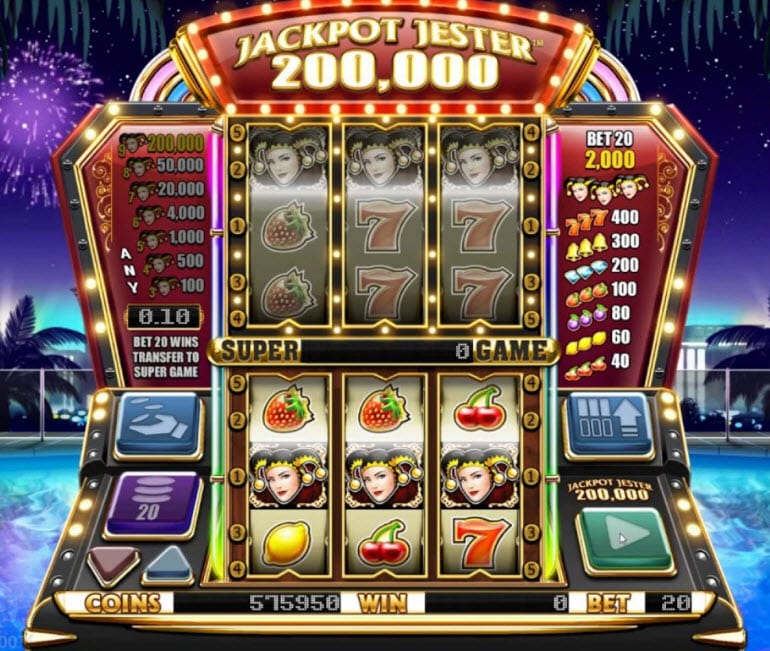 Begin with the Basic Gameplay
You will find two bet levels in this game. You get either the 10 or 20 coins and your wins go to the Super Game automatically but at a stake that is significantly higher. When three matching symbols appear across on line on the reels that are lower, you get multipliers of that coin value. Like a lot of other similar slots, the symbols with the smallest prizes are lemons and cherries. When you make a bet of lower value, you get a payout of 20 coins.
You have symbols like golden bells, diamonds, strawberries and plums the red Seven symbol is worth 200 coins per stake of 10 coins. The biggest prize is given by the Joker. She will cheer you up when she gives you a payout of 1,000 coins. She doubles as the wild symbol. If she can, she helps you out and makes a run of symbols on a payline
>Play on Jackpot Jester 200,000 slot
The Super Games Super Wins
When you make a bet with a coin value of 20 coins, you can transfer your wins to the higher Super Game reels. This slot games gives you the chance to get the biggest wins as possible so a lot of gamblers play at the 20 coin bet level. You can still play at the local reels as you build up your balance in the Super Game. When you win 100 coins, the opportunity to play at the higher reels is given as you win more here.
There is a blue button under the Super Game reels. Click on it and alongside a rainbow animation, you will see the high value symbols light up. To spin these reels, you need to pay 100 coins. But you are more liable to winning a big reward here.
Depending on which symbol, you get different amounts of payouts in the Super Games. The red Seven has a value of 3,000 and the cherries value of 100 coins. To help you finish up additional three of a kind lines, you will see the Jester stacked up on the reels. This symbol also has the payout of a scatter symbol, even without replacing another. The value of three Jesters is 100 coins; if four Jesters appear on the reel, you get 500 coins; when the Jester appears at the same in five places, you get 1,000 coins. Don't forget that this symbol is a stacked symbol and so it is quite easy to make a lot of Jesters appear, even on just one reel
As more Jesters land on reels, you get even better prizes. If you get six Jesters, you are awarded 4,000 coins; seven Jesters award 20,000 coins; eight Jesters get you 50,000 coins. If all of the nine symbol positions at the Super Game reels are full of Jesters, you will have the Jackpot Jester 200,000 awarding you 200,000 coins, thereby living up to its name.
You can cash out your winnings at the time you wish. Just click on the icon that shows coins falling inri a hand. With the help of control buttons, this game is made wary to understand. And this despite all the reels and flashing lights that could bring about confusion.
>Play on Jackpot Jester 200,000 slot
Make your choice of coins
Okay so you've had the choice to play at the 10 or 20 coin bet level. Now you have to decide the value of each of your coins through the use of the blue and red arrow buttons. The lowest is 0.10 (0.20 if at the 20 coin bet level). The highest is 10.00 or 20.00. All these are per spin.
At Jackpot Jester 200,000 you don't have the fast spin or autoplay buttons. You also cannot get a handle feature activated. But you should know that it is hard to see classic slot machines that feature these things. You can play this slot game on the device of your choice as it fully supports a mobile version.
The volatility of this slot game is medium and its RTP value is 94.9%. As it is under NextGen Gaming, we already know that it has been tested and declared fair and is completely Licensed.
Have Fun with the Jester
This slot game is actually one of a series and so you could play other games featuring in this series. The Jackpot Jester 50,000 is very similar to this one. But as its name implies, the maximum win is 50,000 coins.
Double the Fun
This game has two sets of reels and features multiple options on what to play and when to play it. This is what gives it all its intrigue and thrill
After spinning the reels a few time, we are sure you will be familiar with the Jackpot Jester 200,000 slot. We know that you will definitely have fun.