Lucky Oak Slot Review: Hit the Jackpot Now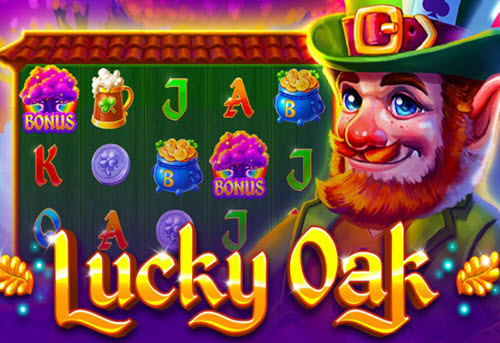 Have you ever found yourself wishing for a stroke of good fortune while indulging in the vibrant world of online gaming? If so, your search may be over as we shine the spotlight on the enthralling world of Lucky Oak, a gripping new creation by BGaming. This gem hit the online gaming scene on the auspicious day of May 4th, 2023. Offering seamless access to mobile gadgets and PCs, Lucky Oak invites gaming enthusiasts of all stripes, granting them entry into its exciting world from virtually any corner of the globe.
Steeped in the enduring charm of Irish folklore, Lucky Oak unrolls a lavish green carpet, guiding players through a classic 5×3 grid adorned with ten fixed paylines. These paylines unlock many hidden treasures, reaching up to an enticing pot of gold. However, the magic of Lucky Oak truly comes alive in the Bonus round. Here, our cheerful leprechaun protagonist pulls back the curtain on his wondrous slot machine, cunningly concealed within a grand oak tree, further heightening the game's fantastical ambiance. If you have a soft spot for Irish-themed slots and crave a fun, exciting way to indulge your gaming instincts, Lucky Oak promises a gaming experience that you won't soon forget.
Gameplay and Features
Peeking beneath the surface of Lucky Oak's charming facade, we find an enticingly intricate game beautifully balanced with an engaging math model. The gameplay unfolds across a canvas of 5 reels and three rows, with ten meticulously designed paylines that pay from left to right. Accommodating a diverse range of betting preferences, the game allows a minimum bet of 0.10 credits, extending up to a maximum of 10 credits per spin. The slot also boasts an RTP of 96.01%, placing it on par with the average RTP for online slots and promising a fair gaming experience.
Symbols are the lifeblood of any slot game, and Lucky Oak is no exception. Here, players encounter traditional card symbols (10, J, Q, K, A) alongside other symbols that breathe life into the game's charming Irish theme. These include horseshoes, mushrooms, and four-leaf clovers, symbols traditionally associated with good luck in Irish folklore. The pot of gold, which surely needs no introduction, is the highest-paying symbol, followed by the horseshoe and the mushroom, while the card symbols offer comparatively lower payouts.
Our jovial leprechaun functions as the game's wild symbol, stepping in to substitute for all other symbols except the scatter. The pot of gold takes on the role of the scatter symbol, unlocking the bonus game when three or more grace the reels.
The bonus game is a realm of hidden treasures triggered by three or more scatter symbols. Here, players are met with a screen brimming with 15 pots of gold. The goal? Choose these pots wisely, revealing either cash prizes or multipliers. The bonus game has the potential to re-trigger, provided three or more scatter symbols appear during the bonus game, offering multipliers that can skyrocket up to an impressive 9,991x!
Graphics and Sound
Lucky Oak, a highly volatile video slot game by BGaming, offers an RTP of 96.17%. As players journey through the game, they encounter an affable green leprechaun guarding his magic slot machine within an oak tree, capable of rewarding up to 9990X the bet on a single spin. The bonus game further elevates the thrill, presenting random cash prizes that make every spin an adventure.
Visually, Lucky Oak is a triumph. The game unfolds against the captivating backdrop of an enchanted forest teeming with greenery and mystical allure. The symbols that populate the reels—ranging from the leprechaun and the pot of gold to the horseshoe, the four-leaf clover, and the standard playing card symbols—bring the theme to life with vivid colors and detailed designs. These elements and smooth, seamless animations create an incredibly immersive gaming experience.
The game's audio aspects deserve equal praise. The sound effects are meticulously crafted, offering clarity and precision that enriches the gaming experience. The lively background music ebbs and flows with the game's progression, evoking a palpable sense of anticipation and excitement. Together, the visual and audio elements of Lucky Oak work in harmony to create an engaging, immersive gaming experience that captures and maintains player interest.
Betting Options and Payouts
A crucial aspect of any slot game is its range of betting options. An array of options means a game that can cater to a broader audience, from those keen on smaller stakes to high-rollers who live for the thrill of placing larger bets. With its versatile approach to betting, Lucky Oak is undoubtedly a winner.
The game allows players to place bets ranging from a minimum of 0.10 credits, an option that encourages novices or conservative players to participate without high financial risk. On the other hand, seasoned players or those who prefer high stakes can take advantage of the maximum bet of 10 credits per spin. The substantial range of betting options allows players to customize their game according to their comfort and risk-taking levels, making Lucky Oak an appealing choice for a diverse player base.
The potential payouts in Lucky Oak are as enticing as its betting range. They are calculated based on the payline wins, with the highest win per bet line paid. Wins on multiple bet lines in the same game round are added for a potentially sizeable overall win. However, the real charm of Lucky Oak's payouts lies in its special features—the leprechaun wilds, scatter-triggered bonus games, and the enticing possibility of multipliers reaching up to a jaw-dropping 9,991x!
A game's volatility and RTP (Return to Player) percentage are essential indicators of its potential payout in online slots. With its high volatility, Lucky Oak promises substantial wins, albeit less frequently. This attribute makes it a thrilling option for risk-takers anticipating a significant win. On the other hand, the game's RTP stands at 96.01%, meaning that, on average, players can expect to get back 96.01% of all their wagers in the long term. This percentage is consistent with the average RTP of online slots, which adds to the game's appeal.
Final Thoughts and Recommendations
A delightful blend of charm, excitement, and potential for considerable rewards, Lucky Oak by BGaming is a slot game that truly delivers. Offering an endearing Irish theme, engaging gameplay, accessible platforms, and promising payouts, Lucky Oak strikes a perfect balance between whimsy and wins.
Ideal for players who appreciate engaging themes, seamless accessibility, and high-volatility slots, Lucky Oak is a game that won't disappoint. Whether you're hunting for gaming fun on St. Patrick's Day or simply hoping to coax some legendary leprechaun luck, we confidently recommend Lucky Oak as your next gaming destination. After all, behind every spin lies the tantalizing possibility of hitting the jackpot. So why not take a chance on Lucky Oak, and let the magic unfold?