Royal High-Road Online Slot Review and Bonuses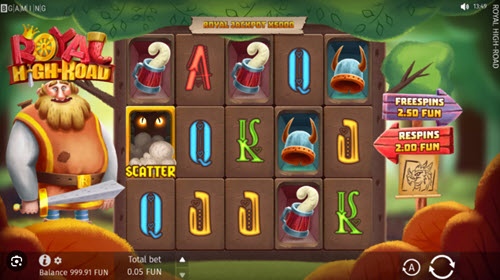 => Play on Royal High-Road Slot
BGAMING, a renowned game developer, has recently unveiled an eagerly awaited addition to their repertoire: Royal High-Road, an immersive and captivating online slot game released on April 14, 2023. This fantastic game takes players on an incredible journey, placing them in the shoes of brave heroes determined to rescue a captivating redhead princess from the clutches of a formidable castle while collecting priceless treasures along the way.
Royal High-Road features a 5×3 reel layout with 20 paylines and an impressive RTP (return to player) percentage of 96.5%. The game's design is visually stunning, with captivating graphics and dynamic animations that bring the medieval world to life. Players can expect to encounter various features, including wilds, scatters, free spins, and bonus rounds, all contributing to an exhilarating and immersive gaming experience. The rewards offered in Royal High-Road are equally enticing, with the potential to win up to 5,000 times the bet amount.
Royal High-Road ensures that players of all preferences can enjoy its excitement and rewards in both demo and real-money play. As the game combines stunning visuals, engaging features, and substantial rewards, it is poised to capture the hearts and minds of online slot enthusiasts. Brace yourself for an extraordinary adventure as you embark on the Royal High Road and immerse yourself in a world of bravery, treasures, and captivating gameplay.
Game Design and Graphics
Royal High-Road boasts a unique and charming comic-style visual design that adds whimsy and excitement to the gameplay. Players will find themselves accompanied by a quick-witted and humorous swordsman who adds an extra layer of entertainment to the game. Set in a captivating medieval world, the game features a breathtaking castle as its backdrop. The 5×3 reel layout is adorned with top-notch graphics and animations, immersing players in the enchanting storyline.
The symbols featured in the game hold significant relevance to the medieval theme. Players will encounter the captivating princess, brave knight, fearsome dragon, majestic crown, and sturdy shield, each symbol offering its rewards. Additionally, the game incorporates a wild symbol, represented by the Stacked Wilds, which can substitute for other symbols except for the scatter. The scatter symbol, represented by the game's logo, triggers the highly anticipated bonus feature, adding excitement and anticipation to the gameplay.
Game Features
Royal High-Road, developed by BGAMING, offers many features that elevate the gaming experience. Let's delve into the details of these features and how they impact the player's gameplay and winning potential.
Paylines and Reels
Royal High-Road presents players with a 5×3 reel layout and 25 fixed paylines. The fixed paylines ensure players have a fair chance of winning on every spin, as they cannot adjust the number of active paylines. Players must land matching symbols on adjacent reels from left to right to form a winning combination. This straightforward layout makes it easy for players to navigate the game and understand the winning patterns.
RTP Percentage
The return-to-player (RTP) percentage of Royal High-Road stands at an impressive 96.14%. This means that, on average, players can expect to receive back 96.14% of their total bets over the long term. However, it's important to note that this is an average percentage, and individual results may vary. Understanding the RTP percentage is crucial, as it gives players an idea of the game's overall generosity and helps them manage their bankroll effectively.
Volatility Level
Royal High-Road offers a medium-to-high volatility level. This means that players can anticipate less frequent but higher-paying wins during gameplay. The medium-to-high volatility level adds an element of thrill and excitement to the game, filling every spin with anticipation. Players should adjust their betting strategy accordingly, remembering that patience and resilience are crucial to reaping the rewards of this volatility level.
Maximum Win Potential
The maximum win potential in Royal High-Road is an impressive €232,800. This extraordinary amount can be achieved by landing five of the highest-paying symbols on an active payline. Additionally, the game features a royal jackpot that equals x5000 of the bet, providing players with an exciting opportunity to win big. The allure of such substantial rewards adds to the excitement. It keeps players engaged and motivated to continue spinning the reels.
Royal High-Road's features work harmoniously to provide players with an exceptional gaming experience. The fixed paylines, high RTP percentage, medium to high volatility, and substantial win potential create an immersive and rewarding gameplay environment.
Bonus Features and Special Symbols
Royal High-Road has various bonus features and special symbols that enhance gameplay and boost winning potential. The Stacked Wilds symbol serves as the game's wild symbol, allowing players to create winning combinations by substituting for other symbols on the reels. The scatter symbol, represented by the game's logo, triggers the highly sought-after Free Spins feature, granting players additional free spins upon landing three or more scatters.
The coin symbol holds the key to the Gold Respins feature. This exciting extra game focuses exclusively on Coin symbols. During this feature, players can earn up to 5000x their initial bet multipliers, significantly enhancing the potential for substantial winnings. Moreover, the bonus symbol can trigger the captivating Bonus Game, a pick-and-click game that rewards players with generous cash prizes, adding excitement and interactivity to the gameplay.
Tips and Strategies for Playing Royal High-Road Online Slot
To make the most of the Royal High-Road slot and increase your chances of winning, consider the following tips and strategies:
Familiarize yourself with the game's features: Take the time to thoroughly understand the game's mechanics, bonus features, and special symbols. This knowledge will empower you to make informed decisions and maximize your potential winnings.
Understand the RTP percentage: The return to player (RTP) percentage for Royal High-Road stands at an impressive 96.14%. This means that, on average, players can expect to receive back 96.14% of their total bets over the long term. Familiarize yourself with this figure to manage your bankroll effectively and make informed betting decisions.
Consider the volatility level: Royal High-Road offers a medium to high volatility level, striking a balance between frequent small wins and larger, less frequent wins. Understanding the game's volatility will help you adjust your betting strategy and tailor it to your preferred risk level.
Manage your bankroll: Establish a budget for your gaming session and stick to it. Avoid chasing losses and refrain from wagering more than you can comfortably afford to lose. Responsible bankroll management ensures a more enjoyable and sustainable gaming experience.
Play the demo version: Before venturing into real-money play, take advantage of the demo version of Royal High-Road. This allows you to familiarize yourself with the game's mechanics, features, and bonus rounds without risking any real money. Use this opportunity to develop your strategy and gain confidence before placing bets.
Conclusion
Royal High-Road by BGAMING has brought players a captivating online slot experience worldwide. With its engaging theme, stunning graphics, immersive features, and enticing rewards, this game is set to become a favorite among online slot enthusiasts.
Embark on a thrilling adventure to rescue the captivating redhead princess while uncovering valuable treasures. Give Royal High-Road a spin, and immerse yourself in the medieval world, where thrills, excitement, and substantial winnings await.