Mongol Treasures 2 Slot Review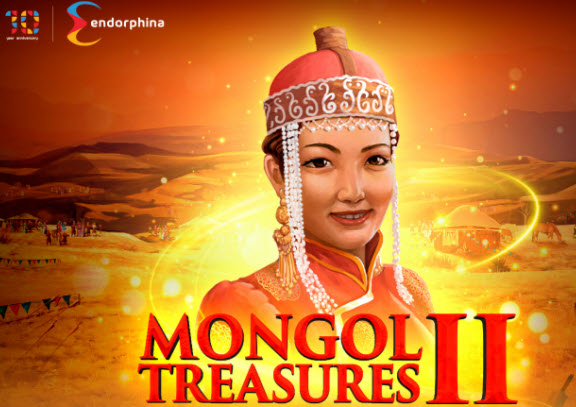 In the latest slot from developer Endorphina, Mongol Treasures 2, you may compete in an archery tournament in Mongol territories. This game came out on November 10th, 2022, and is incredible. It has many outstanding features, such as the Bonus Pop/Bonus Buy function and the Archery Contest Bonus Game, where you may win lots of money. Add in the game's attractive aesthetic and generous maximum bet, and you will have a fantastic experience.
Do you think it would suit you? Know more in our brief Mongol Treasures 2 review, in which we examine the game's mechanics, accessibility, and more.
Overview of Endorphina
Endorphina, headquartered in Prague, was founded in 2012 and has quickly grown to become a behemoth of the iGaming business and is among the most renowned and lauded suppliers.
In the ten years they've been in business, this company has built quite a reputation for itself by producing a wide variety of high-quality board games, including Akbar and Birbal, Tribe, Little Panda Dice, and many more. Endorphina has an excellent resume, a large and dedicated fan base, and many licenses from the MGA, the ISO, and the ONJN. Finally, Endorphina is a highly regarded service with several awards.
Top Casino Sites to Play the Game
Here you'll discover a handful of the best places in the business. You'll be playing in a secure environment that looks great, has plenty of bonuses to choose from, and employs the latest encryption and firewall technology. In light of our research and testing, we have found the following online casinos to be trustworthy and rewarding. If you're interested in playing Mongol Treasures 2 for actual cash, you may do so at any of the sites listed below.
Rules of the Game
The playing area in Mongol Treasures 2 comprises five reels and three rows, and besides choosing your desired payline numbers, you can also take advantage of the game's Bonus Pop mode, which is effectively a bonus round and immediately triggers the Archery Contest Bonus Game.
We'll get into the specifics of all those elements in a minute; first, let's get you started with Mongol Treasures 2 by demonstrating its fundamentals and ways to move about the interface.
If the game leads, your initial move should be to access the slot's options menu and make a few adjustments. To access the menu, choose it from the list by using the button on the left.
Next, adjust the slot machine's payline number to your liking; more paylines mean more potential payouts and a higher wager. This slot machine has a variable number of paylines (between 1 and 10).
Your next step is to decide how much money you want to wager on Mongol Treasures 2, where the minimum is only 0.01 euros and the maximum is 100 euros.
After that, you may learn about the game's features, paylines, and symbol values by accessing the menu.
If you wish to play with the Archery Contest Bonus Game already engaged, you may use the Bonus Pop function. However, if you want to play normally, you can press the spin or autospin button.
RTP
The return to player percentage in Mongol Treasures 2 is about 96.06%, and the game has high volatility.
High-volatility games, like this online slot, are riskier than others because payouts happen less often but are far more lucrative. Players who are OK with taking on more financial uncertainty can try this game. The RTP in Mongol Treasures 2 is 96.06%, which is standard and respectable for players.
Theme
Both the aesthetics and the execution of this slot game are top-notch. Here, you may spin the reels of a wooden slot machine while taking in views of the picturesque Mongolian grasslands and gers. Great music is played in the backdrop and establishes the mood for the slot, adding to the overall immersion and pleasant vibe. Therefore, it's safe to state that Mongol Treasures 2's layout is superb, and we're big fans of it.
Let's examine these signs and see what they mean. The standard playing card values and the Mongol man and brown, white, and black horses are all included in Mongol Treasures 2. The Shield, the Mongolian Classical Pattern, and the Target are all elements of the Archery Contest Bonus Game that the Scatter icon in the game may trigger.
Mobile Gaming
It should be no surprise that Mongol Treasures 2, a new game from a well-known and reputable developer, is built using cutting-edge technology that makes it compatible with mobile and desktop computers. So, if you're worried about compatibility, know that you can fire up the browser on your mobile device and enjoy Mongol Treasures 2 with the same ease and smoothness as it is on a desktop computer. Furthermore, playing on a mobile device doesn't change the game's mechanics.
Free Spins and Bonuses
Bonus Pop
If you're playing Mongol Treasures 2 and want to boost your odds of winning, you may immediately use the Bonus Pop function to trigger the Archery Contest Bonus Game.
Bonus Round
If you get at least three scatters, you'll play the Archery Contest Bonus Game; if you get four scatters, you'll play the Bonus Round with double the regular prizes (2x), and if you get five scatters, you'll play the Bonus Game again, but this time with 4x the standard rewards.
There will initially be three chances to play the Archery Contest Bonus Game, and each spin will count as one chance. Shield, Mongolian Classical Pattern, and Target symbols appear on the reel set when this mode is activated, and any Landing Shield or Target icons cling to the reels for further spins.
If a shield symbol appears anywhere on the reel set, you'll earn an extra prize, and each shield symbol has one of the following possible payouts:
Get 25% of the initial wager back if you win the bronze prize.
The silver prize is 50 times your original wager.
Win up to 100 times your original bet with the gold prize!
If the Target icon appears on the reel set, the Archery Contest will begin when the wheels stop spinning. Then, your success rate will grow with each successful shot.
Risk Round
The Risk Round is included in virtually all Endorphina slots and has become a trademark for the company. You may try to increase your current win by using the gamble function. If the card you chose is higher than the dealer's, your win is doubled. Then you may continue playing about ten more times.
Demo Mode
We've included a demo version of this slot game for those who enjoy what you see and want to bet for real money, but first want to have a feel for the slot and how it's played. The demo version offers the same features as the full casino game, including the ability to be played on mobile devices at no cost.
Maximum Win
With a maximum win of 16,000x, Mongol Treasures 2 is an excellent slot machine.
Several excellent options in the game will help you boost your chances of winning and perhaps win the 16,000 times your maximum stake jackpot on Mongol Treasures 2. Besides increasing your odds of winning, the slot's unique symbols, multipliers, bonus buys, and jackpots make for a more exciting and fun experience.
Conclusion
There aren't many online slot games as intriguing, engaging, and enjoyable as Mongol Treasures 2. It's not a challenging game to pick up and play, but it's still a lot of fun and easy to grasp for newcomers and seasoned pros. We think all players should try out Mongol Treasures 2 because of its jackpots, bonus purchase choices, multipliers, high RTP, and maximum win.
FAQs
When playing Mongol Treasures 2, can I swap between languages?
Switching between 30 different languages is possible by accessing the slot's main menu.
The Mongol Treasures 2 bonus game only allows a certain number of tries. Is there any way to raise that amount?
The answer is yes. If 1 Shield or 1 Target symbol appears anywhere on the reels during this feature, the total number of tries will reset to 1.
How much does the slot's Bonus Buy cost?
It's 87 times your existing investment.