Fresh Crush Slot Review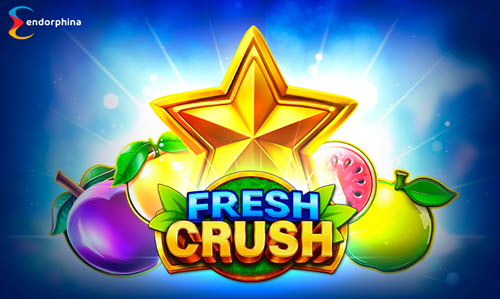 Looking for a fresh and exciting slot game? Check out our review of Fresh Crush! Spin the reels and uncover juicy features and bonuses that will keep you coming back for more. Win big and have fun with Fresh Crush!
Roll up, roll up for a juicy new slot that's bursting with fruity flavor! Fresh Crush from Endorphina hits the scene with a novel 6×5 playing field and seductive Pay Anywhere mechanics. This high-volatility, 96% RTP game lets you bet from 0.2 to 80 CAD on cascading wins, free spins, and gamble features for mouthwatering payouts.
Sink your teeth into the Fresh Crush landscape and get ready to squeeze every last drop from its succulent bonus features. With high multipliers of up to 100x and a Bonus Pop instant entry to the bonus round, Fresh Crush serves up a tantalizing fruit cocktail.
Dive into the Fresh Crush Landscape
The Fresh Crush slot exudes a juicy fruit vibe with its huge 6×5 reels backdropped by a lush landscape. Unlike classic fruit slots, Fresh Crush delivers an expansive playing field brimming with fruits, bells, stars, and sparkling diamond scatters.
The game symbols drip with flavor, from pulpy oranges and zigzagged lemons to plump grapes and melons sliced open, exposing their pink flesh. The Diamonds signal special sticky wins are coming your way when you land these bad boys. With mouthwatering visuals and a reel set just begging to be squeezed, the Fresh Crush landscape is one fruitful paradise.
Unpacking the Game Features
Fresh Crush eschews defined paylines and instead opts for the popular Pay Anywhere mechanics. As long as you land 8 or more of a symbol anywhere on adjacent reels, starting from the leftmost side, you'll score a sweet win. Get ready for frequent drips of small payouts as matching fruits, Bells, Stars and more cascade down the tall reels. Lower value symbols like Oranges and Cherries only require 8 in a row, while the higher paying Grapes, Watermelons, and especially Diamond scatters demand clusters of 12 or more to hit those juicier prizes.
The Cascading Reels feature is a perfect fit for the expanded 6×5 reels. Every time you hit a winning combo, those symbols burst apart, and new ones avalanche down from above to fill their spaces. This opens up possibilities for multiple wins on a single spin. After each cascade, if new winners appear, they'll also crumble away, and the chain reaction continues until no more combos remain.
Not only can the Diamond Scatters reward instant wins when landing 8 or more, but 4 diamonds will also trigger the Free Spins bonus round, where you get 10 spins with insane multipliers attached to all payouts. You'll also encounter dynamite symbols during the bonus round. These act as mini-wilds that explode away entire reels and rows to clear out non-winning symbols and leave more chances for high-paying combos.
For real risk-takers, there's also a Gamble feature that lets you wager your payouts on a simple card game against the dealer. Guess if your card is higher, you'll double your money.
Delving into the Free Spins
While Fresh Crush serves up frequent smaller wins in the base game, the real value lies in the Free Spins bonus round. This is where the potential for juicy monster payouts opens up. Land 4 or more Diamond scatters anywhere on adjacent reels, and you'll trigger 10 glorious Free Spins.
Right from the start, you'll notice random multiplier values ranging from 2-100x attached to the fruits and other symbols during the Free Spins. Even on a spin with no winners, just seeing those multipliers bounce around the playfield gets the anticipation pumping. Of course, when you do hit a matching cluster, these multipliers make the wins erupt even bigger.
Adding to the thrills, Dynamite symbols start appearing on the reels. When they land, the Dynamite explodes away its entire row and reel to clear room for more high-value symbols to cascade down. Along with the random multipliers, these chain-reacting Dynamite hits significantly improve your odds of clustering multiple winning combos.
It's hard to overstate just how insane the payout potential gets during the Free Spins. Those multipliers compound, especially when hits overlap, and you get multiple multipliers applying to a single win. 100x on its own is great, but imagine lines overlapping with 100x and 50x multipliers simultaneously!
Of course, being a high volatility slot, the Free Spins bonus still doesn't hit too frequently. But when everything comes together, and those multipliers start stacking, you're looking at a serious jackpot payday. Just be patient and keep dripping in those small base game wins until you hit the Diamond Scatters.
Conclusion
For slot fans who crave classic fruit machine action but desire some modern excitement, too, Fresh Crush hits the sweet spot. Its expanded reels and explosive mechanics like Cascading Reels, Free Spins, Multipliers, and Dynamite make for a thrilling and rewarding experience.
While patience is required with its high volatility, the payout potential explodes during the re-spin bonus round. Drips of smaller wins keep your balance ticking upward until those Diamond scatters burst open an avalanche of juicy fruit multipliers for monster payouts. If you're up for a volatile and engaging fruit slot, squeeze Fresh Crush for all its juicy winning potential.