Wild Bazaar Slot – Netent Casino Software Sites!
Wild Bazaar Game Details
Software developer: NetENT
Video Slot Game
26 paylines
Not progressive
5 reels
Game mechanic is unique
Plenty dry spins
Different wild symbols exists
No feature for bonus spins
Great animation and graphic design
Payout is quite poor
Can be played on mobile devices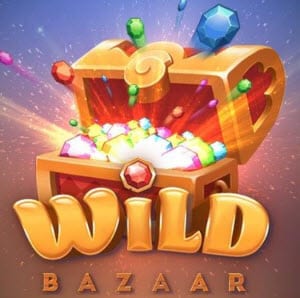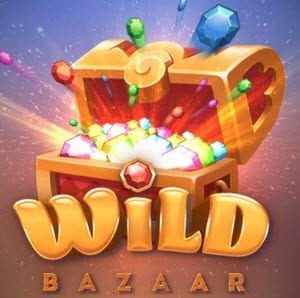 Wild Bazaar is offered by NetENT and has four rows, twenty six fixed paylines and five reels. These reels are medium variant. The RTP percent of Wild Bazaar goes up to 96.15%.
With just one spin, you can win even up to 390 times the amount you bet. Just remember that this is a non progressive slot.
When we were messing around on this game, we noticed something. If you want to play this game with lower bets, you should double click the Max Bet button two times before the game starts.
We appreciate NetENT's efforts for doing things differently because this is the first time we are seeing this feature. If on an active payline you get more than two matching symbols, you get one of the four Wilds.
They are the Colossal Wilds, Stacked Wilds, Multiplier Wilds (x2) and the Linked Wilds.
You will notice that this game looks a lot like an animated movie from Disney. What you won't see though are some of the characters we've enjoyed watching like Tom, Mickey, Jerry and goofy. Of course NetENT wouldn't be NetENT without innovation. And so they have a spinning fan, a breeze blowing across the screen and a radio that sends out great tunes.
Yes these features are beautiful additions. But do they bring anything to the game play? First you will notice a town, looking very Arabic that serves as the backdrop.
In this town, you will get an Aladdin feel and it is a gem to the whole dynamic of the game. On the reels, you have symbols (different kinds of treasure chests) with four variations of colors: pink, blue, green and red. These chests give you one type of cash prize when you are at your highest stake. Five if tgese chests give your best x7.
NetEnt Online Casinos
GamePlay
You can spend from £0.20 to £400 when you spin the reels. And you can do this on both your mobile device or computer. Honestly, we are not sure that Wild Bazaar will be to the taste of high rollers even though the maximum amount you can spend on a spin is £400. This is because the highest jackpot is 386x your bet. Our recommendation is that you play with a balance of at least £50 since it is quite new.
Bonus Offers
Wild Bazaar does not offer Scatters. Scatters are responsible for bonus spin rounds. And you will not find any of that on this site. The only thing you can get as bonus is the four treasure chests. These ones offer you four wild spins for every symbol. They are:
Stacked
These wilds are found in the red chest. If you play them, you will see them on the reels in stacks.
Colossal
When you see the green chest, every symbol on the reel now look like two×two Colossal Wilds.
Linked
This wild is connected to the link chest. You will see this one across the reel from left to right and they transform every symbol adjacent them into a wild.
Multiplier 2x
You get a x2 multiplier if you see the blue chest.
So you get all this, then what? This bonus is not as straightforward as it seems. You can use all of these four bonuses in a single spin. This means that you can get a screen full of wilds. For instance, if you get four blue chests, that is four spins with a x2 multiplier.
Conclusion
Wild Bazaar is a game that would appeal to a lot of people but we haven't really connected to it. The concept is not mainstream and we love a classic slot game that offers you bonus spins. But rest assured. You can still win big if you get a winning combo that hits a number of Wilds.
Honestly, during the main game, we noticed that the amount of dry spins we got was high. The slots are medium variant so we expected more winning spins considering the fact we gotten more on games that are highly volatile. Are we going to play this game again? No. This is why. After we spun the reel about 45 times, we got very bored. Even with different chests, you will find it hard to get a winning combination. Also, even with a screen full of wilds, the payout is weak. Only 390x your bet. It comes along with a x2 Multiplier and that is very lacking. These Wilds are not wild at all.
FAQ
During the base game, are the payouts great?
We were quite let down. We though it was going to be better. To make matters worse, the higher you bet, the more difficult it is to get a great win, even when the screen is full of wilds. They clearly sold themselves way more than they are worth.
Are the bonus rounds easily triggered?
We used £45 to play at Wild Bazaar. The average amount you could bet on each spin was £0.40 but it was quite hard to get three chests on a reel. When you land four of these chests, a bonus round is activated so maybe we should not have used that amount. We noticed that in other slots, this amount was quite sufficient.
Is there a free spins round on Wild Bazaar?
There is no free spin round on Wild Bazaar.