Cleopatra's Fortune Slot – Dragon Gaming Software
Scour for Gold in Ancient Egyptian Tombs
Are you a fan of ancient themed games? If yes, then you will love this Ancient Egyptian themed game. You'll also be rewarded while you play.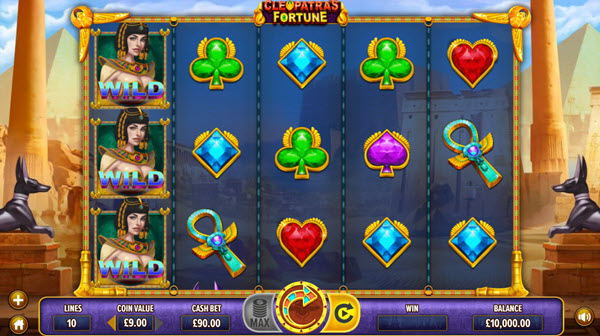 There is no limit to the number of inspiration historians and archaeologists globally get from ancient Egypt. Nevertheless, it's also a theme that can be found in slot games a lot of times. Even though we have tens, if not hundreds, of video slots that have Ancient Egypt themes, it will be difficult to find the ones that are as good as Cleopatra's Fortune.
Situated close to the Nile delta, a fantastic backdrop of a multiple thousand-year-old of tombs and pyramids which set the game's mystical tone. Music that has this Egyptian theme adds to the environment, while that golden frame holding the reels in place has a look like it came directly from the dream of a treasure hunter. But will this dream come to reality?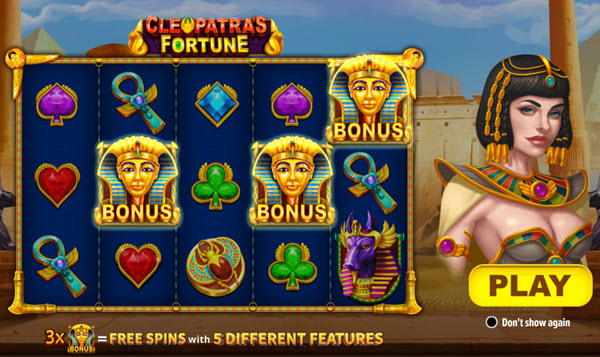 Tutankhamun's Bonus
If you land on the reels a minimum of 3 bonus symbols (Tutankhamun), it will open the Free spin games. 5, 4, or 3 bonus symbols will earn you 20, 15, and 10 free spins respectively.
While the Free Spin is going on, you'll be shown a progress bar on the screen's left side which will go to a maximum of 20. Every time any bonus symbol hits the reels, the bar increases. Each 4 progress points will earn you more free spins and any other bonus feature.
Level 1: A sticky wild reel and 1 free spin.
Level 2: A 2x multiplier and 1 free spin.
Level 3: A second sticky wild reel and 2 free spins.
Level 4: Win both ways and 2 free spins.
Level 5: A third sticky wild reel and 2 free spins.
Paylines and Symbols
Cleopatra's fortune includes gorgeously depicted symbols like popular items from an ancient Egyptian culture. Anubis is the symbol with the highest pay, while the combos that have the scars and the ankh will likely also earn you a lot. Symbols of low value are diamonds of different colors with the shape of card suits.
In Cleopatra's fortune, there are only ten paylines that are lower than the average, but it is a fair trade-off taking into consideration the bonus game of great rewards. Gamers can set the value of the coin between 0.02 and 10, and every spin will cost 10× the value of the coin. In Cleopatra's Fortune, the RTP is 95.5%.
Best Dragon Gaming Slots