Conan Video Slot (Netent). Conan Slot Free Play!
Conan Video Slot had been a highly anticipated game since it was announced that iGaming conference of 2019 in London.
And this is very normal because of the success that NetENT has enjoyed with all the recent slots it has released. Slots like Narcos and Vikings made it to the top and we guess that since Conan is a hero that a lot of people love, the fact that a slot is themed after him would make people want to play it.
NetEnt Online Casino no Deposit Bonus
If you do not know Conan, let's introduce him to you. This character was created in 1932 by the Robert E. Howard, a writer. He is more associated with the film that Arnold Schwarzenegger starred in.
The universe in this book is a dark one with all sorts of terrors lurking around the corners. We love how well this Conan slot showcases this theme. Conan Video Slot is set in the "Hyborian Age", a fictional historical age. It makes use of a layout with six reels.
This is not what NetENT usually specializes in. In addition to the six reels, you have twenty four paylines and three rows with a mechanism that allows you to "Pay-Both-Ways". The reels on Conan Video Slot are linked and you have three main features in the game.
There is also a feature known as Thoth Amon that can be triggered after a main feature. You have three separate bonus spin modes.
You just have to choose when you trigger a bonus and each of this modes has unique volatility. Come and get crazy with the most notorious barbarian in the world with a price of €/£ 0.20 to 200 per spin. You can play this game on all your devices.
Another thing we are really impressed in are the graphics. The attention to detail is impressive and the design is very coherent. We understand why this game took a lot of time to be release.
You have skies full of thunder over a village full of snow (the backdrop). The setting of the reels is an ancient temple. You will get to see statues made out of stone of Conan, all made in different ways. When you spin the reel, you will see the coins that have low value. Their symbols are falcons, lions and snakes.
The coins with medium value are represented by helmets, swords and grappling hooks. There are three premium coins and they are represented by Thoth Amon, Conan's arch nemesis, Valeria, Conan's sidekick and Conan himself. This last symbol gives you the most rewards as you can get more than 6x the amount you bet if you get a combo of five.
Okay moving on from the great design, the thing that a lot of the more experienced players will see is the interface that was first revealed in Arcane Reel Chaos. But this interface looks different.
It has a more modern feel to it and the paytable is no longer as confusing as before. You know see the symbols that are relative to your bet size. This goes in hand with the rules that have been set up since developers and casinos have been asked for more transparency.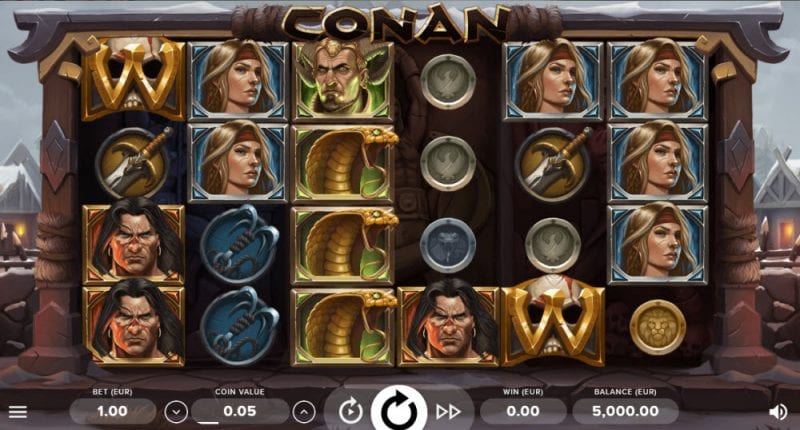 Features
You have three sections on the reel set of this game. Each of this section measures 2×4 and is linked to a singular feature. You will see this feature when the needed symbol appears on the reel to which it bears association. Here is what you will get:
Tower Wilds. This is for reels 1 and 2. When there is the apparition of a blue tower wild on any of these reels, the wild expands and covers the reel, partially or fully.
Mystery Symbols. This is for reels 3 and 4. This is the feature with the most volatility and gives you the chance to win most. If mystery symbols appear on either of these reels, the symbols undergo a transformation and become random matching symbols. If the symbol is completely stacked when it appears, the Mystery Multiplier feature is triggered. At this moment, Conan will appear, in a fight against a humongous snake.
When the snake is hit, the multiplier goes up by 1x. The least multiplier you can get is 3x and the highest is 7x. That's not all. Let's say a mystery symbol appears along side a battle wild and a tower wild then the Thoth Amon feature is triggered. When this feature is active, you see 3 to 6 mystery symbols randomly appearing on reels 2 to 5. This makes your win look potentially bigger.
Battle Wilds. This is for reels 5 and 6. If there is a red battle wild on reels 5 and 6, you will see it expands to reels adjacent these two. It could expand up to 3 positions.
You have some of Twin Spin in this Conan slot game. On any spin you're playing the main game, you might see the reel randomly pairing in every 2×4 section get lit up.
This is to show the activation of the Linked Reels feature. When this happens, you have the production of matching symbols. This will make you more likely to have winning combos. In bonus spin more, you could get even 6 linked reels because of this feature.
The last one is the Free Spins Mode. If three to six scatter symbols appear anywhere on the reels, you could have 15, 25 or 50 bonus spins. Before getting them, you have to choose which mode you will like to play. These are the modes.
City of Thieves Free Spins mode. This mode is highly variant. You get tower wilds that will make an appearance on any of the reels and could expand so to cover the reels, partially or fully.
Temple of the Serpent Free Spins mode. This is the most volatile mode between the three modes. In this mode, you could get mystery symbols, stacks included on every reel. Like in the main game, a mystery symbol with a full stack triggers the mystery multiplier. You get a multiplier that can go up to 7x. Getting five to nine mystery symbols activates the Thoth Amon feature
Walls of Tarantia Free Spins Mode. The variance here is medium. Battle wilds appear on every reel and could expand up to 3 positions sideways.
Conclusion
This video slot gives off very impressive vibes. But we feel that NetENT made things a little too complicated. They wanted to make Conan into a slot that is really big and all, but it's just a mess in our opinion. There is no actual narrative and we find that it lacks personality.
You have a lot of features but none of them actually gives you the chance to win big. This is what we really don't like about this game. The money you win is definitely not worth everything you put in.
If you are lucky, you could get a break-even at the end. But the most likely scenario is that your balance will keep going down as the features keep appearing om your screen. To make things even worse, you should know that the frequency of you getting bonuses is very low because a great part of the RTP is to be given to the features.
The potential is not really that great. We went at this slot for more than give hours and it is astonishing how with so many features, there wasn't a lot of action. If you are the sadistic type and want to see Conan rip off your scalp slowly, then this is definitely the game for you.
NetEnt Online Slots