Turn your Fortune Slot Free Rtp! Best Netent Slot Machine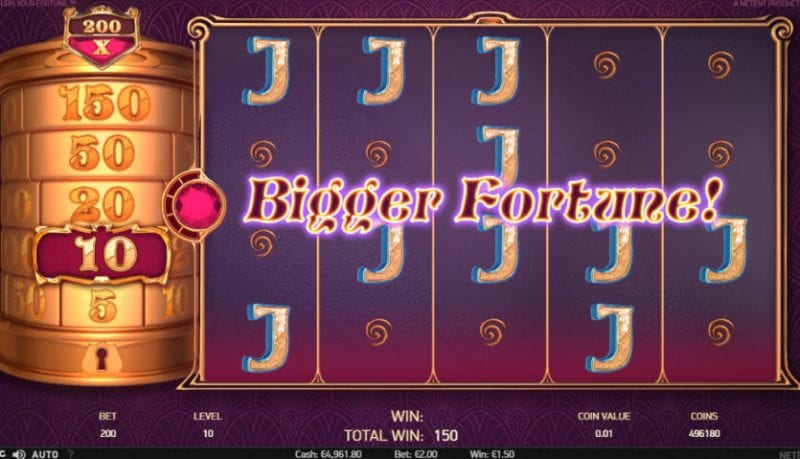 >>Play on Turn Your Fortune Slot>>
Players will surely be mesmerized by this enchanting new video slot from none other than top tier software developer NetEnt. This unique video slot has an Art Nouveau theme which means that players will be treated to visuals that are truly stunning with a soundtrack that is even more spellbinding. Players the world over will be captivated by this new offering from NetEnt, a top software provider that has truly proven themselves to be among the premier names in the industry.
Plus, the real gem when it comes to this video slot is that players can actually rack up real big wins on this game. This video slot boasts of features like free spins and the fortune re-spins that just makes the whole gameplay much more exciting and rewarding.
Netent Casino List
In this review, we are taking a look at NetEnt's new addition to their video slot arsenal which is already making waves in online casinos worldwide. Their first release for 2019, Turn Your Fortune will surely enthrall!
Features
This video slot has 9 symbols consisting of a turtle, a lion, an owl, a snail, and a fish, with the red lion being the most valuable symbol in the game as it will give you the highest payout for your bet.
The wild symbol, which takes the place of all the other symbols in the reel (except for the Scatter, Key, and +10 symbols) to give players a bigger winning combo, is represented by a butterfly.
This video slot with 5 reels, 4 rows, and 40 paylines boasts of free spins and Fortune Re-Spins with Fortune Wins.
The gameplay is a bit challenging to follow but once you get the hang of it, you will surely find it rewarding.
The aim of the game is to climb up the ladder by collecting symbols along the way. The ladder comes in the form of a golden barrel which the creators say is a form of cryptex from some unknown age.
The ladder comes in 5 levels and you level up the ladder by collecting symbols. Plus, when you land a key on the reels during free spins and fortune re-spins, your wins level up.
When you land the scatter symbol which is represented by a peacock on reels 1, 3 or 5, you will trigger the fortune re-spins. To trigger the free spins feature, you will need to land 3 or more scatter symbols in these same reels.
With free spins, you will be taken to another screen where you will be presented the wheel of fortune which will tell you how many free spins you get plus the symbol you will need to collect next.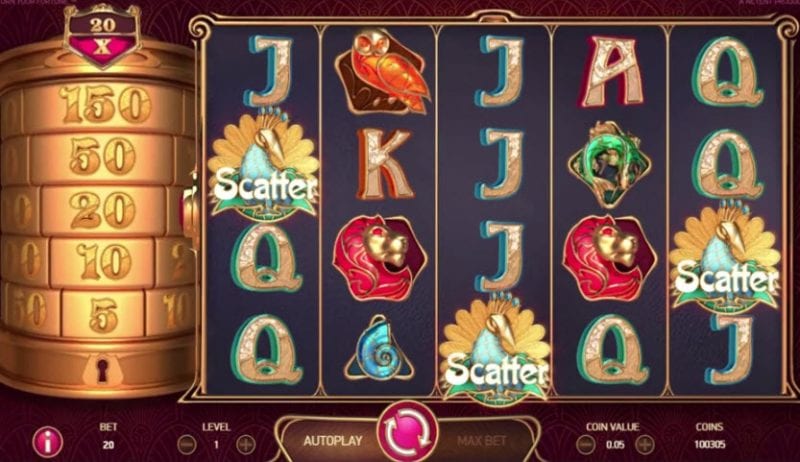 Look and Feel
Turn Your Fortune boasts of a very unique look and feel to it. Players will love the enchanting atmosphere this video slot will transport you into as this game has an Art Nouveau theme. Players the world over will be transported to the late 19th century where the architecture, paintings, jewelry, and art pieces truly captivated and bewitched.
This video slot consists of animal symbols intricately designed to represent art pieces from the late 19th century. The symbols consist of a turtle, a lion, an owl, a snail, a fish, plus icons of the letters A to J which embody the traditional elegant look.
The soundtrack is equally entrancing. It will remind you of the magical world of Aladdin and Princess Jasmine. While they have their magic carpet ride, you can rack up real big wins for yourself as well. Let's just hope the genie appears to make your wishes of landing the jackpot come true!
So, if you are a fan of the magical world of Aladdin, you will definitely love this video slot from NetEnt.
For the Win
Turn Your Fortune consists of 40 paylines. The RTP is at 96.24%. Plus, the maximum payout you can win is 2,000X the bet you placed.
Below, you will find the corresponding payout for each symbol. And the coin value for this games is: 0.01, 0.02, 0.05, 0.10, 0.20, 0.50
Red Lion Symbol: 40 for 3X, 100 for 4X, 200 for 5X
Orange Owl Symbol: 30 for 3X, 60 for 4X, 120 for 5X
Yellow Turtle Symbol: 25 for 3X, 50 for 4X, 100 for 5X
Green Fish Symbol: 20 for 3X, 40 for 4X, 80 for 5X
Blue Snail Symbol: 15 for 3X, 30 for 4X, 60 for 5X
A Symbol: 10 for 3X, 20 for 4X, 40 for 5X
K Symbol: 7 for 3X, 15 for 4X, 30 for 5X
Q Symbol: 5 for 3X, 10 for 4X, 25 for 5X
J Symbol: 5 for 3X, 10 for 4X, 20 for 5X
Conclusion
Turn Your Fortune is, as we have said in the begining of this review, a mesmerizing game with stunning visuals and an equally enchanting soundtrack which will transport to a magical world where you might meet Aladdin and Princess Jasmine as they ride on their magic carpet racking up big wins.
The mechanics of the Fortune Wins can be a bit challenging for new folks to get used to but once you get settled in the game, everything will feel just right. Plus, with a jackpot of 2000x of the money you came with, who can resist this rewarding offer?
With a volatility of medium to high, you can expect a number of dry spins as you go but when you do land some wins, you'll find it worth it.
Best Netent Slot