The Wild 3 Slot Nextgen? Play Now Here: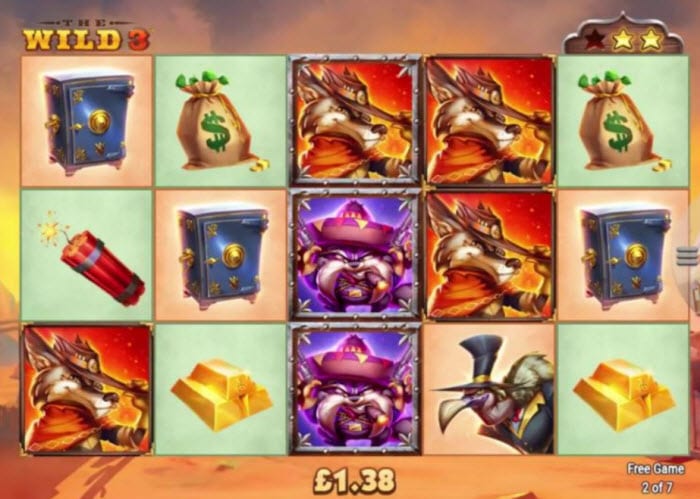 When we started playing this slot, we had no idea how it was going to go. We drop the instructions booklet and just started playing, praying that we would learn as we played. This reel features ten pay lines, three rows and five reels so you'd expect the classic slot. But you'd be highly disappointed (or maybe relieved).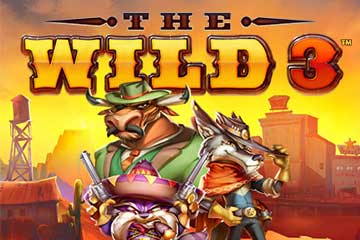 You will see that a lot is happening in this game so this review was a little bit challenging. This game prioritizes entertainment over trying to reel in die hard slot fans. The whole vibe is full of colour, it's a happy slot with a lot of action and payouts that are completely banal.
The visuals and the audio are inspired by cartoons from The Good, the Bad and the Ugly. In this slot, you will find the three main characters, "T-Bone" the Bull, "Five Star" the Coyote and "El Loco" the Raccoon, fighting against a bunch of outlaws hell bent on destroying the peace of… Peaceville.
Nextgen Gaming Casinos
Symbols
You have a number of symbols that are visible on the reel. You have banks, safes, gold bars, bags of money, Dynamite, cactus flowers and vultures. The last one had the most value and could give you 25x your bet even when you're at bet level zero. You have three wilds in this game, the green Wild Bull, the red Wild Coyote and the purple Wild Raccoon. Each of these Wilds do different things.
Wild Bull – if you see the Wild Bull on reel 3 no matter the location, every win that includes a wild gets a random multiplier (2, 3, 5 or 10)
Wild Coyote – if you see a Wild Coyote on reel 3 no matter the location, every cactus (tall, green and purple) will be replaced by Wild Coyote symbols.
Wild Raccoon – if a Wild Raccoon appears on reel 3, no matter the location, it will make random regular symbols appear on the reels. If two bonus symbols that were initially on the reels get replaced by Wild Raccoon symbols, you will trigger the bonus spins mode.
Like we just explained, if you any of these three wild symbols appear on reel three, you will trigger the Wild 3 Feature. With one spin, you can trigger more than one Wild feature. If you trigger the Wild Coyote and Wild Raccoon features at the same time, then the Wild Raccoon feature will come first.
Along with the Wild 3 comes a button known as the Super Bet. You will find it in other slots developed by NextGen. It has three options as it serves as a regulator for Wild features, bet size range and RTP/Variance.
Bet Level Zero – at this level, you can place bets between €0.10 to €100 with an RTP value of 95.5%. The only active feature is the Wild Raccoon.
Bet Level One – at this level, you can place bets between €0.15 and €150 with an RTP value of 96%. The active features here are the Wild Coyote and the Wild Raccoon.
Bet Level Two – at this level, you can place bets between €0.20 and €200 with an RTP value of 96.7%. At this level, the Wild Raccoon, the Wild Bull and the Wild Coyote are active.
Objectives
If it is your first time playing this game, you are randomly give three objectives. This set is randomly generated for every coin value that is available and for the Super Bet level. Out of eight objectives, a set is assigned three. Doesn't sound simple? It is actually. Let's take this example. If you want to complete an objective set, you have to land a big win, get the Wild 3 feature triggered and get a win that is five of a kind. When this happens, you get the Rob the Rich feature
Rob the Rich feature
This feature basically asks you to pick from the fifteen money bags that appear on your screen. Initially, you get three picks. The money bags could give you mystery symbols, two additional picks or credit prizes. If you get a mystery symbol, you could get a multiplier of 5x to 100x. The total bonus you win is gotten by adding all the prizes you got and multiplying them by your complete stake.
Free Spins and Respins Mode : Lock 'n' Load
The bonus spins mode in this slot is differs from a lot of other slots. You get five free games if there is the appearance of two bonus symbols (only on reels two and four) and of at least one wild symbols on one reel spin. If just two bonus symbols appear, you get another chance with the Lock 'n' Load Respin feature. There is a hold on reels two and four and then the third reel spins even three times.
In the free spins mode, the wild symbols that appear on reel 3 are stuck there till the end of the free spins mode. Extra wild symbols also remain stuck if they appear on the middle reel. What we love most about this feature is that with every spin jn this bonus mode, the wild symbols' abilities are used. So if you trigger this bonus mode with the Coyote and two other bonus symbols, on every spin, you will see the abilities of the Coyote in action.
Conclusion
We probably do not need to tell you that there was a lot going on. You have read the review. The good thing is that this slot game is not half as complicated as it appears as soon as you spin the reels. Nevertheless, we think you should know this.
Playing when Super Bet levels zero and one are active is pretty needless in our opinions as the highest potential of win is 250x your stake since there are no multipliers. If you want to milk this slot really well, go up to Super Bet level two, make sure the bonus ( the one that features the green multiplier wild and the red, or if you can the three wilds) is triggered. When you do this, you could have a full screen of just wilds complete with a multiplier of 10x. This is the only way you could get the maximum potential win of 1250x per spin. You can get this in the main game too.
This is what we have to say about the game. Your love for this game will depend on the kind of player you are. If you are an open-minded player and prefer fun to volatile slots, then you might enjoy this game. On the other hand, if you are the really classic type of player who loves volatile slots, then you might see The Wild 3 as an annoyance and a waste of time.