3 Genie Wishes Slot Review Online Pragmatic Play Slots Game
3 Genie Wishes Slot is an online slot game with Pragmatic Play as it's software provider. It is made up of fout wheels and fifty bet lines. The minimum amount that can be stake is 0.01 credits and the maximum amount is 0.50 credits.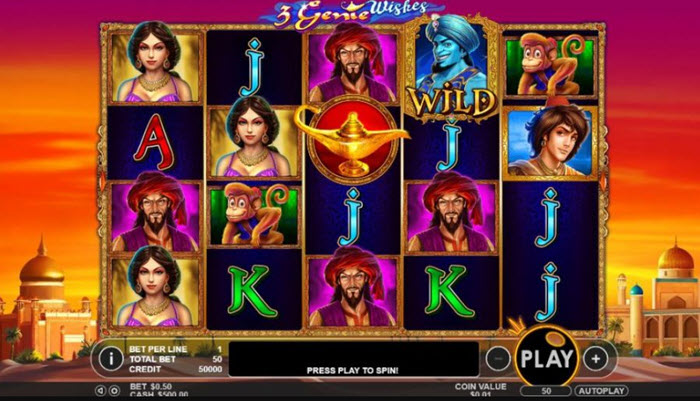 About 3 Genie Wishes Slot
Another slot machine has been developed by Pragmatic Play and it is called 3 Genie Wishes. The storyline of the game is based on the tale of Aladdin which is a movie that is popular among viewers. Both the animated one and the real one were combined to create a quality game. It is a slot with high variance and players experience what it meant to have their wishes granted. It is different from the classical three wheeled slot. It is made up of four reels and five rows which is a bigger space for forming winning combinations. There are fifty bet lines available for players to stake on which is not common to most slot games. Other features include high paying icons, free spins, and bonus session.
Staking
The minimum amount required to stake is 0.01 credits and the maximum amount is 0.50. This is a reasonable amount and it favours all calibers of players including high rollers and low rollers. This is one of the thing that entice players to try out this slot game. Although when you check the spin instead of the actual amount you are going to see fifty and five hundred. This can deceive players and make them assume that they are playing an amount more than the one they staked. However, you will be able to see the correct staking amount at the left side of the machine. This is one of the downside of this game because it confused players a lot of time. Only players that are familiar with the design will be able to locate the real amount easily. Apart from players being able to decide how much they are willing to stake, you can also set the machine to spin automatically. This implies that players do not need to spin the wheel every time they place bets. The auto spin feature when initiated can go as far as one thousand spins depending on the players preference. You can also halt the automatic spinning if you want.
Features
You will have the opportunity of making a wish three times which is quite amazing considering the fact that you can amass a lot of winnings. If you are able to land at least three symbols that are similar you will be liable to some winnings. If you land five symbols that are similar you will be liable to a higher prize. Considering the amount of bet lines available players have higher opportunity of winning. One of the icon that have effect on the winning of the players is the wild which is represented by a blue genie. When you land this icon you will be awarded up to five hundred credits and you can use it to replace all other symbols on the reels except the scatters. Therefore, it will increase the chance of players to form winning cbinatioms easily. Scatters are another unique icons that have effect on the winnings of the players. Once you land them you will be rewarded with at least one times your stake and you will be able to initiate the bonus session. In order to activate the two features stated above, you will need to land up to three icons on the reels. Also, where this landing will occur will be on reel 1, 3, and 5. After triggering the bonus session, you will be given the chance to pick one out of the three provided things. Regardless of the item you pick the result of your selection will not pass more than four options. One of the outcomes is the free spin session with which there are other features that can be activated.
Conclusion
It is no longer news in the gaming industry that Pragmatic Play is popular for developing quality slot games with amazing themes and gameplay. There are lot of features that can be activated by the players with which they can increase their winnings. The game can also be played by players of every calibers since the minimum amount that you can stake is low.
Pragmatic Play Slots