88 Fortune Cats Slot Review:FREE Play in Demo Mode!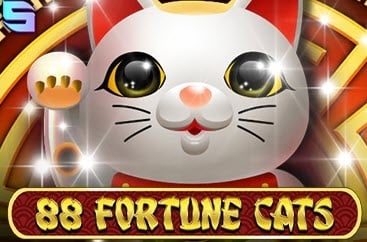 =>Play on 88 Fortune Cats Slot
Slot Details
Slot Title: 88 Fortune Cats
RTP: 96.50%
Software: Spinomenal
Reels: 5
Paylines: 100
Max Bet: £1000 (GBP)
Min Bet (all lines covered): £0.10 (GBP)
Features: Scatter Symbol, 5 Reels, Stacked Symbols
Top Win: 2000
UK Available in GB? Game is not available in GB.
Themes: Oriental/Asian, Animals
Learn more about 88 Fortune Cats by reading the Spinomenal review, giving it a rating and finding out what kind of bonuses are available for this Spinomenal game in January.
From the makers of Spinomenal, 88 Fortune Cats is an online video slot game. This medium-volatility game features five reels and 100 paylines with a maximum prize of x250,000. Features like stacking, scatters, and the Oriental motif makes up this game's overall design philosophy. Free spins are not available here.
Look at the game's name before we get started with our review, please. Why are there 88 cats when thaere might have been only one, as we were perplexed by this? In the end, the solution rests in the number's link with luck (something that all players want). For this reason, Chinese people believe that the number eight is auspicious since it sounds like "prosperity," "fortune," and "wealth" when spoken. Having more than one-eight is much better. There is an association between 88 and happiness. On a daily basis, the Chinese do their best to incorporate the number eight into their routines and activities. For instance, the Beijing Summer Olympics' Opening Ceremony kicked off on August 8th, 2008, at 8:08 pm. Cats are revered in Chinese history and culture, which makes this an excellent name for an online video slot. Cats were granted the ability to speak in ancient Chinese mythology as a way to guarantee that communication between humans and the gods went smoothly when the earth was first created. So, what are you waiting for? Take a chance!
This Is How It All Goes On.
A gold ingot, a little purse, a hand fan, a red lantern, a cherry blossom, and a drum are all common symbols in 88 Fortune Cats. Each of these items has a distinct meaning. The wild symbol is a white-colored fortunate cat, which substitutes for all other symbols in order to make winning lines. A big prize is yours if you use the fortunate kitty to cover every square. Isn't that lucky? If you land three or more scatters in any position, then you'll get an additional cash bonus!
Stacking symbols is a favorite and popular feature of game developer Spinomenal.
Free Spins
88 Fortune Cats does not have a free spins bonus round. However, altogether, we don't believe this detracts from the slot since there are other aspects that are just as enticing.
Return to Player (RTP) Percentage and Volatility
RTP (Return to Player) is 95.6 per cent, which means that for every 100 bets placed, a player can expect to get back 95.6 per cent of their money. Medium volatility characterizes this game.
Wins on 88 Fortune Cats for Paytable
While spinning the reels, you may generate winning combos on any of the game's 100 paylines. 100 paylines! It is possible to win as many as 250,000 coins if you match five scatter symbols on a payline.
Theme, Visuals and Music of The Video Slot
The game of 88 Fortune Cats is characterized by a variety of themes. These include animals and fauna, as well as Asian culture and mythology. There are sub-plots based on Chinese luck and mythology, as well as a lot of cats.
Shiny polished symbols adorn the reels of this game together with mountain ranges and pagodas, as well as an arch bridge crossing over an impressive ravine in the backdrop.
Though engaging, the music doesn't overpower the experience.
Understanding 88 Fortune Cats Gameplay
Here are some of the best 88 Fortune Cats tips and tricks:
At the bottom of the screen, there is a command bar where you may input game commands.
In order to win, you must line up at least three identical symbols on any payline.
In order to get any of the game's rewards, you must first place your wager, which ranges from one dollar to one thousand dollars.
Final Words
Do yourself and your cats a favor, and take 88 Fortune Cats on an outing. It's a fun game to play, and you can win a lot of money if you're willing to wait for the higher rewards. The bonus features are also enjoyable. Because it is so uncomplicated, it may not appeal to players who want a lot of action. In any case, it's sure to appeal to a wide range of players, regardless of skill level.
These and more Spinomenal demo slots are available right now at Slots Temple for free play! Indeed, if you can, we always advocate taking a spin on the reels for free. Whether you don't like it, you don't have to spend any of your own money to see if it's for you. It also aids in the improvement of your skills. It's true what they say: "Practice makes perfect!" Try your luck with the 88 Fortunes free slot game.
Spinomenal owns the 88 Fortune Cats trademark and license. Spinomenal does not promote this website in any way.
* This button directs you to a third-party real-money casino website that is not affiliated with us. Before making a deposit or signing up for an account, you should visit the casino website to see what slots they have available.
FAQs
In what year did 88 Fortune Cats come out?
On January 1st, 2020, the game was made available to the entire audience.
What are the smallest and largest coin bets a player may make in this online slot?
The lowest value is 0.1, while the highest is 1.00.
What devices can I use to play the game?
Desktop, tablet, and mobile devices may all play the game. Using a web browser, you don't need to download any other software to play the game. Because of the power of the technology, no aspect of the game's aesthetics or functionality will be diminished regardless of where it is played.
Is it possible to set the game to automatically play?
As far as we can tell, it's on the command bar.
What kind of operating system does the game use?
The JS, HTML5 standard is employed, which is widely acknowledged in the business.
88 Fortune Cats is available in which languages?
This online slot can be played in English, German, Russian, French, and Chinese.
Spinomenal is the studio behind the game. As the firm continues to expand and gain a solid reputation in the gaming industry, it is putting out one to three titles every month.