Diamond Symphony Slot -Bulletproof Games
For gamers that love to bet on the go, there's a fantastic slot with the name Diamond Symphony, and it's made by the creative Bulletproof Games. In this game, there are 20 pay lines and five reels, and the theme of the game is the best for people who love music. Since they make use of HTML5 tech in this slot, it can seamlessly be played in all smart gadgets, and you can play it in portrait and landscape mode.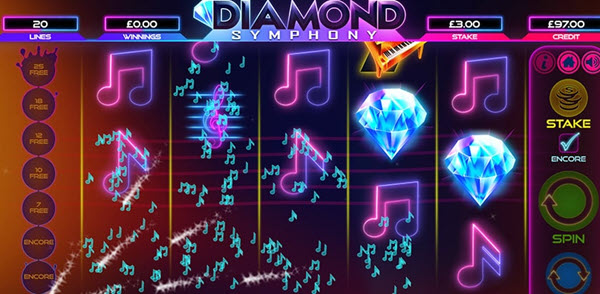 =>Play on Diamond Symphony Slot
In this game, the symbols comprise diamonds, musical notes, and instruments. There's a unique Wild symbol, which is able to award fantastic payouts, and a bonus feature can also be triggered by it. With the chances of sweeping excellent rewards and fun design, this game is certainly a slot you need to check out.
Summary of Diamond Symphony Slot
Jackpot — not available
Bonus featured — you'll be able to get free spins if you have consecutive wins
Scatter Symbol — This game has no scatter symbol
Wild Symbol — The Wild role is played by a symphony conductor
Maximum bet — 250.00 pounds
Minimum Bet — 0.20 pounds
Return to Player — 95.21 percent
Paylines — 20
Provider — Bulletproof Games
Diamond Symphony Slot Winning Combos and Symbols
Winning Combos
This whole slot is all about the music theme, and that's the reason it also has different symbols compared to what we use to see when it comes to classic slots. Rather than the live paying symbols being playing cards, notes were chosen by Diamond Symphony for this. You'll notice a sixteenth note, an eighth note, a quarter note, and a treble clef as the major symbols in this game.
When it comes to the symbols with higher pay, you'll see musical instruments such as a grand piano, a violin, and a trumpet. In addition to the musical-themed symbols, the higher paying icons are also represented by a diamond.
In addition to this game's regular symbols that provide winnings for players, the game also has a wild. To go in line with this game's musical theme, a symphony conductor is used to represent the Wild. This special icon type can substitute all other symbols in this game, and also either its assistance, you'll get a higher chance to land a winning combo.
Diamond Symphony Slot Bonus Features
Bonus image
A reason this video soot is a tremendous one is the chance of triggering several special features. You'll notice a ladder placed in the reels' left side that'll reveal the free spins' number that you'll likely win.
There's the option of increasing your wager and play the game's "Encore Mode." If you made the decision of raising your wager for the opportunity to win a re-spin, you'll get the chance of triggering the Encore feature. If you've got enough winnings consecutively for the ladder's initial two "Encore" steps to load, then the special mode will be activated. This will give you the chance of keeping your present progress right on that ladder, then is going to reward one free spin. All thanks to the social mode, you'll likely continue to climb the ladder and earn spins for free.
Respective of the consecutive winnings number you've earned in this base game, you'll get the chance of winning 25, 18, 12, 10, or 7 three spins. Anytime you trigger this feature, a multiplier ladder will be on the play screen's right part. With all-new free spins, the multiple indicators are going to move up the ladder. As soon as it gets to the ladder's top, the wins multiplier is going to increase with 1 time, and the number of multipliers that anybody can win is limitless.
You also need to be aware that anytime you play with free spins, gamers also get the chance of moving up the ladder of the free spins, then also re-trigger more spins. With this, the multiple will also be increased resulting in a mouth-watering payout.
Conclusion
Gamers will certainly love this game because of its high volatility and also fun theme. If you'd like to take more risk, you've got the chance of triggering free spins faster and also re-triggering its bonus feature. Apart from its free spins, gamers will also benefit from its growing multiplier anytime they play the bonus game. Because of this, the last outcome of this game will be very rewarding and entertaining.
=>Play on Diamond Symphony Slot
Bulletproof Casinos