Lucky Twins Slot Review. Online Slots Microgaming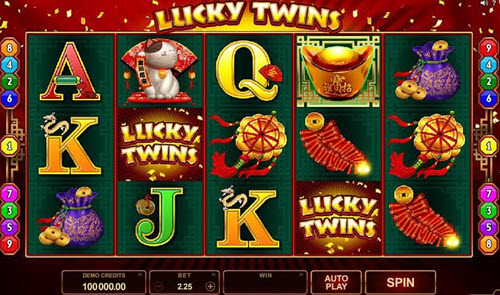 Lucky Twins Slot Machine
This is a five-reel video slot machine that has three rows and nine pay lines. This casino game with the feng shui theme was developed by Microgaming and has a Return to Players of 96.4 percent and high variance. The bonus features are the Golden Hat Scatters and Lucky Twin Wild. You'll be able to use these to get a jackpot of GBP1250.
Check out the Asian decorations, lucky cats, and the logo symbol of the game. We did a thorough review of the game, and we believe it's one of the most interesting this month. Check out our full review of this game below.
Best websites to play Lucky Twins Slot
Our research has made us create a list of the top websites to play this casino game:
Lucky Twins Casino Overview
People always look at twins as lucky, particularly in the tradition of China.
Get into this colorful video slot with the central focus being its Oriental theme. Enjoy the game's celebratory feel and vibrant design, with the likes of the Lucky cats, golden coins, and its decorations.
You'll also see the Lucky twins hold several gold coins. Win prizes with the best chance of winning; you'll also get the chance to get the logo of this game. Enjoy the lucky twins' symbol, gold coins, dream catchers, and Maneki Neco Cat.
There is music that builds tension and several colors in the entire game. Try your best to use its offers effectively and also use its winning options.
Lucky Twins Slot: How to Play
You can play this slot machine with ease, place your bet, and spin ugs reels. Below are the details on how to play:
The first thing is to adjust the pay lines then leave your bet before every spin.
Press the spin button or select the autoplay option; then watch how the Reels change.
If you want, you can try matching the symbols in winning combos.
It is that seamless, and you will also get the chance to see the paytable for any info on the returns.
Use real money to play using your mobile devices either it is Android or iOS. Spin its reels while you are on the go using this mobile slot. You'll be able to play from all online casinos via your web browser, and you'll not be required to download any application.
Lucky Twins Slot Free Spins: What Triggers It?
There aren't any free spins available on this slot machine.
It's a simple spin game that has no extended features or bonus rounds. Even though we are the type that loves free spin features, it'll be quite nice to go back in time and enjoy the timeless classics with no added pressure.
You'll see other features like jackpot you can play for; we'll talk about this next…
Interactive Features
Lucky Twins Slot is a type of slot machine that doesn't have any fancy features, but it offers players scatter symbols and wilds.
Wilds: This game's Wild symbols are the Lucky Twins. You can substitute them for any other symbol that's on a pay line to create a winning combo. Usually, the scatter symbol of the game is the only one that the Wilds can not substitute.
Scatter Symbol: The Golden Hat or the Golden Ingot is the scatter symbol. When you get 3+ scatter symbols on any part of the reel will earn you 4.5 times your entire wager. When you get four Scatter symbols on the reels, it means that your total beta will be multiplied by 22.5 times. If you're very lucky and receive five Scatter symbols, then you'll get at least 112.5 yams of your entire wager!
Paylines & Stakes
There are nine pay lines
There are five reels
The minimum bet is 0.25
The maximum bet is 5
The maximum winning is 1250
Software of Lucky Twins Slot
This award-winning developer is one of the sheer numbers of top companies that create the most attractive slots.
The software developers at Microgaming are one of the providers that people always love going to in the industry. They have acclaimed reveal rewards and titles one the past ten years and are a legitimate company.
It's integral to make sure that all slots have good software because that's what we rely on when we use the interface and Spin the Reels.
Find several casinos by Microgaming that host this platform for the top slot games powered by Microgaming. We've moved through every best website of theirs.
Return to Players of Lucky Twins Slots
The Return to Players (RTP) of this slot machine is 96.4 percent. That's a massive amount and denotes that you'll get a better chance to win. The RTP is basically what gives you an idea of your chances of winning for each spin. We are always on the lookout for this on all split games and always aim to see a minimum of 95 percent. We are glad that this slot machine has such a huge RTP.
The volatility of Lucky Twins slot
Lucky Twins slot has high slot volatility.
Why is that? Well, that means that you'll be able to enjoy regular cashouts with high volatility. Meaning, play for consistent winnings and still get the opportunity to win big.
Final Verdict
You'll see the top games at several online casinos; this slot by Microgaming provides big winnings and a fun theme.
This game is an excellent one, particularly for new punters who are new to the world of the slot. Enjoy this game with a jackpot, scatters, and wild bonus.
Remember to always play responsibly and choose a website that is regulated in the UK; we've made it easy for you by making a list of the top casino websites that have the best bonus offers you can find.
Play the max bet so you can get the opportunity of winning huge returns and make sure that you make use of nine pay lines.